A California court has rejected a bid for a restraining order against the examination of evidence from the construction company that built the apartment complex in Berkeley, where a balcony collapsed last month killing six students and injuring seven others.
Segue Construction went to the Alameda County Superior Court this morning seeking to prevent the District Attorney carrying out any examinations on the collapsed balcony or the one beneath it, which have both been removed from the Library Gardens development.
The company had applied for the order because it said it, or any other interested party "should be afforded the opportunity to view and document the evidence prior to any destructive testing or potential alterations by the District Attorney".
However, the court denied the request for the temporary restraining order, ruling in favour of the Office of the District Attorney.
The District Attorney Nancy O'Malley had argued in court the granting of a restraining order would amount to an interference in her "duty to investigate and prosecute criminal charges".
She argued evidence gathering by police as part of an ongoing criminal investigation was "by its nature confidential", and that granting a court order permitting Segue Construction to be present for all investigations would destroy the confidentiality of the investigation and compromise the integrity of the investigative process.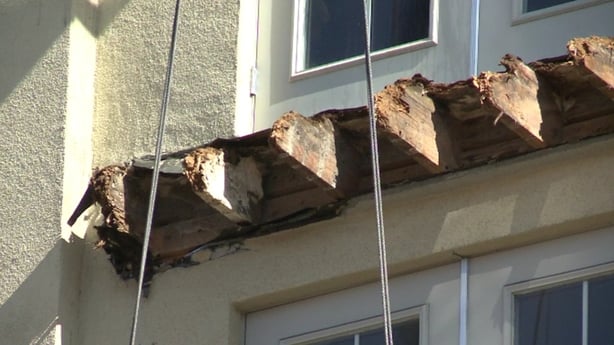 Ms O'Malley said the balcony collapse had "caused a tragedy of heart-rending proportions", but that the "voices of the victims of this tragedy" were not reflected anywhere in Segue Construction's application for the injunction.
She said she did not presume to speak for the victims, but said she owed them "the duty of conducting a fair, impartial and unimpeded investigation to see whether a crime has occurred, and if so, to hold those responsible to account".
A spokesperson for the Office of the District Attorney would not comment on the status of the investigation at this point.
It is understood to be still in the very early stages and both the collapsed balcony and the one it fell onto, which has since been removed, are now in the protection of the DA's Office.