There were 26 terminations of pregnancy last year under the Protection of Life During Pregnancy Act, according to a Health Service Executive report on its operation being laid before the Dáil today.
Three of the cases related to suicide risk and 23 to risk to the life of a mother due to physical ill health or an emergency situation.
Minister for Health Leo Varadkar said the figure of 26 may seem high to some but it was in line with what was expected.
Of the 23 non-suicide related terminations, 14 fell into the category of "risk from physical illness" and nine were due to "emergency from physical illness".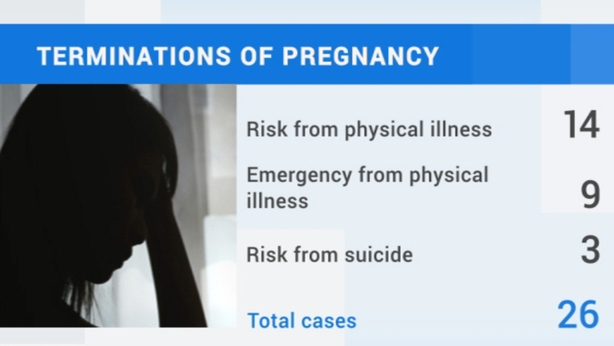 Under the Act, the minister must be notified of each termination of pregnancy, no later than 28 days after it has taken place, without disclosing the name of the woman.
The notifications provide the section under which it was carried out, the name of the medical facility and the date it took place.
It also includes the Medical Council registration number of the doctor who performed the procedure and the registration numbers of the certifying doctors.
The minister then is required to prepare a yearly report by 30 June on the notifications in the previous year.
The report must exclude any identifying information on the women or doctors involved.
One request for a termination of pregnancy was refused under the Act last year.
The termination was sought citing a risk to life due to physical illness.
The application for review was examined by a HSE Review Committee, which found that the case did not meet the criteria for a termination of pregnancy under the Act.