A mother-of-two from Co Meath was among 37 people killed in a terror attack at a hotel in Tunisia.
She has been named locally as Lorna Carty from Robinstown.
A family friend said Ms Carty, who was in her 50s, was on holidays in the popular resort of Sousse with her husband who is recovering from heart surgery.
Minister for Foreign Affairs Charlie Flanagan has said he is not in a position to exclude the possibility of further Irish fatalities in Tunisia.
The Tunisian health ministry earlier said the dead also included British, German and Belgian nationals after a gunman opened fire at a beachside hotel.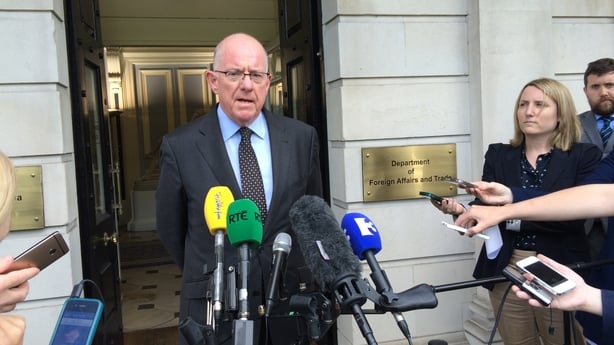 Mr Flanagan said a number of Irish families were in the vicinity at the time of the attack.
The department has changed its advice for visitors to the country saying they should exercise extreme caution.
The minister said the department is working with airlines to organise the return home of tourists who wanted to do so.
Some passengers have chosen to travel on a flight leaving Dublin for Tunisia this evening.
At least five Britons are among the victims, with the death toll expected to rise.
Foreign Secretary Philip Hammond said because the resort is popular with holidaymakers from the UK "we have to assume that a high proportion of those killed and injured will have been British".
The area around the Imperial Marhaba hotel was sealed off and the body of one gunman with a Kalashnikov assault rifle lay at the scene after he was shot by security forces.
It was the second major attack in the North African country this year, and took place during the holy Muslim month of Ramadan.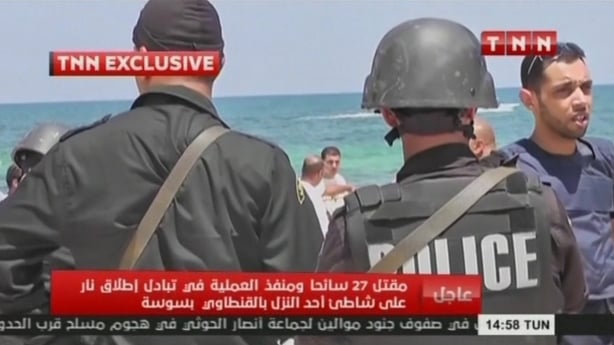 "One attacker opened fire with a Kalashnikov on tourists and Tunisians on the beach of the hotel," said a hotel worker at the site.
"It was just one attacker. He was a young guy dressed in shorts like he was a tourist himself."
Ministry spokesman Mohamed Ali Aroui told Mosaique radio that two hotels were attacked.
Tunisia, which has been hailed as a model of democratic transition since its 2011 'Arab Spring' uprising, is one of the most secular countries in the Arab world.
Its beach resorts and nightclubs on the Mediterranean are popular with European visitors.
No one immediately claimed the attack.
But Islamist jihadists have attacked North African tourist sites before, seeing them as legitimate targets because of their open Western lifestyles and tolerance of alcohol.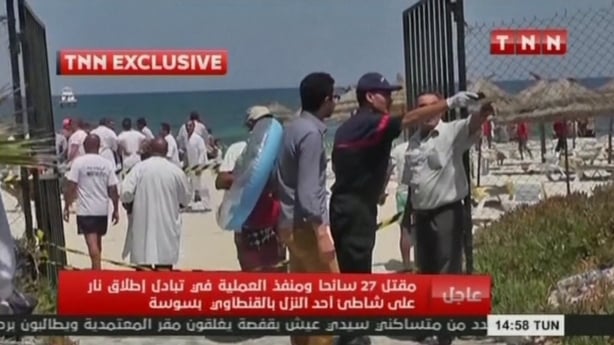 Sousse is one of Tunisia's most popular beach resorts, drawing visitors from Europe and neighbouring North African countries. Tourism is also a major source of income for the government.
Tunisia has been on high alert since March, when Islamist militant gunmen attacked the Bardo museum in Tunis, killing a group of foreign tourists in one of the worst attacks in a decade in the North African country.
Since its 2011 uprising to oust autocrat Zine el-Abidine Ben Ali, Tunisia has been praised for its peaceful democratic transition.
But it has also seen the rise of hardline conservative Islamist movements.
Several thousand Tunisian jihadists have left to fight in Syria, Iraq and neighbouring Libya, where some have set up jihadist training camps and promised to return to attack their homeland.
Dublin woman caught up in attack
A Dublin woman in the Tunisian resort of Sousse described what she saw when the attack happened.
Speaking to RTÉ's News At One, Elizabeth O'Brien said: "I thought it was fireworks and then I thought 'Oh my God' it sounds like gunfire.
"I ran to the sea to my children and grabbed our things and, as I was running towards the hotel, the waiters and the security on the beach started shouting 'Run, run, run'.
"We ran to our room, which is like a little bungalow, so we are actually trapped in our room, because we have no contact the phone here doesn't work to call reception.
"The consul from Madrid who is over Tunisia as well said it is a terrorist attack in the hotel next door.
"She told me to stay put, my travel agent said to go to the reception to speak to the rep, but I'm afraid, so I'm stuck here in the room with my two sons not knowing what's going on.
"The agent said the attack was isolated to the hotel next door. The consul told me it was a terrorist attack.
"I just ran as soon as I heard the noise, I don't know what's happening now I'm sort of cut off from the world."
Corkman survives second terror attack
A Corkman who was in a neighbouring hotel has described what happened this afternoon.
Speaking on RTÉ Raidió na Gaeltachta, Tomás Ó Ríordáin said that he, his wife Treasa and one of their daughters, Amy, were by the pool at their hotel El Mouradi Palm Marina at the time of the attack.
Their hotel is just to the left of the hotel where the attack happened.
"We heard something like shots, but we thought it was a jetski backfiring or something. We heard ten or 15 shots in very quick succession. Then everyone started running in from the beach towards the hotel and we understood that something was happening."
Mr Ó Ríordáin, from Cúil Aodha in Cork but now living in the UK, said that others from the hotel were playing volleyball very near to where the gunman was.
"They told us that the attacker came down the street, and directly into the hotel. He was dressed all in black, and came in firing all about him. We didn't see anything, but we heard everything. It was all over three or four minutes after it started."
"We were worried about my two daughters, Claire and Siobhán, who were at the beach but we just had to wait and see if they came back. When they returned, we went straight up to the room and closed the windows and the curtains, because they thought at that time that there was a second attacker with a gun so we didn't know if there was another attacker on the loose.
"There wasn't in the end, there was a second man waiting in a getaway car, and he was arrested."
Mr Ó Ríordáin said that he and his family were all safe, and that the hotel had been secured and they were not permitted to go outside.
He expressed his sympathies to the families of all those who had died in the attack.
He also said that this was the second time he had been caught up in a terrorist attack, as he had been in Liverpool Street in London during the 7/7 attacks.