A Central Bank inspection of seven Irish mortgage lenders, including all the main lenders, has found they all failed to comply fully with the Code of Conduct on Mortgage Arrears.
The inspection found that some banks continued to treat borrowers unfairly even though they had entered into repayment arrangements.
The inspection was carried out to establish whether borrowers struggling to pay mortgages are treated in a timely, transparent and fair manner by their banks.
It found weaknesses in compliance in the case of all seven mortgage lenders inspected.
It did not identify the worst offenders.
The Central Bank found that some customers face unreasonable delays in having their cases dealt with.
Others were treated unfairly by lenders who continued with legal action against their customers even though they had already agreed repayment deals.
Some lenders continued to seek ad hoc payments from borrowers on top of agreed repayments without formally assessing ability to pay.
The inspection identified cases where lenders continued to call borrowers directly, even if they had nominated third parties to act on their behalf.
The Central Bank has now written to lenders asking them to remedy weaknesses, but it may also take enforcement action or impose fines against the worst offenders.
A Central Bank director this morning said the bank is taking formal supervisory action against each of the seven lenders found to be in breach of the code of conduct.
Speaking on RTÉ's Morning Ireland, Central Bank Director of Consumer Protection Bernard Sheridan said the bank was currently considering whether to escalate the action beyond normal supervisory standards.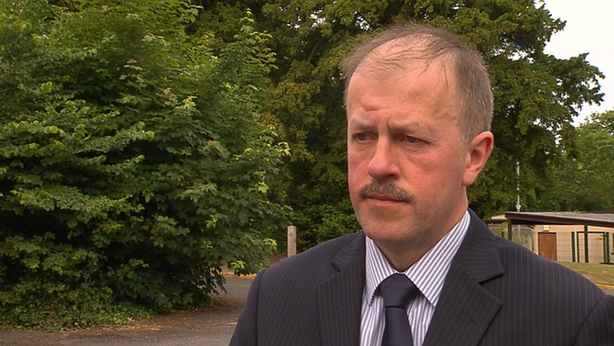 Mr Sheridan agreed that some of the breaches identified were serious.
He said: "In terms of a borrower that is in a difficult situation and they manage to actually come to an agreement with the lender in terms of an alternative arrangement, we don't think it's acceptable that the lender would continue with those legal proceedings and we have instructed them to stop immediately and in the cases we have found, they have stopped.
"So the Central Bank will be pursuing these issues over the next few months to ensure that none of the lenders are actually engaging in these practices."
Mr Sheridan said all the main lenders have been covered by this inspection but declined to identify which were found to be in breach of the code, saying it could prejudice future actions the Central Bank may take against the lenders.
Mr Sheridan said the Central Bank said formal enforcement action could include fines and "naming and shaming".
On the issue of tracker mortgages, he said their inspection had identified that all the lenders had policies in place showing they do not intend to take people off these rates, but the controls in place to make sure this was happening were not strong enough.
Mr Sheridan said there was no evidence from the inspection that tracker mortgages were being taken off customers.
He said some of the banks were relying on the fact that staff were aware this was the policy, but the Central Bank wanted to see it embedded within the system.
Mr Sheridan also said what it had discovered were particular cases where the Central Bank had not been satisfied that borrowers are being treated fairly, and those issues had been escalated to the boards of the lenders for them to deal with.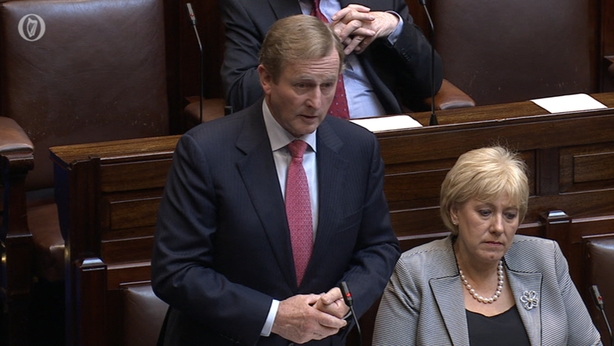 Speaking during Leaders' Questions in the Dáil, Taoiseach Enda Kenny said he thinks it is "utterly unacceptable that any lender breaches the code of conduct for lenders".
He said if the Central Bank decides to take formal enforcement action that will become public.
Responding to a request from Fianna Fáil's Seán Ó Fearghaíl to name and shame the banks which breached the code, Mr Kenny said it is a function and responsibility of the Central Bank to do so.
Mr Kenny also said he hopes the Central Bank deals with the matter publicly, swiftly and effectively.
He said if the Central Bank decides to take formal enforcement action that will become public.
Minister of State at the Department of Finance Simon Harris has said weaknesses found in the Code of Conduct on mortgage arrears are "unacceptable"
Speaking in the Dáil, Mr Harris said it is "disappointing" when shortcomings are found.
However, he said many lenders engage with borrowers and attempt to resolve arrears.
Responding to Socialist TD Ruth Coppinger during Topical Issues, Mr Harris said borrowers must be dealt with in a fair and transparent manner.
He said the Central Bank has the power to deal with the issues that have emerged and he said it needs to deal with the matter in a speedy and strong manner.
He denied that the Government was "fattening up the banks".
Call for courts to be given more powers
Meanwhile, Independent TD for Roscommon-South Leitrim Denis Naughten is calling for the courts to be given more powers to prevent vulnerable families being made homeless.
Speaking on RTÉ's News at One, Mr Naughten explained that he is looking for the existing law to be changed to give additional powers to the courts not to sign off on re-possession orders until they have received evidence from either the bank or the family that they have alternative accommodation available to them.
He said people around the country are evicted from their homes and they do not have alternative accommodation to go into and "it's forcing families onto our streets."
Mr Naughten said this will force the banks to do realistic deals with families that are in this situation.
He said some of those families can actually make repayments on loans equivalent to what the bank will get by selling that property to an investor.
Mr Naughten asked if they are willing to sell a block of loans to investors why are they not prepared to make the same offer to families to keep a roof over their heads, rather than forcing them into the private rental sector, which is in crisis, or into the local authority housing sector, where there are huge waiting lists.
He also called on the Central Bank to make public to all consumers the names of banks that are failing to comply with the Code of Conduct on mortgage arrears.