Families and friends of the victims of the Berkeley balcony collapse are to hold a late night vigil in a church in the city.
The caskets of four of those who died will be taken to the church where their families will have their first opportunity to be reunited with their loved ones.
J1 students will form a guard of honour for the families as they arrive.
The bodies of the four students will be repatriated on an Aer Lingus flight to Dublin tomorrow, which will arrive on Sunday morning.
A joint funeral will be held in San Francisco this weekend for the two cousins Olivia Burke from Foxrock and Ashley Donohue who is from the San Francisco area, before Olivia's body is returned to Ireland for burial.
Condition of two of injured improves
The conditions of two of the people who were injured in the Berkeley balcony collapse have improved.
Conor Flynn and Jack Halpin are being cared for at the John Muir Medical Centre in Walnut Creek where Minister of State for the Irish Diaspora Jimmy Deenihan visited this afternoon.
Hospital pastor Fr Michael Gillen described the pair as inspirational and said they should make a full recovery.
He said their friends had traveled from all over the United States to be at their bedside.
Fr Gillen also said they have been of great support to each other.
Jimmy Deenihan spoke after a visit to the hospital where injured from the Berkeley tragedy are being treated https://t.co/UV4TVQZuFn

— RTÉ News (@rtenews) June 19, 2015
Minister Deenihan said that both young men were getting world-class medical attention and he thanked the staff at the hospital for the care and support they have provided them.
A spokesman for the hospital said there had been an improvement in their conditions and could now be described as "fair".
Minister for the Diaspora Jimmy Deenahan said it was the wish of the families to be reunited with their children's remains and to return home together as an act of solidarity.
Earlier today, President Michael D Higgins and his wife, Sabina, were among those who attended a memorial service in UCD for the six students who died in the balcony collapse.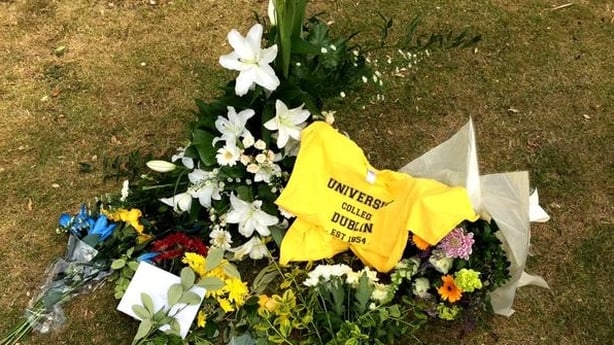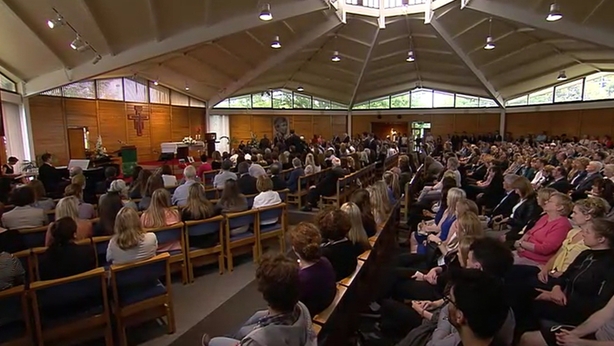 Three of the university's students were among those killed.
Eimear Walsh and Lorcán Miller were studying medicine at UCD, while Niccolai Schuster was studying history and politics.
They and their friends Olivia Burke, Eoghan Culligan and Ashley Donohoe, who also lost their lives in Tuesday's tragedy, were remembered at the service this afternoon.
Friends of the students read prayers of the faithful and readings during the service.
Floral tributes outside the UCD #Berkeley memorial service pic.twitter.com/Acv8Ire1Iv

— Philip Bromwell (@philipbromwell) June 19, 2015
UCD President Andrew Deeks said the lives of a generation of students have been completely changed by the tragedy.
The Dean of UCD's School of Medicine, Professor Pat Murray, said his students and staff are heartbroken.
UCD Students' Union President Marcus O'Halloran said they would stand united and offered help to any student who needed it at this difficult time.
Meanwhile, this evening a tree was planted at the Church of Our Lady of Perpetual Succour in Foxrock in memory of the six students who died.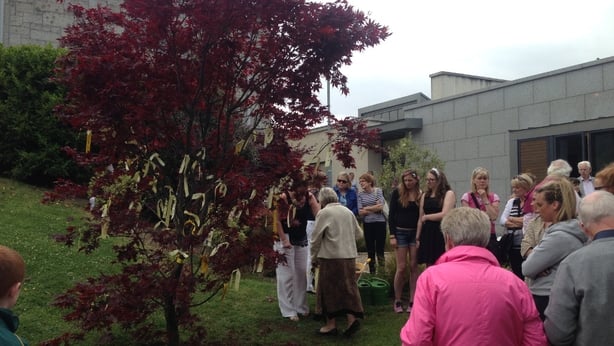 Yellow and white ribbons with messages were tied to the tree as a local choir sang Amazing Grace.
A minute's silence will be observed at all GAA inter-county matches this weekend as a mark of respect to those who died in the tragedy.
Government chief whip Paul Kehoe said an ecumenical service will take place on Wednesday at 1.30pm in St Ann's Church on Dawson Street in Dublin city centre.
This morning, signing a book of condolence at the Mansion House in Dublin, the Taoiseach described the students' deaths as "so tragic, so unfortunate and so sad".
Enda Kenny described the tragedy as "the worst thing that anybody could ever imagine".
The students had been celebrating a 21st birthday party at the apartment complex when a balcony gave way.
The reaction to the tragedy showed the solidarity of Irish people when adverse events occurred, Mr Kenny said.
He said: "We've always had this in Ireland, people understand adversity, they understand death, they understand people being taken away".
"It is so tragic, so unfortunate and so sad," Mr Kenny added.
Northern Ireland's Deputy First Minister also signed the book of condolence.
Martin McGuinness said that the deaths of six young students, and the fact that others were seriously injured, had a deep impact on everyone nationally.
He described the incident as "absolutely devastating" and said it was "beyond all of our comprehension".
In the US, the families of some of the six students who died have laid flowers and placards at the scene in Berkeley.
Minister for the Diaspora Jimmy Deenihan, who accompanied the families to the memorial on Kittredge Street, said the students were not just a loss to their families but to the future of Ireland.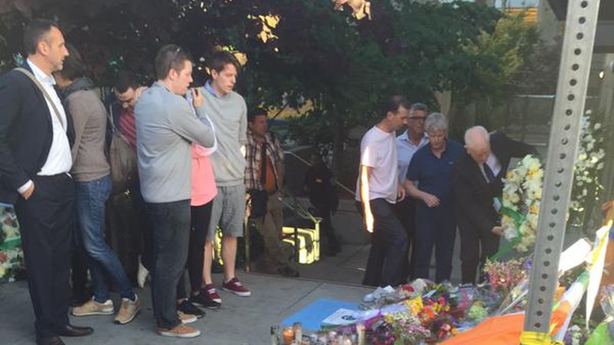 He said the sympathies of Ireland were with them and he had never seen an outpouring of genuine sympathy and grief from the whole country like the one that had accompanied this tragedy.
The minister, who was visibly emotional, was joined by Jim Walsh and Gerry Culligan, the fathers of Eimear Walsh and Eoghan Culligan.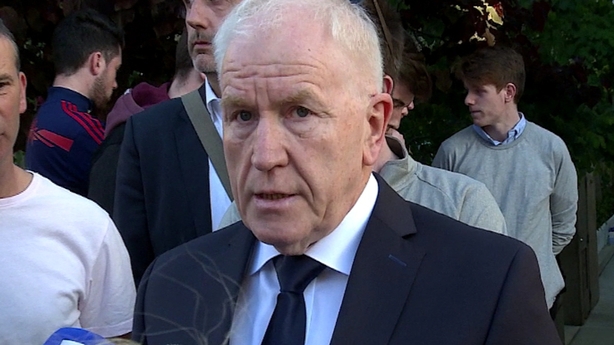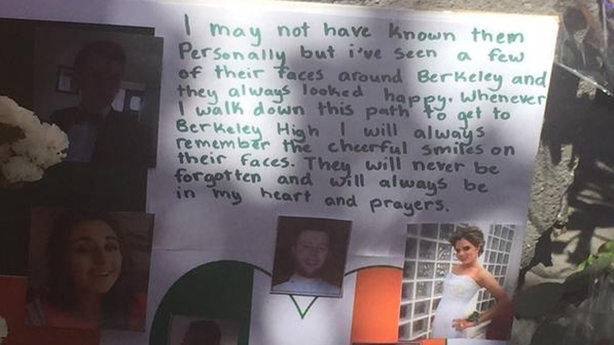 Afterwards Mr Deenihan said he had found the visit to the memorial on Kittredge Street a very difficult journey. He said he knew some of the families and had personal connections with them.
Mr Deenihan said they appreciate the outpouring of grief and it had helped them substantially to cope at this very difficult time.
He thanked all involved in helping the students both in Berkeley and in Ireland and he said the tragedy shows the affinity of Irish people in a time of need.

He also recognised the support of the J1 students who had witnessed the event and who lived in the area.
He said tens of thousands of people had benefited from the programme in the past and it was important it remained strong in the future.
Wishing Clodagh Cogley a very speedy recovery and sending much love to her, her friends and family xxx

— J.K. Rowling (@jk_rowling) June 19, 2015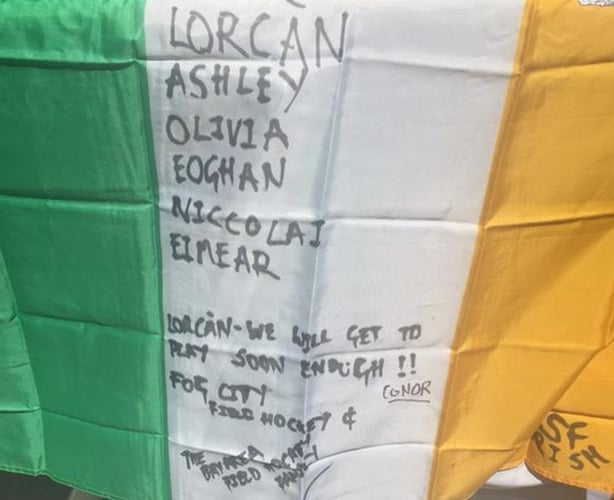 Arrangements are being made to bring home the bodies of Ms Walsh, Ms Burke, Mr Culligan, Mr Schuster and Mr Miller.
The funeral of Ms Donohoe, who was Irish-American, is due to take place in California tomorrow.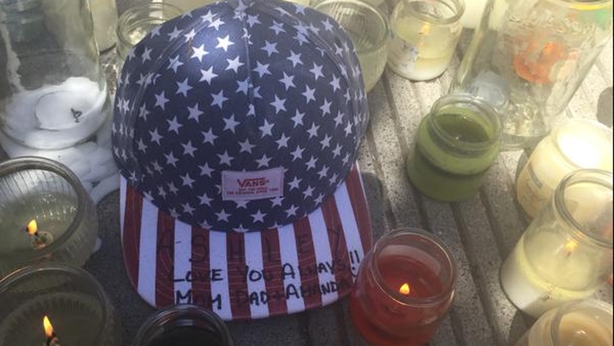 Speaking on RTÉ's Morning Ireland, Assistant to the City Manager Matthai Chakko said they are doing everything they can to help the family and friends of all those affected by the tragedy.
"For the City of Berkeley we have our fire chief and our police chief and our top city staff doing whatever they can to help the families and that includes working with other agencies that control the bodies.
"I do know that we are working extremely hard to make sure that the families can go home as soon as they should want to and we'll be trying to help them however we can.
"We've set up a centre at the City of Berkeley just for the families of those affected; we've set up counselling services here for them and their friends and we're providing anything they need in terms of logistics including transportation to the airport.
"We're trying to do whatever we can to help them because it's an incredibly sad thing and nothing we can do can really address what happened but we would like to help however we can.
"I can tell you there are multiple agencies involved here but from our city perspective our goal is to help the families and make sure they don't have to deal with red-tape and we can take on as much as we can", Mr Chakko said.