Former secretary general of the Department of Finance, Kevin Cardiff, has told the banking inquiry that Ireland was pushed quite hard into the bailout programme in 2010.
He said some of this pressure was direct and transparent, but there was also misinformation and media leaks which accelerated market pressures.
He said it was unlikely the State could fund itself in 2011, only at high interest rates which were unsustainable.
On the bank guarantee, he said it was the option least likely to lead to disaster, the situation was complex and there were no certainties.
Urgent intervention was needed and there were no costless options.
An alternative of delaying a few days and waiting for a possible European solution was a gamble which would not have solved the problem.
It was clear two-weeks later, that there would be no European intervention and governments had to deal with their own banks.
There was every possibility of a run on Anglo Irish Bank, and Irish Life & Permanent would run out of cash a few days later, on the Thursday.
Banks sought a broad guarantee, a four or six-bank solution which he said was essentially the same thing.  
They did provide one draft along with a pricing structure and a list of subsidiaries which should be covered.
Brian Lenihan and himself advocated another option by nationalising Anglo but later the minister changed his view. 
No official adviser advocated liquidation of Anglo, it was too dangerous.  
There was no information to suggest any bank was insolvent.  
On burning bondholders, Mr Cardiff said the Government was blocked in 2010 by the ECB and US Treasury Secretary Timothy Geithner and others from burning senior bondholders.
The IMF under Dominique Strauss Khan was in favour but his intervention elicited a strong negative reaction.  
It was formally Ireland's decision not to bail in bondholders but they had no option.
At the end of March 2011, the new Government tried burning Anglo bondholders as there seemed to be a shift in ECB thinking.
Again they were blocked and the Government backed down so as not to alienate the ECB.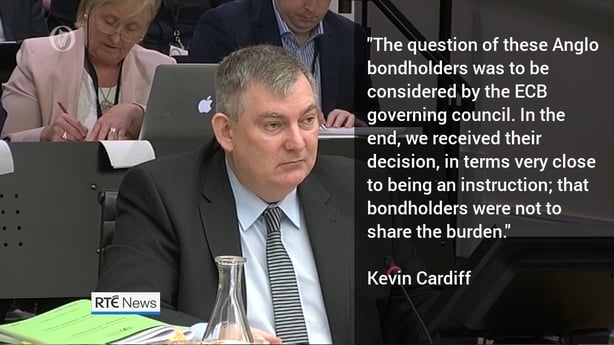 He said that day the ECB did a lot more than "give advice".
Department of Finance SG tells inquiry economic danger warnings should have been stronger
The current secretary general of the Department of Finance, Derek Moran, told the inquiry that the department did warn about dangers in the economy but it was fair to say the tone should have been stronger.
Asked by Fianna Fáil's Michael McGrath how many economists were in the department, he said it was about quality rather than number.
There were 20 now versus 10-12 in 2003 but more of the current economists would have masters level qualifications. 
Mr Moran said the State still had a very significant sovereign debt overhang  which would take many years to become less troublesome.
On the Wright Report which examined the department, Mr Moran said the spirit of the recommendations had been implemented.
Deficits were made to protect the vulnerable - John Moran
Former secretary general of the Department of Finance John Moran told the inquiry that the State should broadly wash its face on the pillar banks and that leaves the promissory notes so the legacy debt from the banking debt is €30bn but the legacy debt from deficits is going to be over €100bn.
He said this was not to say wrong decisions were made, the deficits were to protect the vulnerable.
He said following months of research they could not find a way to refinance debt to make it low interest without liquidating IBRC.
"Our tactical approach was to build a relationship of trust with our Troika partners" he said.
"The reality remains that we are spending more than we are paying into the system" he added.
Cardiff says banks sought wider guarantee
Mr Cardiff said that the banks sought a wider guarantee than the one the government introduced.
He told the inquiry that the banks wanted their new borrowings to be covered by a guarantee for the full-term of the borrowings instead of the two-year period which the government implemented.
He said the banks produced a document on the night of the bank guarantee which suggested a draft guarantee and his impression was that the paper came from AIB.
Mr Cardiff said he told the then taoiseach, Brian Cowen, that if the government used the bank's suggested guarantee, it would be wider than the one the government had discussed.
Mr Cardiff said he was unable to find the suggested wording of the guarantee from the banks.
He added: "It was not generated by us it came from the banks."
He said he never saw special influence from Anglo Irish Bank on Mr Cowen.
Mr Cardiff said there was not much time to make notes of banking crisis meetings and staff were "stretched".
He said he frequently took limited notes and sometimes he was the only one taking notes.
In the summer of 2008, there was a sense of crisis but by August the situation became more "real".
At the start of September there was a "trigger" which was that Reuters published a story that Irish Nationwide was to be liquidated.
Mr Cardiff said this could have caused a run on the building society and the preparations by the Department of Finance were accelerated.
He said he was not told by the Financial Regulator that Irish Nationwide had eaten through it capital.
Kevin Cardiff's full transcript: https://t.co/UcXguucDAh

— David Murphy (@davidmurphyRTE) June 18, 2015
Mr Cardiff said several people, including Sean FitzPatrick, Dermot Desmond, and Charlie McCreevy, suggested the introduction of a guarantee some months beforehand.
At the end of April 2008, Mr FitzPatrick, then Anglo chairman, suggested some form of guarantee to John Hurley. 
Around a week later, an individual noted as DD also suggested a broad guarantee. He could not recall whom.
On 3 May, Mr McCreevy suggested a form of political guarantee.
In early September, Mr Desmond rang Mr Hurley to suggest a guarantee might have to be considered. It was also suggested by Irish Life & Permanent chairman Gillian Bowler and Bank of Ireland chief Brian Goggin. 
Mr Cardiff also said ECB head John Claude Trichet told Mr Hurley in the days before the guarantee that Ireland had to save its banks. 
There was no discussion on specific terms and no message to guarantee the banks in any sense. 
Inquiry chairman Ciarán Lynch asked why the NTMA, which he called the nation's bankers, was outside the decision room. 
Mr Cardiff said the NTMA had been consulted in the lead up and its views were known. 
The banks' draft guarantee was "not even one page". Copies were circulated. There were 12 drafts of the guarantee statement. 
Asked by Sinn Féin finance spokesperson Pearse Doherty how much they knew about the banks troubles, Mr Cardiff said they knew Anglo would default because the Central Bank told them and the bank told them. 
The NTMA, Merrill Lynch and some parts of the Department of Finance were advocating nationalising Anglo along with some level of strong public statement of support for the rest. 
The banks themselves asked them to deal with Anglo and INBS and give the rest a guarantee.
Mr Cardiff said he did not believe it particularly likely that the banks wanted Anglo and INBS to fall apart. 
They must have known dealing with Anglo would involve some form of guarantee. 
Fianna Fail TD Michael McGrath asked why nobody had checked the underlying health of the banks prior to September 2008. 
Mr Cardiff responded: "We believed that the regulator had a good picture and a level of stress testing had been done."
He said the department stopped accepting that when it was alerted to problems in Irish Nationwide in September 2008 and it found the regulator's view was not backed up with data. 
Mr Cardiff said he regretted that he did not request that the Regulator did not do further checks on the health of the banks. 
He said when the capital was put into the banks by the State it was because the markets were no longer happy with a 4% capital ratio in any banks. 
Mr Cardiff said there were fewer skilled civil servants in the Department of Finance than he would have liked. But he said he did not think this created the crisis.
He said the Department of Finance was not given reports on bank's sectoral lending risks.
The inquiry has been shown a document dated four days before the guarantee was announced, showing that Anglo Irish Bank and Irish Nationwide could need fresh capital of a total of €10 billion.
The document was a note from a meeting involving the Department of Finance.
Mr Cardiff said he was not sure who made that comment at the meeting and at that point it was "all finger in the air stuff".
But he added that prior to the guarantee it was clear that if these banks needed funds a guarantee would mean that they would need to be given further assistance by the State.
Mr Cardiff said there has been zero co-ordination of evidence between witnesses.
He also told the inquiry it was unlikely that the Cabinet would not agree to the bank guarantee once it had been recommended by the Taoiseach, Minister for Finance and the Attorney General.
Mr Cardiff said there had been a lot of work done before the Guarantee and it was not that they turned up on the night with no preparation. 
He said that the big failure was that they had not prepared for the worst. 
He said that a variety of options were considered - nationalisation, ELA, loans from the Central Bank and the Exchequer swaps.
He said that these could not be costed although the cost was zero unless something went wrong. 
Mr Cardiff said that Jean-Claude Trichet's comments on not allowing a bank to fail would not have been in any document, it was said informally. 
He said the ECB was helping Ireland but it was not helping us in the market. 
When he was asked if they saved the Euro, Mr Cardiff said: "Yes but so did the Brits, the Germans and the Belgians, it was not just the Irish".
Asked if JP McManus or Denis O'Brien had contact with the Department of Finance about a guarantee, Mr Cardiff said he had no recollection of that.  
'We stopped wearing ties'
Former secretary general of the Department of Finance John Moran has told the inquiry that he cannot for sure say if Mr Trichet had threatened to withdraw emergency funding to Irish banks as he was not on the phone call with Mr Trichet.
But he said that the government would have brought in burden sharing for bond holders if the ECB had supported this.
He said the government was anxious to bring in burden sharing but decided not to do so following a phone call by the Minister for Finance with Mr Trichet.
Asked what changes he brought in during his two years at the Department of Finance, Mr Moran said "we stopped wearing ties".
He went on to add that he recruited 100 new staff which brought in fresh blood and fresh thinking and also said that he brought in new technology.
---
Analysis: Business Editor David Murphy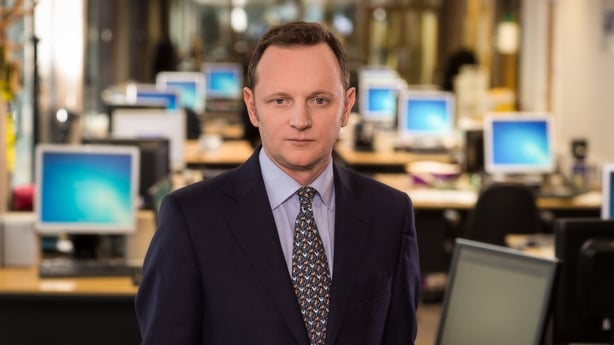 If you look at what was going on at the time Kevin Cardiff is talking about, there were a number of international news agencies that began to report that Ireland was going to go into a bailout.
That increased pressure on the Government. Mr Cardiff referred to this: that there had been anonymous briefings from the institutions to the international news agencies saying Ireland would need financial assistance.
Ireland's cost of borrowing was increasing and once our cost of borrowing reached a certain point, once it went over 7%-8%, it would really have been far too expensive for Ireland to be able to get money from the markets. We would have to get assistance from elsewhere.
Certainly, this added to the pressure and pace on us to accept a bailout. However, there are others that say Ireland should have seen this coming and should have begun negotiations on a bailout at a much earlier point.