The mayor of Berkeley has said that rotted wooden beams are the likely cause of a balcony collapse that killed six young people.
Tom Bates has said initial findings by investigators suggested that the wooden beams supporting the balcony were not properly caulked and sealed when the building was being constructed.
It is believed the supports were damaged by moisture as a result.
"More than likely, it was caused by rain and water damage that was caused to the support beams," the mayor said.
Five Irish students and one young Irish-American were killed when the fourth floor balcony collapsed in the early hours of yesterday morning.
They have been named as Ashley Donohoe, 22, from Rohnert Park, California; Olivia Burke, 21; Eimear Walsh, 21; Eoghan Culligan, 21; Niccolai Schuster, 21; and Lorcan Miller, 21; all with addresses in Ireland.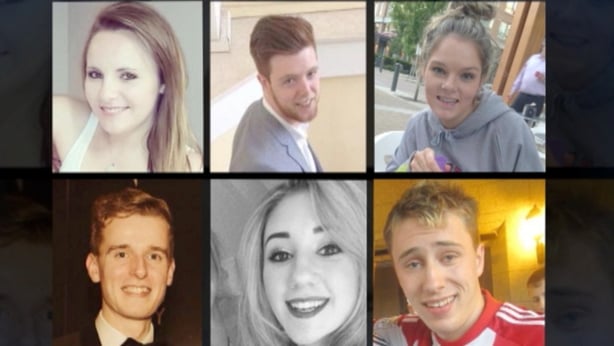 Seven other people were injured, two of them critically.
Another balcony at the apartment complex has been deemed "structurally unsafe" and a "collapse hazard".
The owners have been ordered to demolish it.
Two other balconies were sealed off or "red-tagged" as tests continue.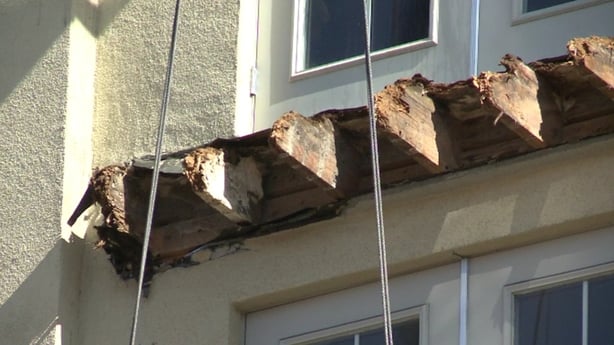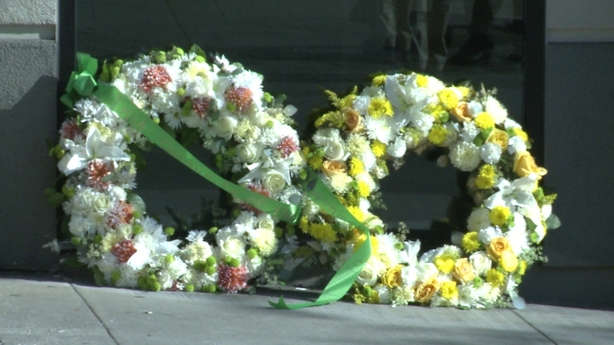 A civil and structural engineer has also said water damage may be to blame for the balcony collapse.
Gene St Onge, who saw the damage, told the Los Angeles Times: "It appears to be a classic case of dry rot, meaning water intruded into the building (and) rotted the wood."
A former member of the Berkeley Design Review Committee is reported as saying the balconies in the complex were intended to be decorative or "as a place where someone could stand out for a bit, get a breath of fresh air. Not for something like 13 people."
The investigation into the tragedy is continuing and Berkeley city spokesman Matthai Chakko said inspectors were looking into the state of the building.
He said results would not be available for several days.
'Terrible, terrible times' - US Ambassador
The US Ambassador to Ireland described "these days", following the deaths in Berkeley as "terrible, terrible times."
Kevin O'Malley said the US government will do everything it can for the Government to assist the families of those affected.
"I've spoken to the Taoiseach, to Minister Flanagan and to President Higgins personally and told them that the United States government would do everything that we could for the Irish government to make sure that they can assist these families as directly as possible to have everything done as efficiently and as painlessly as possible."
Ambassador O'Malley says the US Govt will do everything to help Irish Govt to assist families of Berkeley victims https://t.co/5Y0JIbyLRP

— RTÉ News (@rtenews) June 17, 2015
Asked about the language used in an New York Times article on what happened in Berkeley and the J1 visa programme, he said the programme is one of the cornerstones in making sure that relations with the US remain at a wonderful level.
Speaking on RTÉ's Six One, he said the scheme builds on a person-to-person level what governments sometimes cannot do.
Mr O'Malley said Irish people do not feel the programme is an embarrassment and said he does not believe that picking out an incident or two of youthful misbehaviour years ago is a way to look at the programme.
Meanwhile, the Taoiseach has said Minister for Diaspora Jimmy Deenihan is to travel to the United States "as a show of solidarity" on behalf of the Government.
Leading statements by party leaders in the Dail this afternoon, Enda Kenny said assistance will be given to the families both at Dublin Airport and in San Francisco.
He said the Department of Foreign Affairs has "been in touch" with all the families and that a liaison officer had been assigned to help them with the journey ahead.
Additional staff have been sent to San Francisco, and there are staff at the consulate in Boston and New York for families travelling through those cities.
Mr Kenny confirmed that grief counsellors will be available at Berkeley City Hall where an incident centre has been set up.
Tánaiste Joan Burton said "words wash away like water" in such circumstances.
However, she said it brings everyone together to mourn the loss of "these wonderful and beautiful people".
The Dáil was suspended for a time this afternoon as a mark of respect for the five young Irish students and one young Irish-American killed in the tragedy.
Two other students are said to be in a critical condition in hospital while five others are described as stable.
Some of the floral & other tributes at the apartment block where the balcony collapse happened in #Berkeley @rtenews pic.twitter.com/vYs5Jw1XUa

— Caitriona Perry (@CaitrionaPerry) June 17, 2015
This morning our flag flies at half-mast in remembrance of those who lost their lives in yesterday's Berkeley tragedy pic.twitter.com/1g93pggmZN

— U.S. Embassy Dublin (@USEmbassyDublin) June 17, 2015
Support for families and Irish in Berkeley
Fr Brendan McBride, a chaplin at the Irish Immigration Pastoral Centre, said the parents of two young women injured in the collapse have arrived in California.
Speaking on RTÉ's Six One, Fr McBride said Aoife Beary and Hannah Waters are recovering at the Highland Hospital.
Fr McBride said a team from the centre is working with the families to assist them in any way possible and there has been a tremendous outpouring of support from the Irish community in Berkeley and beyond.
Earlier today, USIT Managing Director Dearbhla O'Brien said that those affected are covered under their insurance policies and she urged people to get in touch for support and assistance on 01-6021630.
Speaking on RTÉ's News At One, she said that repatriation is covered along with medical expenses for those injured and those who were at the party are insured to return home, should they so choose.
Ms O'Brien said insurance is being arranged for two family members of each of those affected to travel to the US.
She said that in the 50-year history of the J1 programme, she has never witnessed anything of this magnitude and scale.
She extended her sympathies to the families involved.