The family of a young mother of three who died of cancer after two opportunities to diagnose her were missed, has begun an action for damages at the High Court.
Melissa Hamilton, 34, from Killygordon, Co Donegal, died on 8 September 2011, nine days after her third daughter was delivered by Caesarean section.
The High Court was told she first went to her GP complaining of pain in her right breast in December 2009. She was referred to the breast clinic in Letterkenny General Hospital twice in 2010 but was not diagnosed on either occasion.
She was finally diagnosed with invasive breast cancer on 22 August 2011 while pregnant with her third child.
The little girl was delivered by Caesarean section on 30 August at 28 weeks. Mrs Hamilton had to undergo a hysterectomy following the birth and died on 8 September.
Liability was not admitted until 26 May this year. Her three daughters are now aged ten, six and three.
Senior Counsel Eugene Gleeson told the court that Melissa Hamilton was "a giver" and had worked since she was 13 years old. She looked after her children, cared for her parents and also worked for her brother, Garvan Connolly who ran self catering accommodation locally.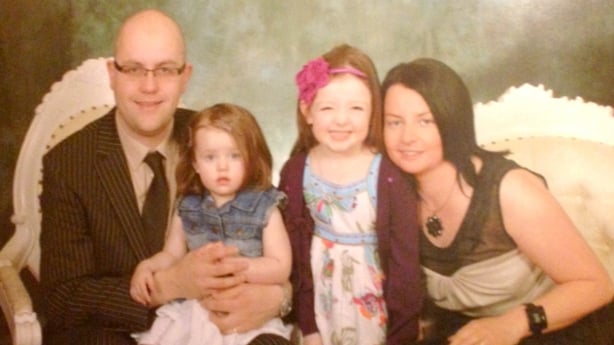 The court heard she first went to her GP, Eileen Coyne, on 31 December 2009 complaining of soreness in her right breast.
She was referred in January 2010 to the breast care clinic in Letterkenny, where she was told she had a benign cyst.
The court was told the examination and report was carried out by a Senior House Officer when it should have been carried out by a more senior doctor.
By June 2010, the court heard the pain was worse and there was a discharge from her breast. She was referred to the breast clinic again and diagnosed with mastitis and prescribed antibiotics.
Her husband, Seamus, told the court that his wife was in a lot of pain but was relieved that nothing "more sinister" was going on.
In August 2011, she went to a locum GP who immediately referred her to the breast clinic. She was diagnosed with invasive cancer and a decision was made to deliver her baby by C-section.
The baby was very premature and was taken to Altnagelvin Hospital in Derry within an hour of her birth. Mrs Hamilton had to have a hysterectomy and remained in hospital where she died on 8 September.
The court heard the baby was born profoundly deaf but has had cochlear implants and is rapidly catching up with her sisters.
The court action is to assess damages and to quantify past and future care.
The court heard Mr Hamilton, who was an engineer, had had to give up work and become a full-time mother and father to his three daughters.
Mr Hamilton said he had been lucky enough to have married his soul mate.
He described his wife as a "superwoman".
He said she was relieved on both occasions when she left the breast clinic in 2010, because she had been told there was nothing "sinister" going on.
He said she was in a lot of pain but believed she was suffering from an abscess and they had decided they would deal with it after their third child was born.
He said in the summer of 2011, she did not have the same get up and go that she would normally have. She was normally a very upbeat, positive minded person - "one of those people you would not forget after you'd meet her."
He said after she was referred to the breast clinic for the third time in August 2011, she told him she did not think she would get a positive outcome this time. They were told on 22 August 2011 that she was suffering from invasive breast cancer.
Mr Hamilton said he felt Dr Michael Sugrue, who gave them the news, was immediately on the defensive and told them he believed the tumour had only been there for four months.
He said Melissa broke down when they got home. She was convinced the tumour had been there much longer and was distressed because the children were so young.
Mr Hamilton described the delivery of their youngest daughter and his wife's deterioration in the days that followed. His wife died a fortnight after her diagnosis.
Mr Hamilton also told the court about his wife's funeral and about telling their oldest daughter who was then six, that her mother had died. He broke down as he described how she said to him, some time later, that she thought her mother would be coming back from heaven.
He said this was almost harder than telling her about the death. But he said she had improved a great deal with counselling.
He said he had not gone back to work as he could not have left his daughters the way they were.
Mr Hamilton said he had not been able to get cochlear implants for his youngest daughter through the HSE as they would not treat her until she was five or six so she had gone to Northern Ireland for treatment.
He said he had received great support from his family and the community and 5k race for charity was held every year in Melissa's memory.
He said he was definitely not the same person he had been and had spent two or three years in denial.
He added it was still hard to get his mind around the fact that Melissa was not coming back.
He said he had not had a full night's sleep since his wife's death and woke up with dreams or nightmares, but the dreams were never as bad as the reality.
He said he rarely socialized and although he knew life went on, it was not easy to see it going on.
The case will continue tomorrow.