HSBC has announced plans to cut almost 50,000 jobs from its payroll, axe its investment bank and shrink its assets by $290bn (€257bn) in an effort to improve its sluggish performance.
HSBC is Europe's biggest bank. 
The announcement to the Hong Kong stock exchange came ahead of a presentation to investors and analysts when chief executive Stuart Gulliver will give more detail on his second major strategic plan since he took the helm at the start of 2011. 
The job cuts, which will affect almost a fifth of the bank's workforce, involve 25,000 staff from the expected sales of the lender's Brazil and Turkey units. 
Another 22,000-25,000 jobs will go from the consolidation of IT and back office operations and branch closures. 
It is thought 8,000 jobs could be impacted in the UK, where HSBC has around 48,000 employees. 
The company also employs more than 400 people in Ireland. It is not yet known if they will be affected by the job losses. 
The cuts are the latest in a series of heavy staff reductions and will leave the bank with around 208,000 full-time equivalent staff, down from 295,000 at the end of 2010 and 258,000 at the end of 2014. 
However the cuts, to be completed by 2017, will be followed by some hiring in growth businesses and the bank's compliance division, HSBC said without providing details on how many people will be recruited.
HSBC also said today it will shrink the global banking and markets division to less than one third of HSBC's $2.6 trillion balance sheet from its current level of around 40%, a significant but expected shift for the lender.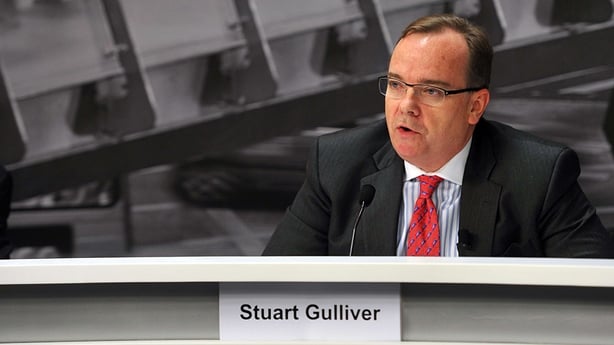 Investors had been calling for more radical cuts at the global banking and markets division, that Mr Gulliver previously ran for five years, whose returns have suffered in tough market conditions. 
The bank also confirmed the planned sale of its units in Turkey and Brazil, adding it would keep a presence in the latter to serve corporate clients.  
The new strategy at HSBC is not solely about cuts though, with the bank saying it will target growth in Asia by expanding its insurance business and its presence in China's Pearl River Delta region. 
The bank also set out the 11 criteria it will use to evaluate whether to move its headquarters from London to Asia, likely Hong Kong. They include factors such as economic growth, tax, and government support for the growth of the banking system.
It will complete the review of the possible move by the end of the year, HSBC said.