Up to 350 construction jobs are set to be created in Co Mayo when building work begins later this month on a new biomass power station in Killala, on the site of the old Asahi factory.
The plant will be fueled by woodchip biomass and will produce enough electricity to power 68,000 homes.
The new power station, for which planning was already granted, is being developed by Mayo Renewable Power and represents an investment of €180m.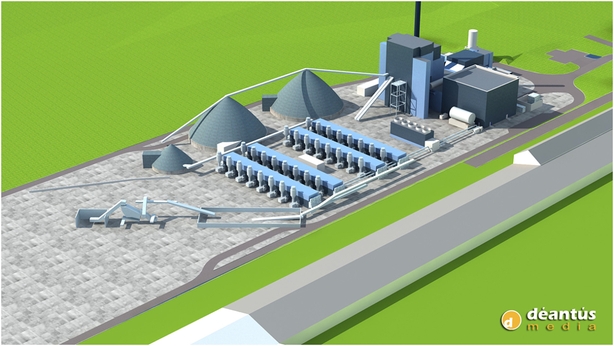 The construction phase is due to be completed in 2017 and after that there will be 30 full-time jobs at the station.
Much of the biomass fuel for the plant will initially be imported, but the plant will also take willow and miscanthus - fuel crops that can be grown by local farmers.
When complete, the power station will produce 42 megawatts of electricity.
It will also include a fuel processing plant that will take waste heat from plant chimneys and use it to refine biomass for other commercial uses.  
Announcing the new station today, Taoiseach Enda Kenny said the investment is "a vote of confidence in the Irish economy and is part of the recovery that is beginning to spread to every region of Ireland".
He added: "It will be the largest biomass power station to have been built in this country to date and will contribute to reducing our greenhouse emissions.
"Ireland is committed to meeting 40% of electricity demand, 12% of its heat, and 10% of its transport, from renewable sources. The new Mayo plant will help us meet our targets", Mr Kenny said.