The High Court has issued its written judgment giving its reasons for granting an injunction to Denis O'Brien and Irish Bank Resolution Corporation against RTÉ.
The injunctions prevent RTÉ from broadcasting confidential details of Mr O'Brien's personal banking arrangements with the IBRC.
Mr Justice Donald Binchy said he had made some redactions to the judgment but he said they were "fairly minimal".
He said he had taken on board comments made by lawyers for RTÉ in legal submissions yesterday.
He said he had taken into account not just the exact text of Independent TD Catherine Murphy's speech to the Dáil last Thursday but also the meaning of what she said.
Mr Justice Binchy also said the redactions related to issues that could not be reasonably inferred from what Ms Murphy said in the Dáil.
In his judgment, Mr Justice Binchy said the existence of a right to confidentiality between a bank and its customers had been recognised in law for almost a century.
He said there was a public interest in the maintenance of such confidentiality for the benefit of society at large.
He said the right to confidentiality was not absolute and it may give way to issues of very significant public importance.
He said it seemed to him that there must be some meaningful connection between the issue of public importance identified and the person whose rights may be breached and the information and documentation under consideration.
The judge said there was no doubt at all about the public interest in the affairs of IBRC. But he said that did not entitle the public to know every detail of the affairs or operation of IBRC and certainly not confidential information concerning its customers.
He said where there were any significant shortcomings in the governance and operation of IBRC, in particular where those shortcomings may lead to significant losses, which had to be borne by the public purse, then the public was entitled to be informed of such matters.
He said the concern RTÉ had raised is that when a deadline for the repayment of Mr O'Brien's loans expired, Mr O'Brien applied to the CEO for an extension of time to repay the balance.
He said RTÉ contended that this request may not have been properly processed within IBRC.
RTÉ contended that Mr O'Brien alleged he had a verbal agreement with the CEO, Mike Aynsley, in circumstances where such an agreement would need credit committee approval.
The judge said if such an agreement was reached without credit committee approval it would indicate a failure of corporate governance, having regard to the significant balance of the loan outstanding.
He said if it led to a loss for IBRC, that might well justify a finding that Mr O'Brien could not rely on the confidentiality that would otherwise apply.
But the judge found no evidence of a substantive nature was presented to the court to allow him to conclude there had been such a failure of corporate governance.
He said at its height, RTÉ's case was that Mr O'Brien himself alleged he had a verbal agreement with Mr Aynsley. And that the special liquidator Kieran Wallace said it would not be unusual for borrowers to say they had such an agreement.
But the judge said this fell short of establishing the conclusion of such an agreement.
He said the existence of this agreement was not accepted by IBRC.
O'Brien had 'right to privacy' in banking documentation
The judge said that Mr O'Brien had a right to privacy in his banking documentation under the European Convention of Human Rights and the Constitution.
He said IBRC and Mr O'Brien had a right to confidentiality in their dealings with each other and said this had to be balanced against the right of RTÉ to freedom of expression also under the convention and the Constitution.
He said the court must take into account the fact that very little, if any, connection had at this stage been established between the public interest in alleged failures of corporate governance at IBRC and Mr O'Brien's personal dealings with IBRC.
In the absence of such a connection, he said he believed Mr O'Brien and IBRC had established a convincing case they would succeed at a full trial of the matter.
The judge found that damages would not be an adequate remedy for Mr O'Brien, taking into account evidence from a banking expert, Marcus Trench, about the losses Mr O'Brien might sustain into the future.
He then considered the balance of convenience.
He ruled that if he did not grant the injunctions, significant details of Mr O'Brien's banking affairs would be placed in the public domain immediately.
He said if Mr Trench was correct, that would cause Mr O'Brien incalculable loss.
But he said on the other hand, the IBRC story was an ongoing one and was highly likely to remain newsworthy for a considerable time to come, and certainly well after the end of these proceedings.
Mr Justice Binchy ruled the balance of convenience in granting the injunctions favoured IBRC and Mr O'Brien.
The matter will be back before the court on Friday, when RTÉ may make further applications to the court.
---
Analysis by Brian Dowling of RTÉ's Political Staff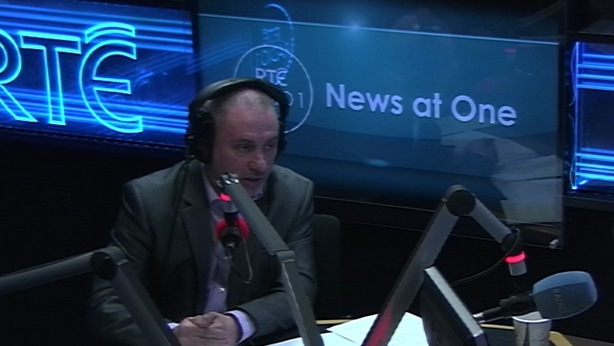 There are a number of strands politically to what may unfold next week. Catherine Murphy may want to pursue her Private Members Bill, which is intended to increase the powers of the Comptroller and Auditor General to allow a wider investigation into IBRC.
There could be fairly significant support, or unanimous support, on the opposition benches for that but the Government may want to "hold the line" and stick by the review it has initiated by KPMG - the special liquidators of IBRC.
Denis O'Brien's complaint about Ms Murphy's speech may go from the Ceann Comhairle to the Committee on Procedures and Privileges. However, even if Dáil members grossly transgress privilege and abuse it in an appalling fashion there does not seem to be any sanction of a magnitude that would be equivalent of the wrong done.
This is something that has come into more play politically following Mary Lou McDonald's "Ansbacher" comments in the Dail.
The ruling by Mr Justice Binchy may also have an impact on any debate. Mr Justice Binchy is very clear that he decided to grant the injunction to Mr O'Brien because there was no substantive evidence put to him concerning Mr O'Brien's dealings with IBRC that would give rise to a public interest sufficient to warrant setting aside his right to privacy regarding his banking details.
Listen to Brian Dowling's Analysis on News At One
---
Judge outlines background
Mr Justice Binchy set out the background to the case in his judgment.
He said that on 28 April 2015, RTÉ wrote to Mr O'Brien and IBRC, requesting certain information concerning a debt due by Mr O'Brien to IBRC.
The researcher, Pamela Fraher, said she had seen a letter of October 2013 from Mr O'Brien to IBRC, in which he claimed to have had an agreement with the previous management of IBRC to repay the outstanding balance of loans over a three-year period as opposed to a one-year period previously agreed.
Ms Fraher informed Mr O'Brien and IBRC that she was working on a news report in relation to that request and that it was intended to state in RTÉ's report that Mr O'Brien had sought an extension of the repayment period of his loan, that this was agreed with IBRC management at the time, in particular, Mr Aynsley, and that Mr O'Brien or his companies benefitted financially from these arrangements.
The letter addressed a series of questions to Mr O'Brien and IBRC.
Mr O'Brien's and IBRC's solicitors replied that whatever documentation it had in relation to their clients, it had been received unlawfully and without their consent and requested all such documentation to be delivered to them.
Solicitors for Mr O'Brien said the disclosure of information and documentation to RTÉ was a breach of Mr O'Brien's rights to privacy and confidentiality and any further breach could not be justified by any public interest in disclosure.
Injunction proceedings began on 30 April.
Mr O'Brien, in sworn documents, claimed RTÉ had come into confidential information relating to his personal banking arrangements with IBRC without his authority or the authority of anyone acting on his behalf, in breach of his rights to privacy and confidence.
He said he would suffer irreparable harm personally and financially if the information was broadcast.
He said RTÉ had advanced no public interest to displace the confidentiality between him and his bankers.
In reply, RTÉ Business Editor David Murphy said the focus of the report was not so much on the finances of Mr O'Brien as on the governance of IBRC and how it was that a major debtor such as Mr O'Brien was in a position after the liquidation of IBRC commenced to seek an extension of time on his loans, on foot of an alleged verbal agreement with the former CEO allegedly made prior to the commencement of the liquidation.
He also said that RTÉ asserted the dealings between Mr O'Brien and the former management of IBRC and between Mr O'Brien and the liquidators were matters of legitimate and public interest outweighing Mr O'Brien's right to confidentiality.
The judge set out evidence of a meeting between the Minister for Finance and IBRC in July 2012.
In this meeting Mr Aynsley said they had a strong but "not inappropriate" relationship with Denis O'Brien.
The judge said Mr Murphy said that at some point prior to appointment of the liquidators Mr O'Brien had discussions with Mr Aynsley, the then chief executive of IBRC, and senior executive Richard Woodhouse, with a view to extending the repayment period of his loans.
Mr Murphy said that Mr O'Brien subsequently asserted to the special liquidator, Kieran Wallace, that he had an agreement with Mr Aynsley and Mr Woodhouse to extend the repayment period by three years.
Mr Murphy said such an agreement would have conveyed a significant benefit on Mr O'Brien.
Mr Murphy said that he understood former management of IBRC denied their discussions resulted in such an agreement.
He also says they did not have any approval for such an agreement by any credit committee or board of IBRC.
The judge said Mr Murphy said these claims should be in the public domain because it amounted to an assertion by Mr O'Brien that senior IBRC management dealt with a borrower who owed hundreds of millions of euro to the State - on basis of unrecorded verbal agreements to the extension of loan repayment periods.
He also said it amounted to an assertion by Mr O'Brien that senior IBRC management, by the verbal agreement, conferred a significant benefit on him.
He said Mr Murphy said it amounted to an assertion by Mr O'Brien that while the agreement was proper from Mr O'Brien's point of view, senior IBRC management had made an agreement with him in respect of over €300m of debt which was from IBRC's point of view, very likely highly irregular.
Mr Murphy said such assertions were made against a backdrop of recorded concern by the Department of Finance in relation to management by senior IBRC management of relationships with major IBRC borrowers.
The judge said there was no allegation whatsoever of any misconduct or wrongdoing on the part of Mr O'Brien.
The judgment sets out a second affidavit from Mr O'Brien in which he says he wants to address a number of factual inaccuracies.
Mr O'Brien says his loan was performing and there was no evidence or any expectation that it would not be repaid in full.
He said he had paid interest and principal and was fully compliant with the covenants relating to his loan when many debtors were not.
He denied he ever threatened any legal action against IBRC or that he ever suggested the credit committee should be bypassed.
He alleged RTÉ was trying to use information confidential to Mr O'Brien to try to promote its story.
The judge also set out the evidence of banking expert Marcus Trench who swore an affidavit on behalf of Mr O'Brien.
In his reply, Mr Murphy said that if an agreement was made to extend Mr O'Brien's loans without credit committee approval then that was not a criticism of Mr O'Brien but identified a significant issue of corporate governance within IBRC.
The judge said Mr Murphy also said he understood former IBRC management asserted that their discussions with Mr O'Brien were conducted on the basis that nothing was agreed until agreed by the credit committee and that no proposal to extend the period of Mr O'Brien's loans was agreed or sent to credit committee on foot of those discussions.
Mr Murphy also said an internal note in 2013 to the credit committee analysed the issue of the extension of Mr O'Brien's loan in terms of the risk of litigating to enforce the alleged agreement.
Mr Murphy said he was not asserting that Mr O'Brien had received any loan write-off. But he said Mr O'Brien did agitate for and may have received the significant benefit of an extension of time within which to pay his loans.
The judge set out that Mr O'Brien wrote to Mr Wallace, the joint liquidator of IBRC, on 12 October 12, requesting a one-year extension of his loan facilities.
The judge said the remaining balance was substantial.
He said Mr O'Brien maintained in the letter that he had an agreement with the previous management that the balance could be repaid over the following years.
O'Brien 'delighted' with Judge Binchy's judgement
In a statement released this afternoon, Mr O'Brien said that he is 'delighted' with the judgement released today.
He said that he noted Mr Justice Binchy's statement about the existence of a right of confidentiality between a bank and its customers.
He also said: "I note that during the hearing RTÉ emphasised there as no allegation of wrongdoing against me of any kind."
Burton 'pleased' about judgment
Tanaiste Joan Burton said she was really pleased about yesterday's court judgment protecting Dáil privilege, and the clarification that it extends to media reporting.
However, she said it was "unfortunate" the clarification was delayed because of the Bank Holiday weekend.
Rabbitte welcomes clarity of court decision
Earlier, Labour TD Pat Rabbitte welcomed the clarity yesterday's court decision brought.
Speaking on RTÉ's Morning Ireland, he said it is clear now it was never the intention of the court to restrict what goes on in the Dáil or to restrict media coverage on what happened in the Dáil.
He also said there was never a situation where there was a constitutional crisis.
"The issue of the much hyped constitutional crisis where the implication has been for almost a week, where parliaments and the courts were in conflict, is not the case. There never was a situation where there was a constitutional crisis."
But he said there are still important issues that need to be cleared up.
"What we don't have clarity on is the fact that the statement that RTÉ was injuncted on seems to be different in some material respects to the statement in the Dáil by [Independent TD] Catherine Murphy.
"Denis O'Brien has never said that the RTÉ statement or the one they did want to publish is inaccurate. He has said the statement by Catherine Murphy is inaccurate in some respects."
Mr Rabbitte said he does not think that Ms Murphy has a responsibility to reveal her sources and said he thinks she would have acted in good faith.