French police officers have cleared several hundred African migrants from a camp under a subway bridge in northern Paris.
More than 350 refugees, most of them from Sudan, but also from Eritrea, Somalia and Egypt, have been living in the makeshift camp below the metro tracks between the stations of La Chapelle and Barbes-Rochechouart in the north of the French capital.
The camp initially sprang up in the summer of 2014 but swelled in April as fair weather led thousands of migrants to cross the Mediterranean from North Africa to Europe.
Authorities had put up signs over the weekend ordering the migrants to leave the camp within 48 hours and early this morning police surrounded the site and blocked nearby traffic.
The refugees, most of them men, but also including several families, waited to board nearby buses to be taken to various shelters in the Paris area.
According to a survey conducted at the site last week by city authorities and refugee associations, 160 people at the camp wanted to stay in France while 200 intended to continue to other destinations, mostly the United Kingdom and Nordic countries.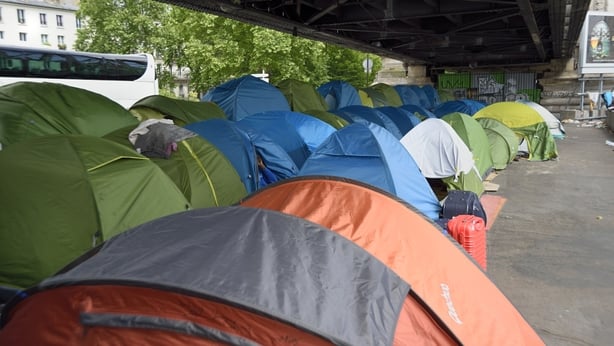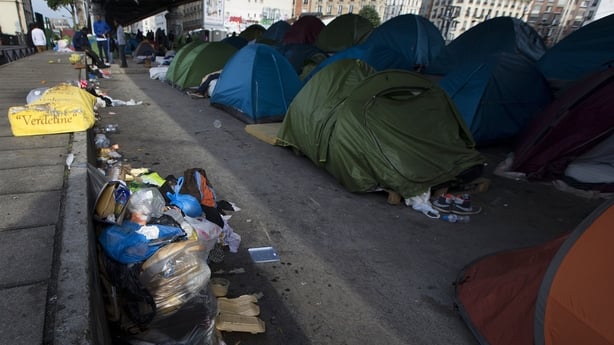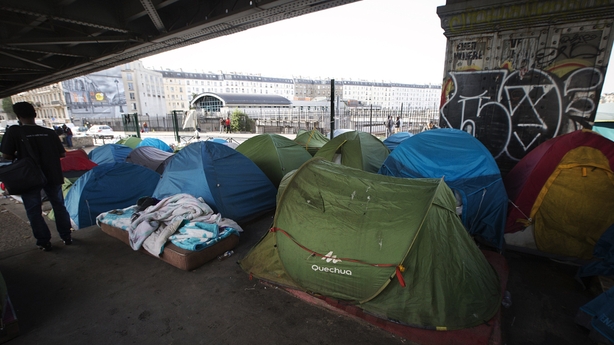 So far this year, more than 40,000 migrants - many of them fleeing conflict and poverty in countries like Libya and Eritrea - have arrived on Italian shores and around 1,770 have died on the hazardous journey that is often undertaken on rickety and overcrowded craft.
Migrants needed if Europe wants to be competitive 
Meanwhile, Leonard Doyle of the International Organisation for Migration has said if Europe wants to remain competitive then it should accept migrants.
Speaking on RTE's Morning Ireland, he said: "The bottom line is Europe is ageing fast, so if it wants to remain competitive then migrants are needed to replenish communities."
He said good weather and reports of what is happening at the European level has prompted more migrants to board boats in recent days.
"There has been a wakening up in Europe. People now recognise they have to grapple with migration in a sensible way to avoid major tragedies."
Mr Doyle said the core problem with those fleeing their native countries is their mistreatment by smugglers.
He said European countries should not fear a huge influx of migrants, adding that when Ireland takes in those in distress, they need to be integrated and become part of society.