A monument of Saighdiúr Singil Caomhán Seoighe (Private Kevin Joyce), who disappeared while serving in Lebanon in 1981, has been unveiled at Inis Oírr on the Aran Islands.
Private Seoighe was a member of the 48th Infantry Battalion who served with the United Nations Interim Force in Lebanon. He disappeared as a result of hostile action in Lebanon over 30 years ago.
Minister for Defence Simon Coveney attended the unveiling of the monument.
He said: "In serving so selflessly Irish Peacekeepers have helped save the lives of countless numbers of some of the poorest and most vulnerable people around the world. Tragically, in saving those lives too many of our finest young people, like Private Seoighe, have lost their own".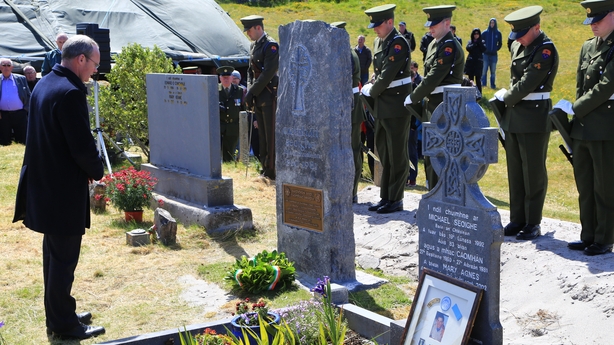 Monument unveiled in Inis Oírr in memory of Private Caomhan Seoige, who served in South Lebanon https://t.co/cJJZYg2xOl

— RTÉ News (@rtenews) May 29, 2015
Mr Coveney also said that he hoped the memorial would help the Seoighe family to cope with the loss of Private Seoighe, who would have celebrated his 55th birthday on Wednesday.
Private Seoighe and Private Hugh Doherty were serving with UNIFIL when they came under attack as they manned an observation post known as the "Iron Triangle" on the 27 April 1981.
Private Doherty was later found dead from gunshot wounds and Private Seoighe was missing. 
The UNIFIL investigation into the whereabouts of Private Seoighe found no indications of his possible whereabouts. It appears that Private Seoighe was killed a short time after his abduction.