RTÉ is to make an application to the High Court on 2 June for permission to broadcast statements made in the Dáil about businessman Denis O'Brien by Independent TD Catherine Murphy.
In a statement this afternoon, the broadcaster said it has "consistently maintained that greater levels of disclosure is in the public interest; however we have complied fully with the court's decision."
The statement goes on: "we await the outcome of the judge's ruling on 5 June as regards what level of detail in the court's judgement can be disclosed.
"Lawyers acting on behalf of RTÉ have already raised concern about the scope of the proposed orders to be made by the court.
"Every effort will continue to be made by RTÉ to report on this matter as comprehensively as possible, as early as possible, within the limits of the law", the statement said.
It comes after calls for the Dáil to be recalled in the light of what Fianna Fáil leader Micheál Martin claimed had been the silencing of media outlets in relation to comments about Mr O'Brien by Independent TD Catherine Murphy yesterday.  
The subject of her remarks is at the centre of an injunction granted against RTÉ earlier this month and cannot be reported by the broadcaster. 
Mr Martin said in a statement that it was unprecedented that a matter of serious public interest raised in the Dáil could not be reported on by the national broadcaster or other media outlets.
Speaking to RTÉ, Fianna Fáil spokesperson on health Billy Kelleher said the matter raises grave concern for freedom of speech and the independence of the Dáil.
A spokesman for Mr O'Brien insisted that individuals, no matter who they were, had an entitlement to their good name and privacy relating to their financial affairs.  
James Morrissey questioned the accuracy of what Ms Murphy had said, maintaining Dáil privilege had an important role but could not be abused to have falsehoods misrepresented as facts.
Mr Morrisey said a core principle of a democracy is the right of every individual to their good name and reputation and it was important that people "stand up for democracy inside the Dáil and outside the Dáil".
He said Mr O'Brien had sought an injunction against RTÉ as "a point of principle".
Responding to a request by Mr Kelleher to recall the Dáil over Ms Murphy's allegations, Mr Morrissey said it was "a little bit rich from Deputy Kelleher" as Fianna Fáil never did that when this country was "going down the tubes."
Mr Morrissey said: "There had always been a separation of powers but a fundamental and core principle of a democracy is the right of every individual to their good name and reputation and privacy in matters that are private."
When responding to an article that appeared in today's Guardian concerning press freedom in Ireland, Mr Morrissey said that RTÉ was "the largest media entity in Ireland".
Mr Morrissey said if there is wrongdoing involved it should be examined and investigated, but until then Mr O'Brien was entitled to his good name. 
He also pointed out Mr O'Brien's record of job creation in Ireland. 
Reacting to Mr Morrisey's comments, Ms Murphy said "simply that she stands by her right, as an elected parliamentarian, to utilise her democratic mandate to put information that has come to her in the public interest into the public domain".
She added: "The people that continue to accuse me of falsehoods refuse to provide evidence to refute any of the issues I've questioned in the Dáil."
Only Taoiseach can request Dáil recall
Speaking earlier on RTÉ's Today with Sean O'Rourke Mr Kelleher said that he has written to the Ceann Comhairle calling for the Dáil to be recalled over the allegations.
However, a spokeswoman for the Houses of the Oireachtas has said that: "In accordance with Standing Orders, the Ceann Comhairle can only recall the Dáil if requested to do so by the Taoiseach.
"A deputy cannot request the Ceann Comhairle to do so as it is not provided for in standing orders."
Mr Kelleher wants the Dáil to discuss the fact that what she said, under Dáil privilege, cannot be reported.
He said the matter raises grave concern for freedom of speech and the independence of the Dáil.
He said he would like the Dáil to reassert its validity as a chamber of free speech, and a chamber that upholds democracy.
Mr Kelleher said the principle of a parliament being unafraid to speak is critically important and fundamental to any democracy.
He added that it is important that issues in the Dáil can be reported by the media and he said it would be very disturbing if we now have a situation, whereby journalists cannot report and comment on the Dáil.
He said that any attempt to block the reporting of something said in the Dáil by a TD is an attack on the basic essence of democracy.
Mr Kelleher said the issue here is not the actual substance of the debate, but the freedom for journalists and others to be able to report exactly what is said in the Dáil.
Mr Kelleher said if an issue raised by a TD turns out to be wrong or what they have raised in the Dáil is not in the public interest, then sanctions should be placed on that individual by the Dáil. 
Sinn Féin president Gerry Adams said he has written to the Taoiseach to ask that the Dail be recalled next week "to discuss this important constitutional issue."
In a statement, he said: "The Government should also immediately seek clarification from the Attorney General on the rights of Oireachtas members in respect of Dail privilege and the media in reporting this".
Renua has said it would like to express its total support for Ms Murphy.
Renua leader Lucinda Creighton said: "We wish to express grave concern over the restrictions placed on the tax-payer funded state broadcaster RTÉ in covering this issue.
"We wish to express grave concern over the courts definition of the public interest and what is of public interest" she continued. 
Speaking on RTÉ News at One, Ms Creighton described the silencing of media outlets as a grave situation.
Ms Creighton said she believes Deputy Murphy had the right to, and continues to have the right to, speak in the Dáil chamber and to put a matter of public interest on the Dáil record.
 
She has called on all 166 TDs to stand up and defend the individual right of TDs to comment and to raise issues of public interest and public concern.
She also said the Taoiseach now needs to answer where he stands on the integrity and independence of the Dáil.
 
She said it is a matter for the Oireachtas to determine whether comments made by Deputy Murphy in relation to Mr O'Brien are right or wrong.
But, she said, she believes Ms Murphy is acting in good faith and that Ms Murphy is convinced of the truth of what she is saying and that she has the right, as a member of parliament, to say it on record.
 
She said the media not only have a right, but an obligation to report it.
 
Deputy Creighton said there is also a Constitutional question surrounding the issue of powers. She said the courts do not have the right to silence the Houses of the Oireachtas.
 
She said that in relation to TDs abusing Dáil privilege, it is the Oireachtas that has to hold members to account, not private individuals, not big corporations and not the courts.
Minister for Finance Michael Noonan has said Dáil deputies have privilege for specific reasons of public interest and when they use it for that reason they are entitled to be heard and entitled to the space to express their views.
He said that has been happening effectively.
Asked about the issue of media being effectively silenced in reporting of Ms Murphy's speech, Mr Noonan said you could not expect him to criticise a court decision and he was not going to get into that space.
Asked whether the Dáil should be recalled to discuss the issue, Mr Noonan said the Dáil schedule has been published for a long time and a lot of arrangements have been made and everyone knows the Dáil is in recess next week.
He said Ms Murphy is a very effective deputy and she should get an opportunity when the Dáil returns to raise her issues.
'Defining moment' for media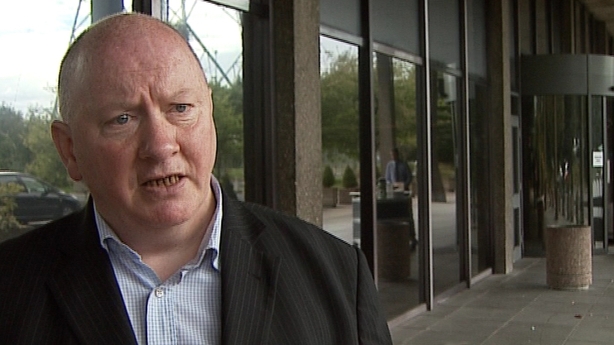 The National Union of Journalists has welcomed the decision by RTÉ.
NUJ Irish Secretary Séamus Dooley said urgent clarification was needed on this.
He also said it is in the interests of democracy and in the interests of freedom of expression.
Earlier, the NUJ criticised the media for not publishing the statement Ms Murphy made in the Dáil last night.
Mr Dooley warned faith in the media would be "shattered if proprietors and editors did not challenge threats to parliamentary democracy and freedom of expression".