Unions and business groups have been reacting to news that the Government said it will support IAG's proposed takeover offer for Aer Lingus.
The Irish Congress of Trade Unions has said it is a matter of "very serious concern" that the Government has "failed to achieve any guarantees on possible job losses and outsourcing in Aer Lingus, despite some progress on issues such as connectivity and slot retention". 
Congress General Secretary Patricia King said: "While there has been some obvious progress, there was also a very clear failure to achieve guarantees that there would be no compulsory redundancies or outsourcing, following any IAG takeover."
The IMPACT trade union said it maintained the view that the proposed takeover is "bad for jobs, for Aer Lingus workers and for Ireland's connectivity and economic development".
In a statement, the union said it remains concerned that any assurances given by either company offers no real guarantees to address these concerns.
"For the staff at Aer Lingus, there are genuine concerns of compulsory redundancies if the deal goes through, along with the prospect of a further erosion of terms and conditions in the inevitable restructuring of the company.
"Any assurances on the future use of the Heathrow slots will evaporate once the seven-year period has elapsed, after which these vital connection points can be moved to where they will make larger profits for the airline."
However, employers' group Ibec said the takeover had the potential to improve air connectivity to Ireland over the coming years, which would bring with it significant business and tourism benefits.
The group "welcomed the additional commitment to protect vital connectivity to the regions in the latest IAG proposal".
Ibec Director of Policy and Corporate Affairs Mary Rose Burke said: "IAG's plan to use Aer Lingus as a springboard for further growth on the key North Atlantic routes could significantly increase the number and frequency of routes to and from Ireland.
"This will make the country more attractive as both an investment location and tourism destination.
"It will make visiting Ireland and doing business out of Ireland much easier for many."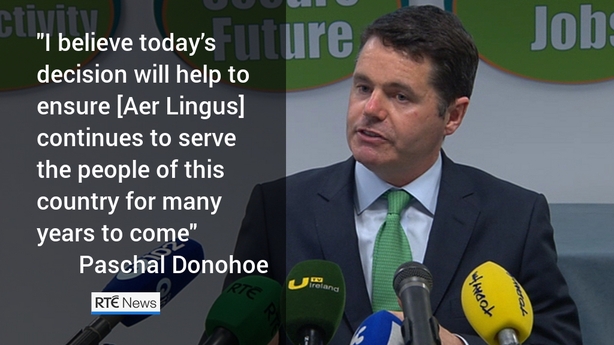 SIPTU has said it will "vigorously oppose" the plan
SIPTU organiser Owen Reid, said: "SIPTU has been consistent with its position that the Government should not consider any sale, unless a legally binding commitment, such as a Register Employment Agreement, which directly addresses the issues of compulsory redundancies and no outsourcing of functions is agreed by the company."
He added: "Regrettably, it seems this is not the case. The workers who have made a huge contribution towards making Aer Lingus the success story it is today will ask the question why other legal guarantees can be entered into but not ones that give them some certainty.
"We will be calling on government and other TDs to vote against the Dáil motion to sell the State's remaining shares in Aer Lingus. SIPTU members will also resist by all means open to them any attempts by Aer Lingus to outsource functions or to pursue compulsory redundancies."
Tourism Ireland said the decision represents a major boost for tourism from North America.
In a statement, it said it "has the capacity to significantly increase both visitor numbers and revenue from one of Ireland's most important tourism markets".
The Irish Aviation Authority said it welcomes the Government's decision.
 
IAA Chief Executive Eamonn Brennan said: "We believe that the proposal as approved by the Government offers significant benefits to Irish aviation, including guaranteed access to London Heathrow from Dublin, Cork and Shannon airports for a sustained period of time."
The DAA, which operates Dublin and Cork airports, welcomed the Government's decision.
DAA Chief Executive Kevin Toland said: "We believe that this transaction, should it be completed, offers significant potential benefits for both Dublin Airport and Cork Airport."
"Dublin Airport is already becoming a significant hub for transatlantic travel and this market segment would be further strengthened with IAG as the owner of Aer Lingus.
"This should enable additional long-haul connections and frequencies into Dublin's existing transatlantic hub."
Chambers Ireland also welcomed the announcement. CEO Ian Talbot said: "The Government has taken on board the concerns of Chambers around the country when considering IAG's proposed offer for its stake in Aer Lingus.
"The commitments made on the continuity of Heathrow slots and the potential to expand routes, and further develop links to North America in particular, will create significant opportunity for further economic growth and development."
The Chairman of Shannon Group, which operates Shannon Airport said the decision was a "positive opportunity for Ireland" which would safeguard the region's connectivity to Heathrow for a number of years.
"We are delighted that IAG has committed not only to sustain and strengthen Shannon's existing Aer Lingus services after the takeover but also to pursue further growth opportunities from Shannon to North America," chairman Rose Hynes said.
Management at Ireland West Airport has welcomed the Government's decision.

In a statement tonight, the airport said the sale would have positive implications for the facility by enhancing an existing service to London Gatwick and bringing the possibility of new routes out of Knock. 

The Airport's Managing Director, Joe Gilmore, said he looked forward to actively working with IAG and Aer Lingus should the takeover proceed. 
Fáilte Ireland also welcomed the decision, saying that the acquisition would help the long-term development of tourism in the country.
"As an island nation, air access is the lifeblood of Irish tourism and today's developments offer greater certainty regarding Aer Lingus' long term sustainability and, consequently, the continued growth of our tourism industry," said Fáilte Ireland CEO Shaun Quinn.
Dublin Chamber of Commerce backed the news, saying: "The decision regarding whether to sell the State stake in Aer Lingus was never going to be easy.
"IAG has stated an intention to use the acquisition of Aer Lingus as a lever to grow transfer traffic at Irish airports. This would represent good news for Irish business travellers and consumers and would increase the likelihood of other airlines adding new routes or increasing capacity in and out of Dublin."
Meanwhile Aer Lingus' chairman Colm Barrington described the proposed deal as a "compelling transaction".
"The company will reap the commercial and strategic benefits of being part of the much larger and globally diverse IAG Group," he said.
Sinn Féin Transport Spokesperson Dessie Ellis said the decision is a bad deal for Ireland.
In a statement, he said: "I have grave concerns for the effect it will have on Ireland's connectivity into the future as well as the threat it poses to workers in Aer Lingus and to deferred pension members."
Before the announcement, SIPTU, the largest trade union at Aer Lingus, said it wanted guarantees for existing workers at the airline that there will be no outsourcing or compulsory redundancies as part of the proposed sale to IAG.