On the second day of his visit to Ireland, UN Secretary General Ban Ki-moon has urged Ireland to "to align its climate efforts with its admirable engagement on hunger".
Speaking at Dublin Castle tonight at an event marking the 70th anniversary of the United Nations as well as Ireland's 60th year as a UN member.
He praised Ireland for its overseas aid saying that while Irish unemployment rose, Ireland worked hard to provide aid to other countries and "in going through your own period of austerity you refused to inflict it on others".
However, Mr Ban said: "One cannot be a leader on hunger, without also being a leader on climate change."
Also in attendance at the event were Minister for Foreign Affairs Charlie Flanagan, UN Special Envoy for Climate Change Mary Robinson, and former Taoiseach Liam Cosgrave.
Earlier, the UN chief told refugees who have resettled in Ireland that he has "some measure of understanding" of what they have been through.
Mr Ban told them about the village he grew up in being destroyed when South Korea was attacked, how he had to flee his home town and the deaths of three million people.
He was at Farmleigh House, in Dublin, meeting refugees who have resettled in Ireland.
Among them are families from Myanmar, also known as Burma; South Sudan; the Democratic Republic of Congo; Afghanistan and Syria.
He spoke of his deep admiration for their resilience and said the UN is with them and supports them.
He also held a meeting with Minister for Justice Frances Fitzgerald to discuss Ireland's commitment to the UNHCR resettlement programme.
The minister said while many people in Ireland are still struggling because of the economic crisis, the country has a responsibility to help displaced people.
Earlier this month the minister announced that Ireland would accept a further 300 people under the programme, as well as the 220 already agreed.
Gallery: Ban Ki-moon visits Ireland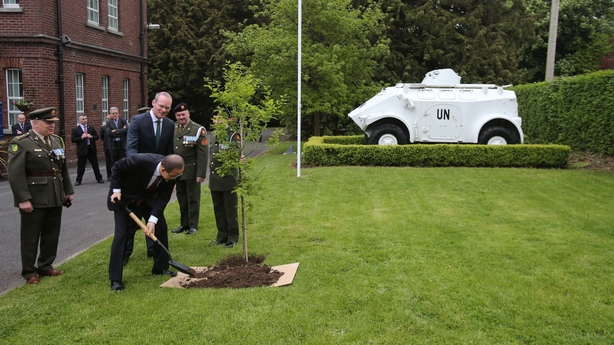 Mr Ban earlier visited the UN Training School at the Curragh Camp, Co Kildare.
He was welcomed by a guard-of-honour made up of 34 officers in training and the Army Band.
Escorted by Chief of Staff Lieutenant General Conor O'Boyle and Commandant Military College Colonel Eamonn Caulfield, he visited the United Nations Training School of Ireland.
It was established 22 years ago to train Irish soldiers taking part in peace missions abroad.
500 members of the defence forces are deployed overseas, 360 on UN missions.
Mr Ban was also shown Ireland's bomb disposal robot HOBO in action, which is widely regarded as one of the best internationally.
Minister for Defence Simon Coveney welcomed Mr Ban to the Curragh Camp.
He said: "Ireland is extremely proud of its long tradition of participating in UN and UN mandated peacekeeping missions with this year marking the 60th anniversary of Ireland's membership of the UN.
"Our meeting provided an opportunity to restate Ireland's continued commitment to the pursuit of international peace and security," he added.
The UN Secretary-General will later travel to Dublin Castle for an Iveagh House Lecture, where he will give a keynote address.
The lecture, which is hosted by the Department of Foreign Affairs and Trade in partnership with the Institute for International and European Affairs, will also mark the launch of a programme of events to celebrate the 60th anniversary of Ireland's membership of the UN.
Tomorrow, Mr Ban will meet Taoiseach Enda Kenny in Government Buildings before hosting an interactive music, drama and discussion event with young people in Iveagh House Gardens.
At this 'Youth and the Sustainable Development Goals' event, the Secretary-General will have the opportunity to meet 100 young people aged between 18 and 24.
The UN Secretary-General will participate in a discussion with Minister of State for Overseas Development Sean Sherlock, UNICEF goodwill ambassador Donncha O'Callaghan and UNICEF supporter Evanna Lynch.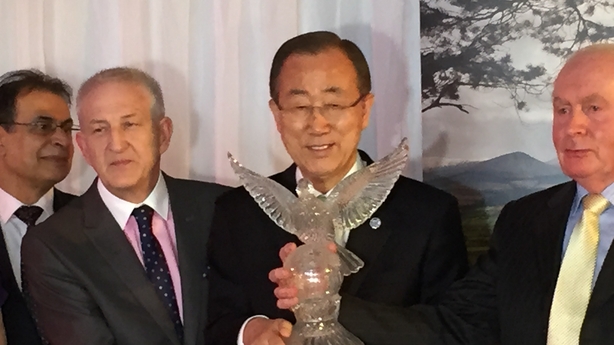 Yesterday Mr Ban was awarded the Tipperary International Peace Award.