Air crash investigators continued their examination at the scene of the light aircraft crash on the Blackstairs Mountains on the Carlow-Wexford border today.
The place where the aircraft crashed is near the top of a mountain and is not accessible by foot or four-wheel drive.
Investigators and recovery teams continued to be dropped off at the scene by Rescue 117, the Coast Guard helicopter based at Waterford airport.
The aircraft that crashed had taken off from Ballyboy Airfield near Athboy in Co Meath yesterday morning heading towards Co Wexford.
There were two men on board, and two of their pet dogs.
There were no survivors.
A hillwalker reported the crash to gardaí after finding the wreckage in a remote location on the Blackstairs Mountains.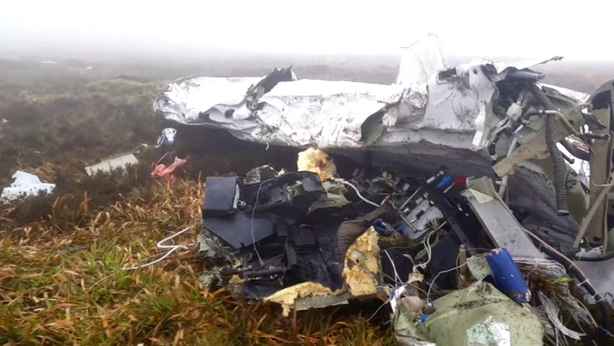 Weather conditions at the time of the crash were said to be good, and it is expected to be some time before a cause is known.
Gardaí, members of South East Mountain Rescue as well as the Air Accident Investigators are co-ordinating the operation from a base in the village of Kiltealy.
The two men who died have been named as 69-year-old Bryan Keane and Paul Smith, 58.
Both were from Athboy in Co Meath.
Mr Keane was Chairperson of the Athboy Credit Union and had been involved in the organisation for over 20 years.
The men's bodies were removed to University Hospital Waterford where post mortem examinations will be carried out.