The Belfast bakery owners at the centre of the controversial "gay cake" case have said they are "deeply disappointed" after losing their court action.
The bakery, which refused to make a cake carrying a pro-gay marriage slogan, has been found guilty of discrimination.
The Northern Ireland Equality Commission brought the case against Christian-owned Ashers Baking Company on behalf of Gareth Lee, a gay rights activist whose order was declined.
Giving her ruling at Belfast County Court today, district judge Isobel Brownlie said: "The defendants have unlawfully discriminated against the plaintiff on grounds of sexual discrimination.
"This is direct discrimination for which there can be no justification."
Concluding her 90-minute judgment, Judge Brownlie said: "I find in favour of the plaintiff."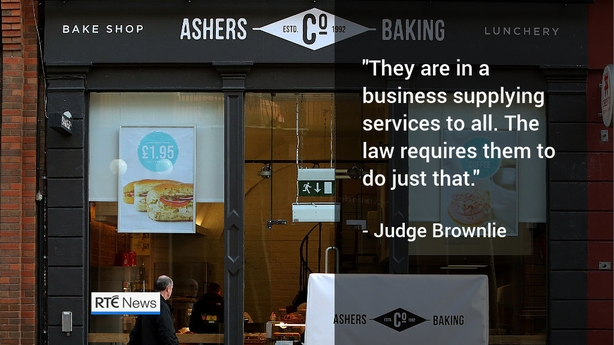 Ashers was ordered to pay agreed damages of £500 (€690) plus court costs.
Mr Lee, a member of the LGBT advocacy group Queer Space, had wanted a cake featuring Sesame Street puppets Bert and Ernie with the slogan Support Gay Marriage for a private function marking International Day Against Homophobia.
The high profile legal case, which divided public opinion in Belfast and beyond, was heard over three days in March.
After the judgment was delivered Ashers' General Manager Daniel McArthur said they were "disappointed" with the ruling.
"We've said from the start that our issue was with the message on the cake, not the customer and we didn't know what the sexual orientation of Mr Lee was, and it wasn't relevant either.
"We've always been happy to serve any customers that come into our shops," Mr McArthur said.
"The ruling suggests that all business owners will have to be willing to promote any cause or campaign no matter how much they disagree with it. Or as the Equality Commission has suggested, they should perhaps just close down, and that can't be right.
"But we won't be closing down, we certainly don't think we've done anything wrong and we will be taking legal advice to consider our options for appeal," he said.
Judge Brownlie said she was satisfied the McArthur family had "genuine and deeply held religious beliefs" but said they must have been aware that Mr Lee was gay and were aware of the ongoing same sex-marriage debate.
The judge added: "They must have known or had the perception that the plaintiff was gay.
"They must have known that the plaintiff supported gay marriage or associated with others who supported gay marriage."
He paid in full when he placed the order at Ashers' Belfast branch but said he was left stunned two days later, when the company phoned to say it could not be processed.
Giving evidence, Mr Lee claimed he was left feeling like a lesser person.
Judge Brownlie said: "They (Ashers) are in a business supplying services to all. The law requires them to do just that."
The courtroom in Belfast's Laganside complex was packed as the reserved judgment was delivered.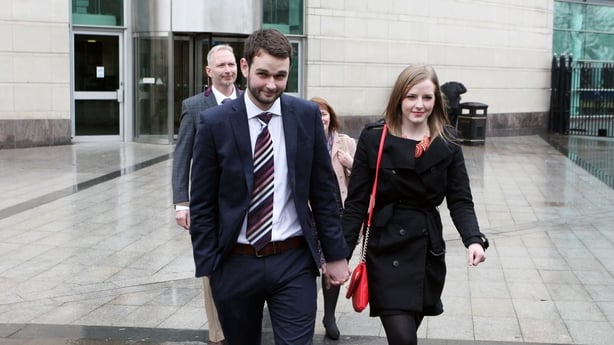 Mr McArthur and his wife Amy sat in the body of the court supported by other family members.
The couple smiled as the lengthy ruling was read out in full.
Mr Lee sat on the other side of the dock.
Among the Christian supporters was former Stormont health minister Edwin Poots and DUP Lagan Valley MLA Paul Givan, who is seeking to introduce a "conscience clause" into equality legislation.
The Council on Social Responsibility of the Methodist Church in Ireland issued a statement following the decision saying it noted "with some concerns" the judgment.
The Reverend Dr David Clements, Chair of the Committee said: "We have sympathy with the owners of Ashers Bakery who seek to order their lives and that of their business, in accord with their Christian faith.
"If they are now compelled by the law to make products that conflict with their Christian conscience this raises important issues for all of our society."
A statement issued on behalf of 100 evangelical church leaders said they shared the disappointment of the McArthur family and Ashers Baking Company at today's ruling.
"It will sadden all those who value freedom of conscience and freedom of speech.
"This decision represents a serious blow for free speech and plunges the law into confusion. It opens up a Pandora's box of legal cases", the statement continues.