More people are being sent to prison and it is costing more per inmate to keep them there, according to the Irish Prison Service annual report published today.
The report shows the increase in the numbers in custody is due to the increase in non-payment of court ordered fines.
The cost of keeping a person in prison for a year has also risen to almost €69,000.
More people were sent to prison last year than the year before, more people remained behind bars and it cost the taxpayer more on an individual basis to keep them there - according to the Prison Service Annual report published today
There were 16,155 prison committals in 2014 - an increase of 2.7% - including repeat offenders of 13,408 - four out of five of them were male.
The cost of keeping a person in prison also increased to almost €68,949 - an increase of €3,417. The prison service says this is because there is less space available.
The prison service says the rise in the numbers in custody is because more people are refusing to pay court ordered fines - opting instead for short prison sentences.
There was an 8% increase in those sent to prison on sentences of less than three months.
The Fines Act, which allows for attachment orders instead of prison sentences for non-payment of fines passed through the Houses of the Oireachtas in April of last year, but it has still not being implemented - apparently because of IT, administrative and other issues.
Minister for Justice Frances Fitzgerald today promised it would be operational from next October.
She also promised a review of drugs and alcohol policies and services in prison.
Meanwhile, the Director of the Probation Service, which also launched its annual report today, called on the courts to issue more community service orders and said that work is available for inmates who receive these sentences.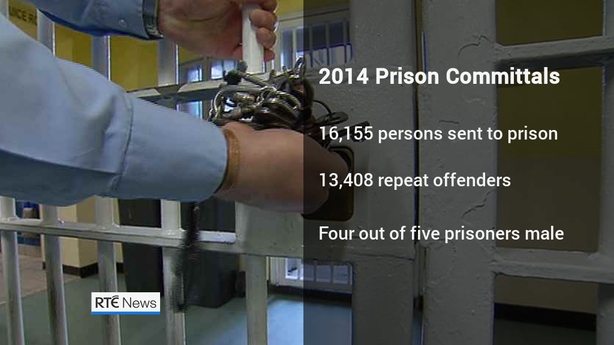 The Director of the Prison Service also offered his condolences to the family of Graham Johnson who was stabbed to death in Cork prison over the weekend.
Michael Donnellan said such deaths in prison are an unusual occurrence, the last murder in an Irish prison was seven years ago.