The funeral has taken place of a former IRA member murdered in Belfast earlier this week.
Gerard 'Jock' Davison, 47, was shot dead in the street close to his home in the Markets area on Tuesday morning.
It is understood the grandfather and father-of-three had been making his way to a community centre where he worked when he was attacked.
He was shot a number of times while walking along Welsh Street in the republican Markets area close to the city centre.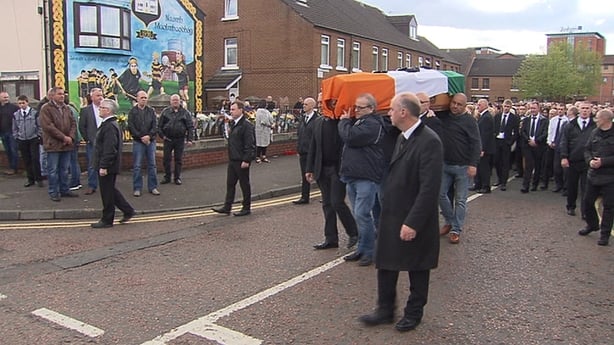 As an IRA member in Belfast, he was one of the best-known republican figures in the city.
He backed Sinn Féin's peace process strategy following the 1998 Good Friday Agreement and was employed with the Markets Development Association as a community worker.
He was allegedly involved in the fight that led to the death of Belfast man Robert McCartney in January 2005.
He was among three IRA members expelled following an internal investigation in the wake of the death.
Mr Davison was questioned by police but released without charge.
Mr McCartney's sisters, who were forced to move out of the Markets, led a long-running battle for justice for the killing of their brother following a bar argument, which took them to the White House.
Mr Davison's uncle, Terence Davison, was later acquitted of Mr McCartney's killing.
Family members walked a short distance from Mr Davison's home and held a memorial service near where he was shot.