Events have been taking place in Co Cork to mark the 100th anniversary of the sinking of the Lusitania.
The ship, which was en route to Liverpool, sank off the Old Head of Kinsale, with the loss of 1,198 lives, when it was struck by a torpedo.
President Michael D Higgins, who led the commemoration in Cobh, described the ceremony as both moving and very significant.
He said it concentrated on the loss of life, the efforts that were made to enable people to survive and the response to both the living survivors and the dead by the local community.
President Higgins lay a wreath on behalf of the people of Ireland at the Lusitania Memorial in Cobh as did the British and US Ambassadors, together with a representative of the German Embassy, and the Cunard Line.
Reveille #Lusitania100 #Cobh @rtenews pic.twitter.com/9K6LwQhNV8

— Jennie O'Sullivan (@OSullivanJennie) May 7, 2015
Germany's Charge d'Affairs Wolfram von Heynitz said it was a very emotional day.
He said it showed that everyone was united in the wish that something like this would never happen again and it shows how far Europe has come - that we keep our diversity but we stand united.
There was also a ceremony at the Lusitania Memorial on the Old Head of Kinsale, at which around 100 descendants of Americans who died when the ship sank, attended.
Earlier today a service of remembrance was held in Cobh Cathedral.
Wreaths were laid at the three mass graves containing the bodies of 150 people who drowned and who were buried in the Old Church Cemetery.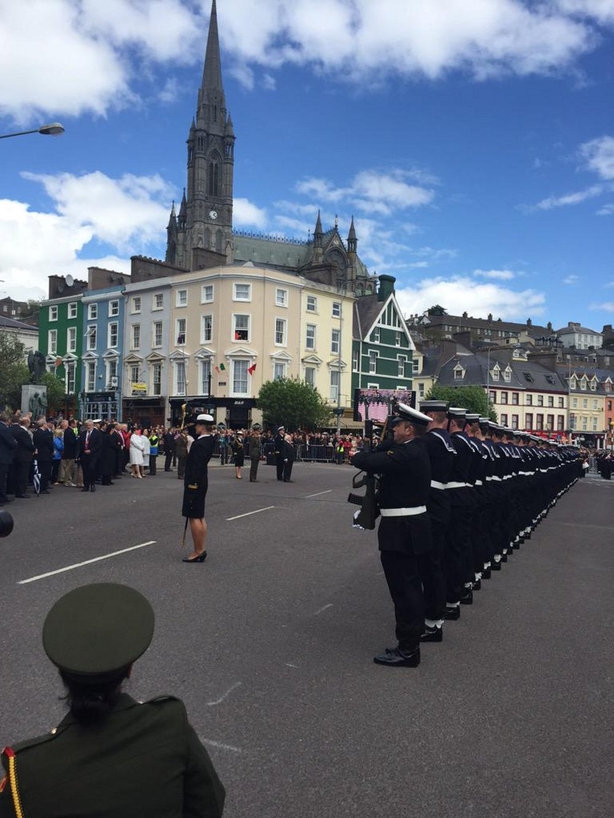 Offshore, the Courtmacsherry lifeboat crew lay a wreath at the site of the wreck - a tradition for many decades.
Its 1915 crew was among those to respond to the SOS call that day.
The wreck's owner Greg Bemis, along with diver Eoin McGarry also visited the site, and shortly after 2.10pm - the time the ship was struck by a torpedo - Mr McGarry dived to lay a specially commissioned plaque on the wreck.
Later tonight, a flotilla of more than 50 boats is expected to gather at the No 5 buoy in Cork harbour, and after a white flare has been discharged, will make their way ashore, carrying with them white lights - an re-enactment of the homecoming of so many vessels bringing survivors and bodies ashore late on 7 May 1915.
President Michael D Higgins leads commemoration ceremony #Lusitania100 #Cobh @rtenews pic.twitter.com/A8OqqUWSAf

— Jennie O'Sullivan (@OSullivanJennie) May 7, 2015
Cunard's Queen Victoria sounds her whistle at 14.10 marking the time the #lusitania100 was struck by torpedo. pic.twitter.com/mbxqg0jIgM

— Jennie O'Sullivan (@OSullivanJennie) May 7, 2015