President Michael D Higgins has strongly condemned the European response to the migrant crisis.  
Speaking during a visit to Lebanon this afternoon, Mr Higgins said that idea that the Mediterranean would be turned into a graveyard was appalling.   
His comments came a week after a shipwreck off the Libyan coast left more than 750 people dead.
He described as "administrative chaos" what he said was the idea of asking the Italian government to end its own migrant programme because it did not meet a European standard, only for a huge number of deaths to force the institution of a very scheme.
The President described as "monstrous" suggestions that boats carrying the migrants should be destroyed at the point of origin.
He said they illustrated the choice facing people - to have a generous Europe based on human values or one that has within its border, racism, xenophobia, exclusion and people trying to make political capital out of those fleeing death.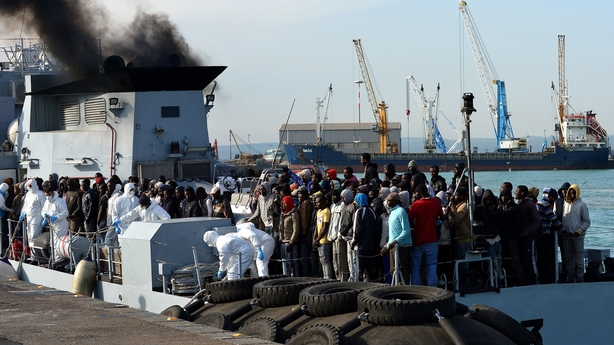 Elsewhere, NATO chief Jens Stoltenberg this afternoon said the plight of migrants in the Mediterranean requires a "comprehensive response".
He added that the alliance would help by trying to stabilise countries in the region.
"We have to be united to tackle this crisis," he said during a visit to Lisbon.
NATO's role in stabilising countries like Afghanistan was part of the broader approach to the refugee problem in the Mediterranean, Mr Stoltenberg said.
"This is not only about northern Africa. We know the people trying to cross the sea come from as far as Asia, Afghanistan or the Middle East."
Last week, European Union leaders agreed to triple funding for the bloc's maritime search-and-rescue operation as part of a plan to deal with the spike in migrants undertaking the perilous Mediterranean journey to Europe.
The EU is also considering possible military action against people smugglers.
Mr Stoltenberg welcomed the EU's decision to increase its presence at sea, adding that human trafficking was the "main problem".
More than 1,750 migrants have died in shipwrecks this year -- 30 times more than the same period in 2014.
Many of these people are smuggled in on boats from Libya, which has long been a transit country for African migrants.