The European Union is to triple the funding of its search and rescue mission in the Mediterranean to help cope with an upsurge in migrants trying to reach Europe, German Chancellor Angela Merkel has said.
She was speaking after an emergency summit of EU leaders, which was sparked by the sinking of an overloaded migrant boat on Sunday.
The decision to triple funding means its financing is on a par with that of a search and rescue mission that Italy controversially cancelled last year.
European Commission President Jean-Claude Juncker said he was very pleased EU leaders had agreed with his proposal to triple funding for the EU's Triton operation to €120m.
"We felt that doubling it (the budget) wasn't really that credible, so we wanted to bring it up to the same level as we had for (former Italian operation) Mare Nostrum," he said.
Taoiseach Enda Kenny has said that Ireland will contribute a naval vessel to the search and rescue operation in the Mediterranean following the loss of up to 900 lives off the coast of Libya last weekend.
Arriving at an emergency summit of EU leaders in Brussels, Mr Kenny said: "We are prepared to allocate a fully crewed and equipped naval vessel, once the legal clarifications become clear."
Mr Kenny said the Government had also agreed to provide €1 million to the International Red Cross for Libya.
The Taoiseach said the naval vessel would be used for search and rescue, as well as humanitarian operations in the Mediterranean, "depending on the caveats and the legal requirements."
"This is a mounting humanitarian and political crisis, the equivalent of almost three jumbo jets have been lost," he said.
"When you consider a million have left Syria for Lebanon and south Jordan there's a humanitarian crisis happening every day."
Ireland has already agreed on the settlement of 114 refugees under the Syria Humanitarian Assistance Programme, and would take in a further 220 Syrians who have been recognised as refugees by the United Nations refugee agency.
EU leaders met to look at ways of limiting the waves of migrants travelling by sea from North Africa to Europe.
The meeting was called following last weekend's disaster, when as many as 900 migrants drowned off the coast of Libya.
Leaders were to discuss a ten-point-plan which was given outline agreement by EU foreign ministers on Monday.
However, many observers had said a wholesale solution would be politically very difficult to reach.
The sense of outrage and pity that accompanied last weekend's disaster gave way to a grim sense of realism as to the limitations of what Europe can do.
EU leaders wanted to address the issue at three levels, essentially before, during and after boats carrying thousands of migrants set out from the north African coast.
The easiest part will be to increase the resources given to 'Triton', the de facto search and rescue mission run by the EU's border agency frontex.
More ships, planes and staff will certainly help patrol the Mediterranean coastline.
A more difficult proposal is the destruction of the human traffickers' vessels.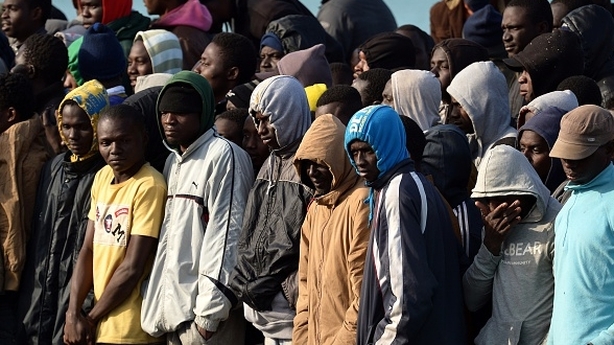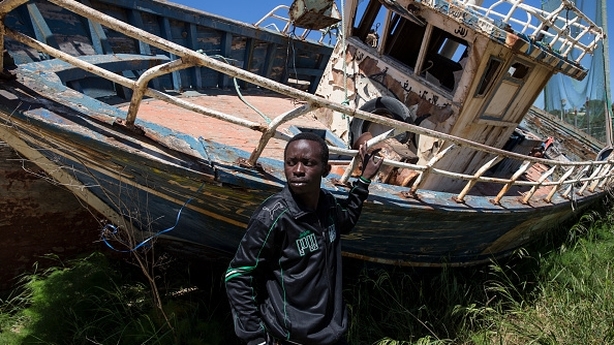 The EU has been operating a similar clampdown on Somali pirates off the horn of Africa, but that took several years to set up, and a similar plan for the Mediterranean may require UN approval.
Among the most sensitive options is how to absorb the hundreds of thousands of migrants who have flooded into the EU, mostly via Italy, Malta and Greece.
EU leaders were to also discuss a plan to share the settlement of 5,000 asylum seekers across member states.
However, this is both a pitifully small number relative to the scale of the problem. It is also fraught with political problems. 
A large number of EU governments are being challenged by far right, populist parties who are virulently opposed to any increased immigration.
Malta honoured the memory of the estimated 800 people who died in the Mediterranean's worst migrant disaster with an inter-faith funeral service for 24 of them.
The bodies of the unidentified victims, 20 men and four male teenagers, were taken to Malta after being recovered along with 28 survivors from the waters off Libya where the boat capsized in the early hours of Sunday.
Their wooden coffins were laid out on a red carpet inside a tent erected for the service outside the morgue at the Mater Dei hospital.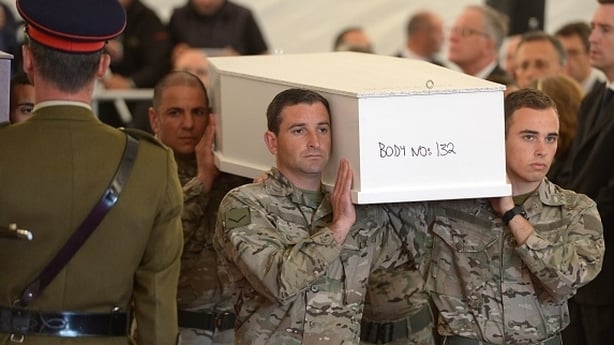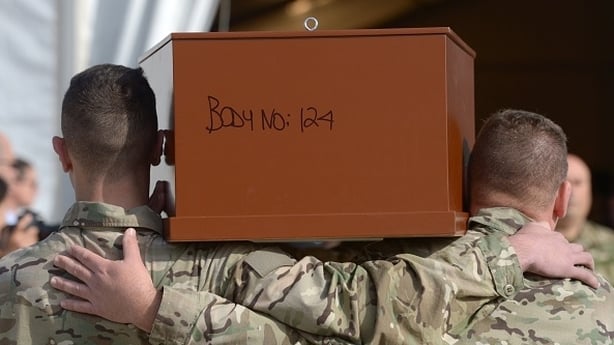 Meanwhile, the group controlling Libya's coastal capital Tripoli said it would "confront" any unilateral European Union moves to attack sites used by people-traffickers.
It also urged the bloc to consult it over plans to deal with a migration crisis.
Muhammed el-Ghirani, foreign minister of the group that is a rival to Libya's internationally recognised government, said it had repeatedly offered to help deal with migrants leaving its shores.
However, he said the proposals had been rebuffed.
His comments were made in an interview with the Times of Malta published today.
"You cannot just decide to hit. Let's say you strike a particular site. How will you know that you did not hit an innocent person, a fisherman? Does Europe have pinpoint accuracy? So we are saying, 'Let's do this together,'" Mr Ghirani told the Maltese newspaper.
"We have been doing our best to get Europe to cooperate with us to deal with illegal immigration but they keep telling us we're not the internationally recognised government.
Now they cannot just decide to take this action. They have to speak to us," he added.