Independent TDs Mick Wallace and Clare Daly have each been fined €2,000 after being convicted on two charges of breaching airport bylaws at Shannon Airport in Co Clare.
Judge Patrick Durcan imposed the fines at Ennis District Court this afternoon.
The TDs were detained by airport police after being found on the apron of the facility on 22 July last year.
They had scaled a perimeter fence at the airport in order to attempt to carry out a search of US military planes which had landed there.
Delivering his ruling this afternoon, Judge Durcan said that while there was a constitutional right to protest, there were circumstances in which this right could be fettered by the State.
He said he was satisfied that 1994 airport bylaws applied in this case.

He imposed a €1,000 fine on each of the two charges for both defendants.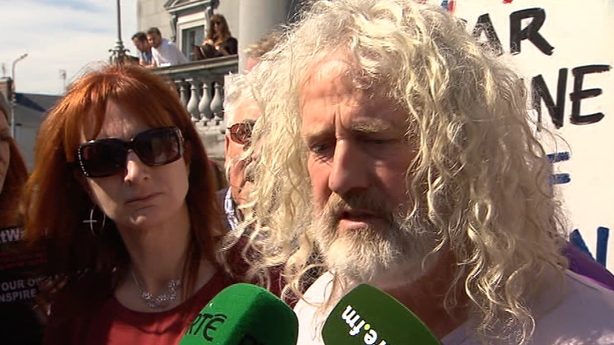 Afterwards, Daly said they would not be appealing the decision but that she had no intention of paying the fine handed down by the court.

Wallace said they took the action to draw attention to the movement of US troops and munitions through Shannon.
He said this had domestic and international consequences, which were being ignored by the Government.