A fundraising page set up yesterday for Karen Buckley's family has raised over £50,000 (€70,000).
Over 2,800 people donated to the 'Help Find Karen' gofundme.com page, many of them anonymous.
The page, which had an initial target of £5,000, closed at 9.30pm tonight.
The largest single donation was £1000.
It was set up by Ms Buckley's University of Limerick classmates "in the hope of raising funds to help Karen's family in any way possible during this difficult time".
The funds will be used to pay for the family's accommodation and travel expenses, and for the upkeep of their farm in Cork.
Earlier, Tánaiste Joan Burton has expressed her sympathy on behalf of the Government to the family and friends of Karen Buckley.
Speaking in the Dáil, Ms Burton expressed particular sympathy with Ms Buckley's parents John and Marian and her brothers.
She said: "It's every parent's nightmare what has unfolded in the past few days."
The Tánaiste added that Minister for Foreign Affairs Charlie Flanagan, Minister of State Sean Sherlock and the Consulate office in Scotland are doing everything they can for the family.
Her sentiments were echoed by Sinn Féin's Mary Lou McDonald and Fianna Fáil's Éamon Ó Cuív.
Mr Flanagan earlier expressed his sympathies to Ms Buckley's family after police searching for the missing student found remains on a farm near Glasgow.
He said he was greatly saddened by the news emerging from Scotland.
"All of our thoughts and prayers are with Karen's parents, John and Marian, and with all of her family and friends at this tragic time."
People have placed flowers and written tributes for the late Ms Buckley at the scene of High Craigton farm, north of Glasgow.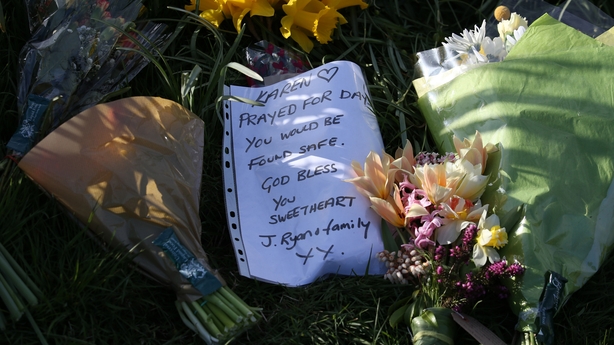 A memorial will be held at 5pm tomorrow in Glasgow city centre for Karen.
The memorial has been organised by locals in the area where the Cork student disappeared.
The event will be held at George's Square, which is the main civic space in the centre of Glasgow.
Floral tributes have also been laid outside the front of the health building at Glasgow Caledonian University where Karen was a student.
Parish Priest of Mourneabbey Father Joe O'Keefe said there is a sense of shock and dismay at the news of Karen's death.
He told RTÉ's Six One News Karen and her family are very well known in the parish and that there is a very heavy cloud over the parish and the surrounding area.
He said that what has happened to Karen is every parent's nightmare.
The Glasgow Caledonian University released a statement saying the university community was deeply saddened by the news of the loss of Ms Buckley.
The 24-year-old, who had worked as a nurse, began studying occupational therapy at the university in February.
Principal and Vice-Chancellor of the university Professor Pamela Gillies said: "It is so tragic to lose someone so young and talented in such difficult circumstances.
"Karen's lecturers describe her as a lovely young woman, who was conscientious and a good team player, popular with her peers, and looking forward to a successful career in occupational therapy."
Ms Buckley had previously studied nursing at the University of Limerick and it also expressed its sadness about the developments.
It said: "Karen was a very valued member of the UL Community as well as the wider nursing and medical communities in Limerick, having spent time working in both the University Hospital Limerick and the University Maternity Hospital.
"The thoughts of the entire UL community are with her parents and family and her wide circle of friends as well as her UL classmates and medical colleagues."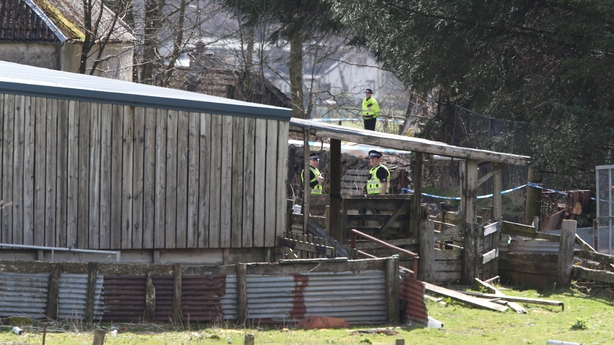 This morning, police in Glasgow searching for Ms Buckley discovered human remains on a farm north of the city.
This afternoon they confirmed that the body was that of Ms Buckley.
A 21-year-old man has been arrested in connection with her death.
Ms Buckley, from Mourneabbey near Mallow in Co Cork, moved to Glasgow earlier this year.
The local community and people elsewhere have been responding to the developments in Scotland.
My thoughts today are very much with the family and friends of Karen Buckley

— Nicola Sturgeon (@NicolaSturgeon) April 16, 2015
The GCU community is deeply saddened by the recent police reports in the media regarding Karen Buckley.

— GlasgowCaledonianUni (@CaledonianNews) April 16, 2015
A special prayer service was arranged in Ms Buckley's home village in north Cork last night for people to show support for the family.
The Mass of Hope was held at the Church of St Michael the Archangel in Mourneabbey.
Prayers were said at early morning Mass for #KarenBuckley and her family at their parish church in Mourneabbey. pic.twitter.com/gcmcwFQpXJ

— Jennie O'Sullivan (@OSullivanJennie) April 16, 2015
Bishop of Cloyne William Crean led the prayers.
"On my own behalf and on behalf of the faithful of the Diocese of Cloyne, I wish to offer prayerful support to the family of Karen Buckley at this painful time as they await the safe return of Karen," he said.
Mourneabbey Community Council has said its thoughts and prayers are with the Buckley family.