A 21-year-old student has said she has a new outlook on life after a near-death experience on the Aran Islands in recent days.
Aparajita Gupta was swept off rocks into Poll na bPeist - or the worm hole - on Inis Mór last week.
She is now recovering at Galway University Hospital after sustaining a broken ankle in the fall.
Dramatic footage filmed by musician Brian Smith shows a huge wave rolling in from the Atlantic and lifting the student from a spot close to the edge of the blow hole.
Ms Gupta, who is studying at the London School of Economics, was on holiday in Ireland with her mother when they visited the Aran Islands.
This evening, she paid tribute to others who were at the scene of the incident for their quick-thinking efforts to save her.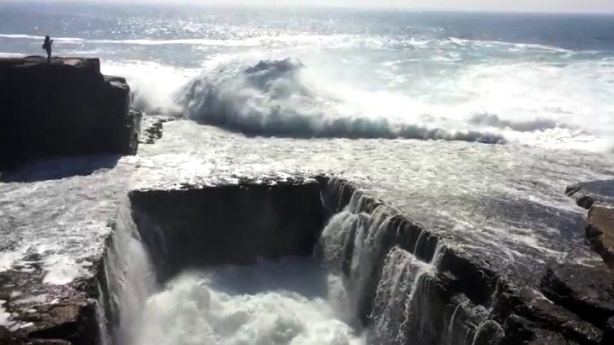 One of those involved in the rescue, Seamus McCarthy, visited the 21-year-old in hospital this evening.
The Cork-born paramedic and his girlfriend were among the first to respond to the incident, contacting emergency services and making a makeshift rope to reach Ms Gupta.
Irish Water Safety will recognise the efforts made by Mr McCarthy by giving him a "Just in Time" award.
Ms Gupta said she fell around 15 metres (50 feet) after the wave lifted her from the place where she was filming the blow hole.
In a matter of seconds, she was enveloped by water and thrown into the hole.
She believes the water cushioned her as she fell and she was able to make her way to a rock and pull herself out of the water. 
Mr McCarthy and others were on the scene seconds later.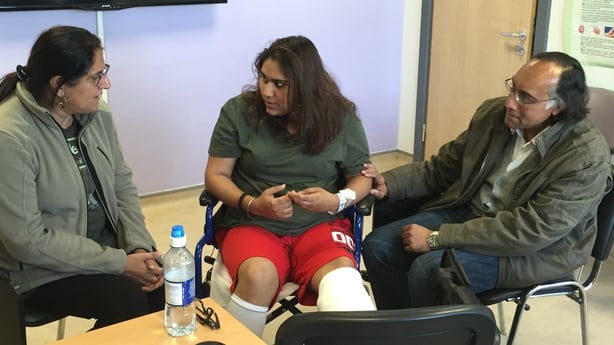 They calmed Simran Gupta who was distraught at what had happened to her daughter.
The rescuers then tied a backpack to the arm of a coat and reached down to pull Aparajita to safety.
Her father, Krishnendu, has expressed gratitude to all those involved in the rescue effort, including local gardai, coast guard personnel and hospital staff.