European Central Bank President Mario Draghi's news conference was disrupted this afternoon when a woman jumped on the podium.
"End the ECB dictatorship," she shouted as she showered Mr Draghi with what appeared to be confetti.
The woman was then escorted from the building by security staff.
The news conference resumed shortly afterwards.
WATCH: ECB press conference adjourned after protester attacks Mario Draghi https://t.co/UBBM80D45S

— RTÉ News (@rtenews) April 15, 2015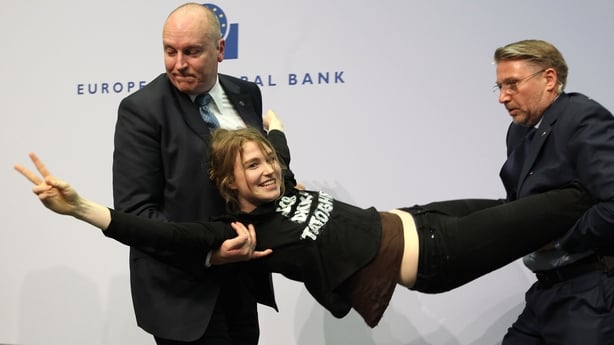 The ECB earlier left eurozone interest rates unchanged, holding them at record lows as it rolls out a money-printing scheme to lift the economy.
The decision to leave the cost of borrowing at record lows was widely expected after the ECB cut rates to rock-bottom levels last September.
Mr Draghi said at the time that rates had hit "the lower bound".
The ECB left its main refinancing rate, which determines the cost of credit in the economy, at 0.05% at its meeting today.
It also kept the rate on bank overnight deposits at -0.2%, which means banks pay to leave funds at the central bank, and held its marginal lending facility - or emergency overnight borrowing rate for banks - at 0.3%.