The young Irish woman who alleges she was raped by a US banker at a house in the Hamptons in 2013 has been giving evidence at the trial of 38-year-old Jason Lee.
The woman told the court how she had travelled to New York to see a bit of the city that everyone talked about and visit her brother in Montauk before returning to Ireland.
On the night in question she said her brother and his friends were treating her and her friends to a night out, and bought a bottle of vodka for the table in a nightclub she described as "too fancy for us."
When the nightclub closed they got into a car driven by a man she knew only as "J" and she presumed she was going home.
They instead ended up at the house where Mr Lee was renting where they first jumped in the pool, and later ate pizza and drank champagne in the kitchen.
She told the court how he came into the bathroom where she was changing, pushing the door open, causing her to fall to the floor where she says he raped her.
Afterwards she said that she had not wanted to go to the police because she felt it was all her fault for getting into the car at the nightclub instead of just going home.
She also told the court that she has never told her parents and that nobody in Ireland knew what had happened.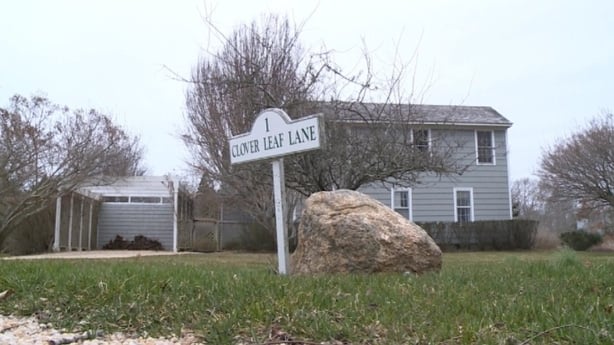 She said she had travelled to the US on a J1 summer working visa with 13 friends.
But at the end of summer everyone had gone their separate ways and she and her best friend, who also gave evidence, and a third friend had travelled to New York.
On the night in question, 19 August 2013, she and her friends and her brother and his friends went out for dinner.
She told the court that the boys insisted on paying for dinner and because they felt bad about them spending their money, she and her friends bought some cleaning products to clean up their house for them.
Later they all met up at a bar for ten or 15 minutes before taking a taxi van to a nightclub about 50 minutes away.
They arrived at the Georgica nightclub in East Hampton, which she told the court she thought was "very fancy … too fancy for us".
She said she initially sat chatting with her friends and her brothers friends.
 She said it was a bottle-service venue, where parties sit at tables and purchase entire bottles of spirits.
She said she did not understand the concept and did not feel comfortable drinking something her brother's friends had paid for, and so they did not have anything to drink for about 45 minutes.
Then her brother insisted he wanted to treat them so they began drinking the vodka and mixing it with orange juice.
The young woman told the court she had about three or four drinks at that table, before joining a table with Mr Lee and his friend.
She said the group was having really good fun together and they took photographs together.  
The court was shown images of the young woman and Mr Lee smiling with their arms around each other in the nightclub.
She said she had about another two or three drinks at that table before the nightclub closed.
She told the court that she and her best friend were saying that it was funny that these two men were talking to them in an expensive club and they were just students with nothing to offer them.
She told the court about leaving the nightclub and getting into a car driven by the man who she knew only as "J" (but whom she identified in the court as Mr Lee) and did not know where they were going, but presumed they were getting a lift home, and said that although she did not know the men's names, at the time she thought it was fine because her brother and friends were with her.
She said when they arrived at the house, she and her friend saw there was a swimming pool and so took off their clothes and jumped in wearing only their bras and underwear.
She said Mr Lee was "running around with no clothes on him" and her brother was not happy with the situation and told the girls to get out of the pool.
They all got out and the woman's friend put back on her own clothes and the alleged victim put on borrowed clothes, although the court heard varying accounts of where these clothes came from.
Under cross-examination, defence lawyer Andrew Lankler repeatedly questioned the young woman about where the clothes came from, citing different accounts from different statements that have been made since the investigation began.
The young woman said the party continued in the kitchen and Mr Lee made microwave pizza because they were hungry and they all passed around a bottle of champagne, drinking from the bottle.
Earlier her friend said that she did not recall drinking in the house but the young woman said she believed they had all been drinking from the bottle of champagne.
She was asked whether she felt she or her friend were more drunk, and she said she felt her friend was and that said that she could "hold" her "drink better" than her friend could.
The young woman told the court that her brother was becoming agitated with the situation and they decided to leave. She went to the bathroom to change out of her borrowed clothes back into her own dress.
She told the court today that after she had changed, she noticed Mr Lee had pushed open the doorway and was standing there naked.
Under cross-examination it was put to her that in her original police statement she had said that the attack happened before she changed and that as she tried to close the bathroom door, Mr Lee had appeared and pushed the door open.
She said that her account of the event in her testimony today was the correct one as she had had a year-and-a-half to think about it and had been "extremely stressed" at the time.
The woman told the court that she said to him "Are you crazy? What are you doing?", then tried to close the door and pushed it with her hand.
He pushed back and she said "if my brother sees you, he will kill you".
She told the court that she knew it was his house but that still did not make it ok.
She said he pushed the door open and she fell and hit her head and her hip on the floor, where he proceeded to rape her.
She said she called out for her friend, and told him to get off her, but the accused man put his hand over her mouth and told her to "shut the f*** up".
She said the assault lasted about a minute and then "with every ounce of strength left inside" she managed to knee him in the groin and he rolled away.
Under cross-examination she said that she was making noise while struggling to get away. The defence, which maintains that the sex was consensual, has queried why nobody else in the house has said they heard her cries.
He then left and she stayed in the bathroom "in disbelief", trying to understand what had just happened.
She said she took off her dress and underwear because "it was disgusting" and put back on the borrowed clothes.
Police were unable to find her dress and underwear following subsequent searches of the house. Months later, the court heard, they were delivered to the police station by a private investigator. The young woman was shown them today and confirmed they were hers.
She said she then left the bathroom and recalled seeing her brother first of all and saying that they needed to get out of there and they had to go.
Woman's friend said alleged victim seemed 'shaken, scared'
Giving evidence earlier her friend had told the court that the young woman seemed "shaken, scared" and "had tears in her eyes" which were "bloodshot".
She said her brother and her friend kept asking her if she was ok.
Then Mr Lee's friend called the police because he was concerned about the whereabouts of his vehicle.
She did not want the police called, she told the court.
When the police did arrive, her brother made her talk to the police officer, she said.
She sat in the back of the police car and told the officer what had happened. She said her friend then got into the police car too and she told her what happened, and told her that she had been calling her name but she did not come and she said her friend then thought it was her fault.
The young woman told the court that when she went to police station a short time later she still did not want the police involved, because she felt it was her fault she said. "I should never have gotten into that car. I should have just gone home", she said.