The Referendum Commission has begun its campaign to promote public awareness of the two upcoming referendums on same-sex marriage and the reduction of the age for Presidential candidates.
Voting will take place on 22 May.
The independent body, which is also charged with explaining the proposals and encouraging people to vote, will send two million booklets to households at the end of this month.
The booklets will also be available on the commission's website.
It will also run an advertising campaign on television, radio, online and in newspapers.
The commission's campaign for both referendums will cost €2.7m. This compares to €3.3m for the previous two referendums.
Chairman of the Commission Mr Justice Kevin Cross said he was happy there would be no confusion regarding the ballot papers, as was the case in a previous referendum on the abolition of the Seanad.
On that occasion, he said, voters were voting Yes to abolish the chamber.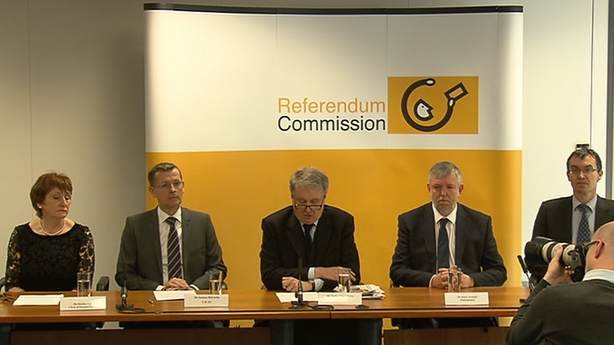 He also said that the Government had passed legislation on adoption and parental rights, and said these would not change irrespective of the outcome of the referendum on same-sex marriage.
Mr Justice Cross said there has been little debate on the second referendum on presidential age and it has five-and-a-half weeks to address that.
He said that voter turnout was always a concern. He advised voters to check the electoral register online via checktheregister.ie.
Mr Justice Cross also said people could inspect the register at local libraries, garda stations and local authority offices.
Voters will receive two ballot papers for 22 May; a white one for the referendum on same-sex marriage and a green one for the age of presidential candidates.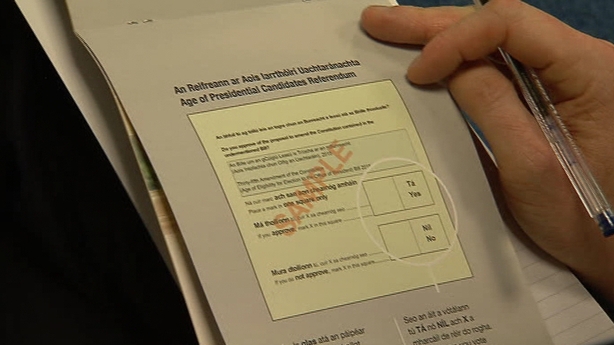 Taoiseach Enda Kenny has said next month's referendum on same-sex marriage is a matter relating to civil law.
Speaking in Castlebar, Mr Kenny said the article on marriage in the Constitution was not being changed.
He said an addition would be made to it if people decided to give the right to marry in civil law irrespective of sexual orientation.
When asked about reports that the Catholic Church might no longer facilitate civil marriages in churches, were the referendum to be passed, Mr Kenny said it was a matter for the church to determine what its stance was.
This evening, a spokesperson for the church, Martin Long, said bishops had not yet made a decision regarding the implications of a Yes vote for the solemnising of civil marriages by priests.
However, Mr Long said the country's Catholic bishops had stated last March that they could not support an amendment to the Constitution that redefined marriage and "effectively placed the union of two men or two women on a par with the marriage relationship between a husband and a wife, which is open to the procreation of children".
Elsewhere, former President Mary McAleese has said she is supporting a Yes vote in the same-sex marriage referendum.
Speaking on Newstalk, Ms McAleese said same-sex marriage was a "human rights issue".
She said: "It is a debate about children, people have been saying it's about children, and we believe it to be about Ireland's gay children and about their future and about the kind of future we want for Ireland.
"We want, in the words of the proclamation: 'The children of a nation to be cherished equally'.
"The adult children, the children yet unborn, the gay children yet unborn, we want them to be born into a world where if they fall in love with someone they can express that love fully."
Ms McAleese was speaking at Notre Dame University in the US, where she is currently a visiting scholar.
"I'm hoping very much, my husband [Martin] and I are both hoping very much, that it will be passed," she said.
"We believe it to be a human rights issue. We've been watching with great interest the debate as it's been evolving in Ireland and the concerns that people have in and around it."