The United States has said it would not sign an agreement over Iran's nuclear programme that would threaten Israel, one day after negotiators in Switzerland announced a framework for a nuclear deal.
White House spokesman Eric Schultz also said US President Barack Obama was continuing his outreach to US politicians over the tentative agreement and planned to speak with all four leaders of Congress today.
Iran's President Hassan Rouhani has said Iran will honour the framework agreement for a nuclear accord provided world powers hold up their end of the bargain, hailing what he called a historic deal.
"We don't cheat. We are not two-faced," Mr Rouhani said in a live televised address.
He said: "If we've given a promise ... we will take action based on that promise. Of course, that depends on the other side taking action on their promises too."
The outlined agreement, clears the way for a settlement to allay Western fears that Iran could build an atomic bomb, with economic sanctions on Tehran being lifted in return.
The agreement was reached after eight days of talks in Lausanne, Switzerland.
Mr Rouhani added that world powers now accepted Iran could enrich uranium on its own soil, something he said they had once argued posed a threat to the region.
Earlier, Israeli Prime Minister Benjamin Netanyahu said that any final agreement between Iran and world powers must insist that Iran commit to recognising Israel's right to exist.
The Israeli leader spoke after meeting with his security cabinet, which he said was "united in opposition to the proposed deal" between the parties announced yesterday.
"Israel demands that any final agreement with Iran will include a clear and unambiguous Iranian commitment of Israel's right to exist," Mr Netanyahu said in a statement.
He said: "Israel will not accept an agreement which allows a country that vows to annihilate us to develop nuclear weapons, period."
It marks a major breakthrough in a 12-year standoff between Iran and the West, which has long feared Tehran wants to build an atomic bomb.
US President Barack Obama, who called yesterday's agreement a "historic understanding", called Mr Netanyahu within hours of the talks concluding, saying the deal represented progress toward a lasting solution that cuts off Iran's path to a nuclear weapon.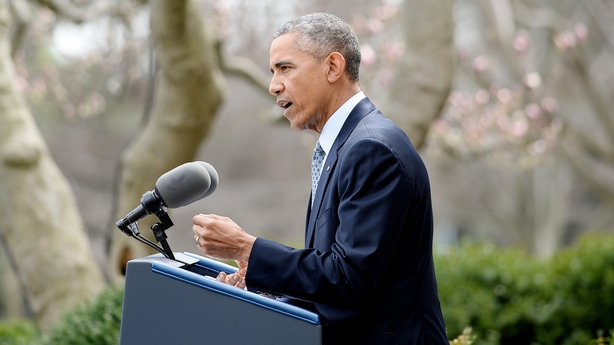 But Mr Netanyahu said a final deal based on what was agreed in Lausanne, Switzerland "would threaten the survival of Israel" and rather than blocking Tehran's path to the bomb, "would pave it".
"This deal would legitimise Iran's nuclear programme, bolster Iran's economy and increase Iran's aggression and terror throughout the Middle East and beyond," Mr Netanyahu said.
He said: "It would increase the risks of nuclear proliferation in the region and the risks of a horrific war."
President Obama mentioned several times during his speech on the deal that the United States stood with Israel on security and would not allow "any daylight" between their positions, but the reassurances have not satisfied Mr Netanyahu.
Israel, believed to be the only nuclear-armed state in the Middle East, has previously said it could take pre-emptive military action if necessary to stop Iran getting such weapons.