A group of five Independent TDs, one Independent Senator and more than 50 Independent councillors have published an agreed set of principles and priorities at a meeting in Tullamore, Co Offaly. 
The priorities include the abolition of the party whip, the radical revival of rural Ireland, stripping politicians of the power to make political appointments, protecting the vulnerable and ruling out privatisation of banks without reform. 
At a press conference Independent TD Shane Ross said it was "early days" and decisions had yet to be made.
He said he would not rule out going into government with any democratically elected representative, including Sinn Féin, but he added that others may have different views.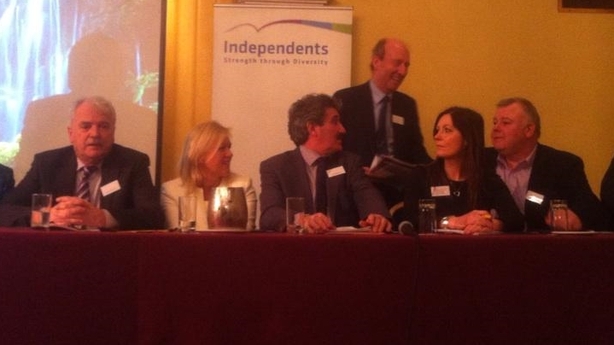 John Halligan stressed that they were not forming a party and they would take the views of the 50 councillors who attended today's meeting before deciding on whether or not they would present a manifesto.
He confirmed they would be announcing a name for the alliance in due course.
Finian McGrath said they had not yet decided if they would seek ministries or support a minority government if they had the numbers to do so.
The group also said they had not yet decided if they would pool their Independent leaders' allowance. 
The group held the meeting behind closed doors, but for the first 20 minutes the speakers in the media room were left on. 
During this period members of the media heard Mr Ross say that this was an opportunity and some would accuse them of opportunism.  He said he would take that. 
The group have also decided that they would support a government if it agreed to their set of priorities, but Mr Ross told the meeting they would not be in favour of passing all legislation with a blank cheque.
He was also heard to tell the meeting that they were not interested in poaching big names.