The family of Elaine O'Hara have issued a statement through An Garda Síochána following Graham Dwyer's murder conviction.
In it, her father Frank said they were relieved that justice had been served for Elaine, but he said they still suffered her loss and missed her greatly.
He said he hoped this case would highlight the need for people to be careful when communicating using the internet and social media.
Mr O'Hara said this had been a difficult and traumatic two and a half years for the family.
He said he would like to thank An Garda Síochána for its sensitive and exemplary investigation.
He thanked the prosecution team, the garda family liaison officers, victim support at the courts and family and friends for their support.
He said the family respected the role of the media in providing accurate and important information.
He asked that the media respect their need for privacy as they attempt to move on from this heartbreaking and distressing period.
Mr O'Hara said they would not be making any further comment at this time.
The officer who led the investigation into the murder said he hopes no family will have to endure what the O'Hara family have gone through.
Detective Chief Superintendent Diarmuid O'Sullivan said the inquiry was grounded on expert evaluation and utilisation of data.
Dwyer's solicitor has issued a statement on his behalf.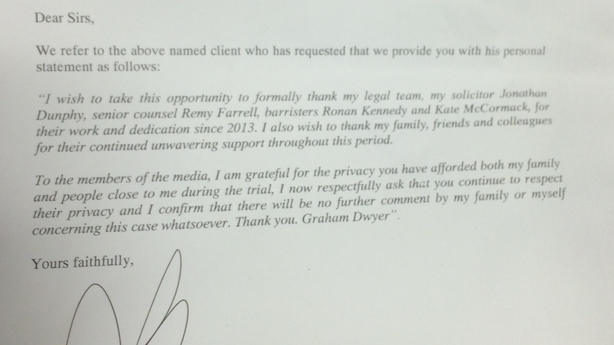 In it, Dwyer said he wanted to thank his legal team for their work and dedication since 2013.
He also wanted to thank his family, friends and colleagues for their continued, unwavering support throughout this period.
He said he was grateful to members of the media for the privacy they had afforded his family and people close to him during the trial.
He said he respectfully asked that they continue to respect their privacy and he said there would be no further comment whatsoever by his family or himself about the case.
Gemma Dwyer and her immediate family have also issued a statement following the verdict.
In it, Ms Dwyer says her family's thoughts and condolences are with the O'Hara family for the grief and pain they are suffering.
The statement added that in the interest of maintaining privacy, and in particular to protect the interests of her children, Ms Dwyer and members of her immediate family will not be making any further comment.
The family also requested that the media and members of the public respect their privacy in any further reporting or commentary, particularly with regard to the need to protect their children from any intrusion into their lives.
A&D Wejchert & Partners, the architecture firm where Graham Dwyer worked, have also issued a statement this evening.
In it, the firm said everyone involved "was shocked at the distressing evidence that was presented during this trial. Our thoughts are with all those affected by this case at this very difficult time."
The statement added that Dwyer's employment with the firm was terminated in 2013 following his arrest.