RTÉ's Crime Correspondent Paul Reynolds reports on the techniques employed by gardaí in securing Graham Dwyer's conviction for murder.
What began by chance at the Vartry Reservoir in Co Wicklow, in freak weather conditions with citizens doing their civic duty, progressed to today's conclusion, a murder conviction, because of persistent and diligent investigative techniques, high-tech phone and computer analysis and dogged, old-fashioned police work.
Remarkable coincidences
The Summer of 2013 was unusually dry and the water gave up its secrets.
The level at the reservoir, normally at 4-6m, was on 10 September just 30-45cm.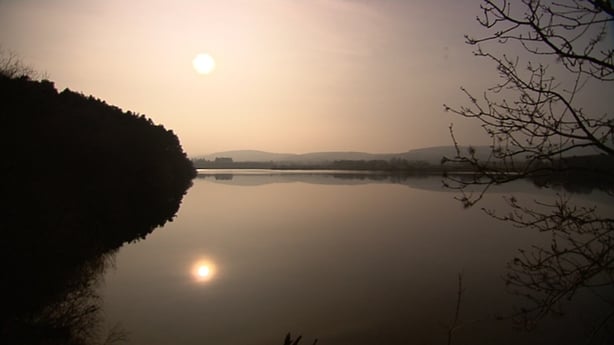 That day, three anglers fished out clothes - a blue hoodie and a white vest, as well as handcuffs, a gag, a blindfold and bondage cuffs.
They left them on a nearby wall but they knew that something was not right and the next day one of them returned, put the items in a bag and handed them in at Roundwood Garda Station.
Instead of dismissing the contents as waterlogged washed up rubbish, Garda James O'Donoghue went back to the reservoir the next day and two more days after that, on his own time.
He saw handcuffs and searched the water with his hands.
He could see more objects in the water but as he tried to retrieve them they sank further away and the water became murky and he could no longer see through it.
However, he persisted and pulled out a leather mask, a knife, an inhaler and quite literally the keys which unlocked this case.
The garda retrieved a set of keys for an apartment, car and family home.
A Dunnes Stores loyalty card was also attached. Garda O'Donoghue contacted the supermarket chain's head office and found the card belonged to Elaine O'Hara.
He made further inquiries and when he discovered she was a missing person, he went back to Vartry and sealed the reservoir off as a crime scene.
Three days after some of her clothes were first taken from the reservoir, on 13 September, by a remarkable coincidence, Ms O'Hara's body was found 25km away deep in the woods in the Dublin mountains by a woman out walking her dog.
Coincidentally the day was also not only Graham Dwyer's birthday, but that of his wife Gemma.
The married couple were out for a celebratory meal at the time the lonely spot at Kilakee Woods, where Ms O'Hara was stabbed to death, was being sealed off as a crime scene.
The discovery of her remains led to the establishment of a murder investigation.
Investigation team
The investigation team was based at Blackrock Garda Station in south Dublin but all the resources of the Garda Síochána were put at its disposal, including the Underwater Unit, the Technical Bureau and the National Bureau of Criminal Investigation.
But it was the work of the Computer Crime Unit that was to prove crucial, in particular the specialist capabilities of Detective Sergeant Alan Browne, Detective Garda Brid Wallace and analyst Sarah Skedd.
The analysts discovered there were three untraceable mobile phones, one 083, the others 086.
They retrieved disturbing evidence from the two 086, so-called Master and Slave phones, even though they had been dumped in the water and lay in the reservoir for over a year.
They found over 2,600 text messages on the phones such as "must get fit for murder" and "my urge to stab, rape, kill is huge".
The investigation team knew they were dealing with a person who wanted to kill for sexual gratification.
They knew from Elaine's computer that his name was Graham.
They also knew he was an architect who was married with children who was disgusted by smoking and interested in expensive cars and flying.
They checked all the airlines and pilots but could not find a match until on the evening of 27 September, Detective Colm Cregan suggested to Detective Jim Mulligan that maybe they should look at people flying model aeroplanes.
Det Cregan thought of this because he had previously seen enthusiasts flying their planes in the Wicklow mountains.
His curiosity was aroused and he went over to have a chat with them.
They were friendly and welcoming, even inviting him to join their club and he spent an hour with them chatting, experimenting and taking photographs.
When detectives Mulligan and Cregan checked the website for the Aeronautic Council of Ireland, pieces of the information they had already gathered began to match information on the website.
They found an architect, who was married with two children with a great interest in model planes whose name was Graham.
They called in their sergeant, Peter Woods, who, when he saw what they had found, said: "You might just have something there lads!" They had found Graham Dwyer.
DNA evidence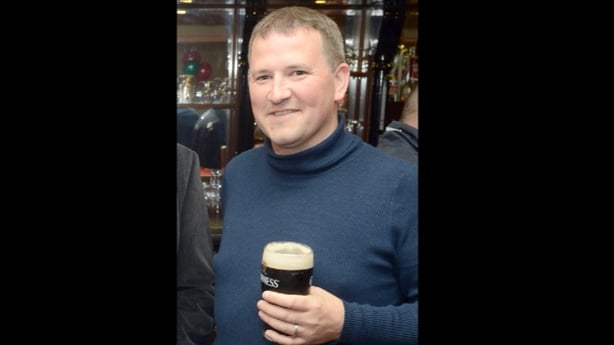 The investigation team first found Graham Dwyer on 27 September, the same day as the officer leading the investigation, their boss, unknown to them all, went with another detective to Dwyer's home.
It was 5am and the Dwyer family had put their bins out on the footpath to be emptied that day. The two detectives searched Dwyer's bins and found a can of turtlewax. They took it away and sent it for DNA analysis.
A week earlier on 20 September and just three days after the incident room had been set up in Blackrock, Detective Chief Superintendent Diarmuid O'Sullivan received confidential information on Graham Dwyer.
It was so serious that he set up the search operation to confirm that the architect from Foxrock was the same man whose DNA had been found in Ms O'Hara's bed.
Graham Dwyer's bins were on the public road, the search was legal; Detective Chief Superintendent O'Sullivan had checked that beforehand and had even brought along on the search a detective who was also a qualified barrister.
The operation, was, however, kept secret to protect the intelligence source, but when the samples matched, the gardaí knew they had the right suspect for the murder, from two separate lines of inquiry.
The investigation continued and more evidence against Dwyer emerged.
The computer crime analysts entered the dark world of bondage and sado-masochism, logging on to the alt.com and fetlife websites. They found Dwyer's email addresses Architect77 and fetishboy.
They discovered nine video clips where Graham Dwyer is using chloroform on himself, having sex with bound and gagged women and variously stabbing and suffocating Elaine O'Hara with a plastic bag.
The analysts also established that wherever Dwyer went, the untraceable phones went too; the 083 and 086 phones were registered as having been in Cork, Galway, Donegal and all over Dublin at the same time and in the same places as the architect and his registered phone.
They discovered that text messages such as those about his new baby daughter and his car repair bill referred to real events in Dwyer's life.
They also discovered that other texts to Ms O'Hara on the day she died such as "you will have stab wounds – as many as I like" and the orders to her to "Park at Shanganagh Cemetery at 5.30" and "leave your iphone, just bring slave phone and keys" – actually mapped out her murder.
Elaine pleaded to be allowed to bring her inhaler, later recovered from the reservoir. She was told to "empty herself and become nothing; you are property and a piece of slave meat".
At 6pm she was told to "Go down to the shore and wait." She was never seen alive again.
The investigation team spent 14 months watching over 5,000 hours of CCTV but early on discovered crucial footage of Dwyer leaving Ms O'Hara's apartment carrying a bag that was later found in the reservoir.
They also discovered he was in contact with vulnerable and suicidal women online, such as Darci Day, a troubled American woman whom, like Ms O'Hara, he offered to kill.
Dwyer interviewed
Within four weeks they had enough evidence to put to Dwyer and on 17 October 2013 at 7.05am he was arrested at his home in Foxrock, one of the wealthiest suburbs in Dublin.
He was interviewed at Blackrock Garda Station five times over 24 hours and because he declined the opportunity to sleep he was questioned day and night.
He refused to talk about Elaine O'Hara until the fourth interview when he admitted they had had a sexual relationship.
However there was no contact between the two on their registered phones and while Dwyer continued to deny he owned the untraceable phones, with no evidence of any other contact, he couldn't explain how he maintained the relationship.
He tried to give the impression to the gardaí that he was co-operating with the investigation by giving them what he thought was innocuous information without realising that it actually confirmed details they had already gleaned from the untraceable mobile phones, such as the fact that he had had a pay cut, that he'd been in a flying competition and that he had bought a new bike which got him to work ten minutes quicker.
These were all details about his life which had been texted to Elaine's so called 'Slave' phone from the 'Master' phone. The details from the 'Master' matched the details of Dwyer's life.
He also identified himself on CCTV leaving Elaine O Hara's apartment in Belarmine, Stepaside carrying a bag which was subsequently retrieved from the reservoir.
He could not say how that bag ended up there or where it had gone. He was shown two knives which were also found in the water which he said were in that bag.
He also said he would not be surprised if his DNA was found on one of those knives. It was not.
As well as the admissions, Dwyer also lied to the gardaí. He told them he would not cut anybody, would not knife play and insisted "that weird stuff is not for me".
He tried to blame Ms O'Hara and said that she was the one who was into the "blood letting" when the evidence clearly showed that Ms O'Hara had told him several times she did not want to be stabbed and had tried to get away from him.
As the gardaí put together the case against Graham Dwyer for the murder of Elaine O'Hara, the childcare worker was always at the centre of the investigation which was focussed on getting justice for her and her family.
Bail opposed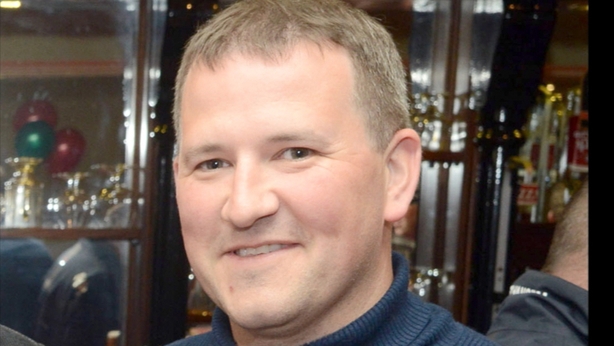 Dwyer was charged with Ms O'Hara's murder on 18 October 2013 and appeared in Dún Laoghaire District Court the following day. He was remanded in custody.
Dwyer has been on remand in prison for the past year and a half.
He was innocent until proven guilty and entitled to the presumption of innocence.
However even though he tried to get out of the remand prison three times by applying twice to the High Court and once to the Supreme Court the gardaí strenuously and successfully opposed his bail.
Following today's guilty verdict, Dwyer will be sentenced on 20 April.
The sentence for murder is mandatory life in prison.