The trial of Graham Dwyer for the murder of Elaine O'Hara has heard more details of documents and videos containing explicit and violent material found on an external hard drive recovered from Mr Dwyer's home.
The same drive also contained pictures of Mr Dwyer's children, of family occasions such as weddings, birthdays and holidays and pregnancy scan pictures.
Warning: This report contains graphic details
Detective Garda Brid Wallace gave evidence of material she found in a folder named with a woman's intials beginning with "J".
She said the file contained a document called "Jenny's 1st rape", last modified in May 2005.
This document was read to the court by Prosecuting Counsel, Sean Guerin.
The document described the author abducting, drugging and raping a woman on a trip to Newcastle in the UK.
The author described being on a trip to Newcastle.
He said he had gone to visit some of the local sights and a number of shopping centres which were architecturally diverse and he hoped would give him some ideas for a new building he was working on.
The author said he also wanted to feed his lust. He said he was dressed respectably in casual clothes and no one would have suspected what was on his mind.
He said he had his overnight bag with him with all the usual items, as well as chloroform, rope and his hunting knife.
He said he thought of his usual haunts - drugging someone in a nightclub or in an underground car park.
But he stumbled across a bookshop where he described finding a woman on her own browsing the erotic fiction on the top floor and he said he knew this girl would be his next victim.
He then described leaving the shop with the young woman, returning to his hotel, drugging her with chloroform and dragging her into his room.
The document then describes the rape of the woman.
The document concludes: "As far as I was concerned, the fun was just beginning. The End?"
Det Gda Wallace also gave evidence of another document called "walking along Grafton Street" and headed "thinking of you whilst I wrote this".
The court heard it was an account of walking around what was called St Stephen's Park, grabbing a woman by the throat, and subjecting her to a violent attack.
Garda Wallace gave an account of image and movie files found on the drive.
Ms Wallace said there were 27 image files and 23 movie files relating to a blonde haired woman, who was not Elaine O'Hara. There were also movie files with another woman's name and "tied and waiting".
One image found on this drive was the same image used by Elaine O'Hara on her profile on an adult website for people interested in BDSM activity. The same image was also found on her computer.
Garda Wallace agreed there were a substantial number of documents on the drive relating to Graham Dwyer's personal and work life.
These included movie files of family occasions, featuring members of his family as well as birthdays, weddings, holidays. There were items relating to work and model aeroplanes and to his Porsche car.
There were also pictures of his children and pregnancy scans.
Photoshopped image of woman
The trial heard that a photoshopped image of a young American woman who has given evidence in the trial was found on a storage device in Mr Dwyer's home.
The image was found in the same folder in which the document called Killing Darci, which was read to the court yesterday, was found.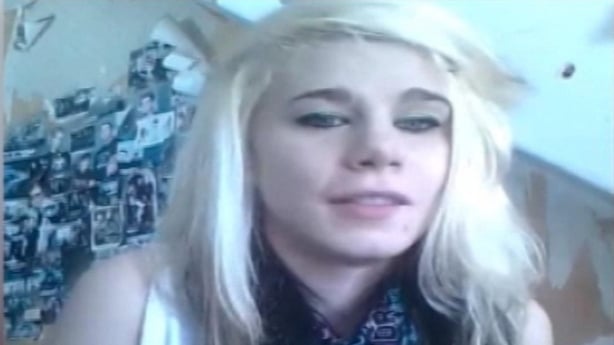 The image appeared to be that of Darci Day, who gave evidence on Tuesday.
It had been photoshopped to add stab wounds to Ms Day's body.
Members of the public were earlier asked to leave the courtroom on day 32 of the trial.
The judge made his order due to the "difficult" nature of the evidence to be heard.
The court was told the image showed a blonde woman, who appeared to be the witness, Darci Day, lying on the ground, almost naked from the waist up.
Garda Wallace told the court the image had been photoshopped adding a cut mark on Ms Day's neck, cut marks on her torso and intestines on her stomach.
Garda Wallace said she had gone back to re-examine the image after seeing Ms Day give evidence earlier this week.
She said after seeing her give evidence, she was able to say the photoshopped image appeared to be Ms Day.
Ms Day became extremely emotional when she was asked about a photoshopped image by lawyers for the defence on Tuesday.
Yesterday, the court heard details of an explicit and violent document, called Killing Darci, found on the same hard drive, which outlined a scenario in which a young woman was raped and stabbed to death by the author.