International Airlines Group Chief Executive Willie Walsh has said that consolidation in aviation has brought benefits to the industry and to consumers.
Speaking at a Wings Club lunch, attended by those working in the aviation industry, he said consolidation was good for cost control and bargaining potential with suppliers.
However, he said IAG recognises the brand value of its airlines and said they must be given the freedom to operate independently.
IAG, he said, is not a brand, rather it wants to retain brand equity.
He described IAG's airlines as different to each other and said that is why IAG wants to acquire Aer Lingus.
He said Aer Lingus was an excellent brand, strong in North America and the UK, with "a good operating base, a good cost base and fantastic growth potential".
He spoke about growth at IAG's airline Iberia, which he said had to restructure because unlike Aer Lingus it had not done so before.
Fragmentation, he said, was a challenge for the industry, with the strong airlines consolidating to make them better.
Consolidation of US airlines saw them invest in product, aircraft and facilities, which meant that consumers benefited, according to Mr Walsh.
Unions at Aer Lingus earlier said they remain opposed to the proposed IAG takeover of the airline.
Speaking after a meeting with Mr Walsh and Aer Lingus Chief Executive Stephen Kavanagh, ICTU official Liam Berney said they had heard nothing at the meeting to make them change their minds.
SIPTU representative Eoin Reidy said the meeting brought no new information and many of the unions' questions remained unanswered.
He said he thinks "the status quo should prevail" and that the Government should not consider any bid at this time.
Speaking on RTÉ's Today with Sean O'Rourke, IMPACT National Secretary Matt Staunton said he remained unconvinced that the takeover was a good idea.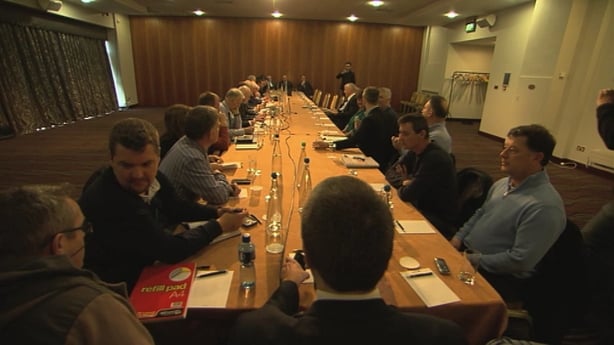 Mr Staunton said there was a lengthy discussion on the protection of jobs and a good exchange of views on the subject but no firm commitments were offered.
Speaking after this morning's meeting, Mr Walsh said that there has been no consideration of creating a share ownership scheme for Aer Lingus staff in the event that the takeover would go ahead.
He said IAG wants to grow the business and accelerate growth particularly on transatlantic routes. He said that he believed IAG could do that better than anyone else.
He said due diligence on the airline was almost complete, but that he had no time deadline for completion of the takeover.
He said the process was probably a bigger problem and distraction for Aer Lingus than for IAG.
Mr Walsh described the takeover as a friendly approach, saying he did not want to do anything to distract Aer Lingus management.
Unions have expressed concerns "as you would expect", Mr Walsh said, but he said the meeting had not discussed specific job numbers or extending the five-year guarantees on use of slots at London's Heathrow Airport.
Mr Walsh said the best guarantee of job security was to be in a growth business.
He added that he thought legally binding Registered Employment Agreements to copperfasten terms and conditions for employees would be a good idea.
Unions have indicated that they will not support the bid unless they get tangible guarantees on connectivity, job security and preservation of terms and conditions.
They have warned they will not back the sale - and in particular, the sale of the Government's 25.1% stake - unless they get rock- solid guarantees protecting their members' interests.
Staff fear the takeover could herald job losses and drive down pay and conditions.
A former union representative himself, Mr Walsh has previously acknowledged that jobs would be lost in areas like administration.
But he has pledged to create over 600 new ones - particularly among pilots and cabin crew.
Mr Kavanagh described this morning's meeting as "positive" and said it was helpful to have Aer Lingus and IAG in the same room to answer questions.
The Aer Lingus CEO also described the engagement between the parties as good.
Mr Kavanagh reiterated his belief that the IAG offer for Aer Lingus is "a very compelling proposition for all stakeholders".
He said it is "getting close to the position where all matters outstanding will be clarified and people will have to draw their own conclusions".
He said, Aer Lingus "will dedicate as much resources as possible into convincing and communicating" what it believes is a compelling proposition for all.
He expects that the trade unions will reflect on their position after today's meeting.