Mr Justice Brian McGovern, sitting in the Commercial Court, has reserved his judgment in proceedings taken by Bank of Ireland to have the O'Donnells vacate Gorse Hill. 
Solicitor Brian O'Donnell and his wife, Mary Patricia, have been blockaded in Gorse Hill in Killiney since the High Court rejected an application by the O'Donnell children for an injunction to stop the repossession of the property.
The deadline for the couple to vacate their home on the order of the High Court expired yesterday.
Mr O'Donnell this evening arrived back at Gorse Hill.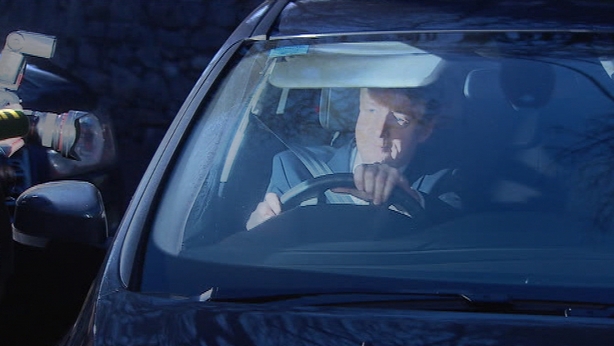 He did not speak as he entered the house assisted by members of the self-styled Land League.
Land League members now appear to have left Gorse Hill and there is no apparent blockade.
Mr O'Donnell this afternoon outlined to the court why he wanted to cross-examine a representative of Bank of Ireland and the Receiver.
He said facts had been put to the court that are not agreed.
Mr O'Donnell also argued that Bank of Ireland cannot legally take trespass proceedings as it does not have legal possession of the property.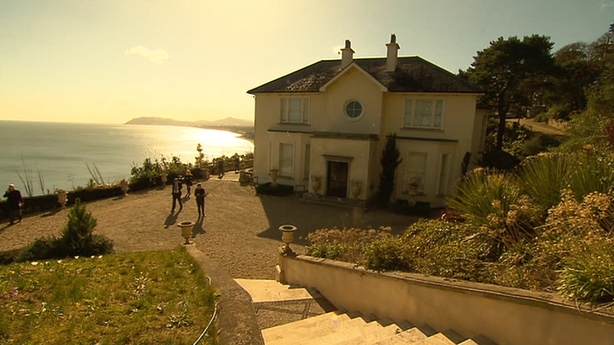 Justice McGovern said he will reserve judgment on the request to cross-examine.
Reading from his affidavit, Mr O'Donnell told the court he and his wife have a right of residence in Gorse Hill since October 2000 when it was given to them by Vico Limited, which owns the property.
He said senior Bank of Ireland officials knew this.
Mr O'Donnell also alleged documents issued by Bank of Ireland were not properly sealed and witnessed, making them invalid.
He said the bank has got many assets from them already including properties in Oughterard in Galway, two buildings and a car park in Merrion Square and property in London.
The bank has refused to say how much all this was worth, he said, so Mr O'Donnell does not actually know how much he owes the bank.
He also said he and his wife paid back €700m to banks around the world. The only bank they have difficulty with is Bank of Ireland, he said, and for these and other reasons the court should refuse an injunction against Mr O'Donnell and his wife.
Justice McGovern questioned him about the presence of the self-styled Land League at Gorse Hill, and their statements to the press.
He said no one has the right to try to influence court proceedings.
Mr O'Donnell said Jerry Beades is a friend of his, but he has no control over the 'Land League', and he himself has never spoken to the press.
He also said the group was on the property and their cars were at the gate because there are 65 journalists present along with satellite trucks.
On a number of occasions, he said, people had come on to the property, including journalist Vincent Browne yesterday, whom he said "led in a posse".
Judge refuses to recuse himself in O'Donnell case
Justice McGovern earlier refused an application by Mr O'Donnell to recuse himself from hearing trespass proceedings.
Mr O'Donnell had asked the judge to recuse himself because the judge's wife was previously party to legal proceedings against the receiver, Tom Kavanagh, and because of comments he made during the O'Donnell children's case last Tuesday.
Mr Justice McGovern refused the application having explained he was not at all involved with his wife's proceedings.
He said his comment on Tuesday that things could be done "the easy way or the hard way" was in the context of getting Blake O'Donnell to call his father in Gorse Hill to tell him the outcome of that case.
Justice McGovern also refused the argument from Brian O'Donnell that these trespass proceedings should not be heard in the Commercial Court.
Representatives of receivers pinned notices of trespass and to vacate on the gates of Gorse Hill in Vico Road on Tuesday night.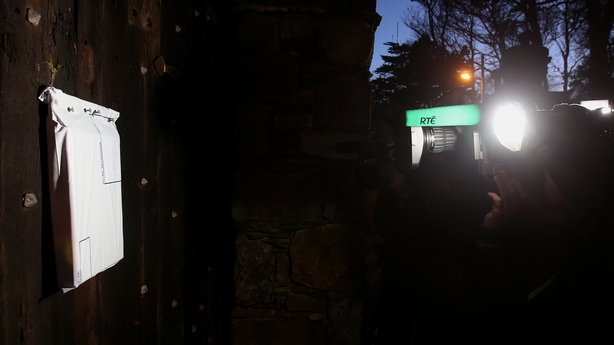 The 'Land League', a group opposing home repossessions, removed its blockade for a short time yesterday, but put it back in place, after what it described as "a person unknown" tried to gain entry to the house.
Last night, Mr Beades, a spokesperson from the group, described the €7m mansion as a "bog-standard house" and "simplistic".