Solicitor Brian O'Donnell and his wife remain in their home in Killiney tonight, even though the deadline for them to vacate the property on the order of the High Court has expired.
A group opposing home repossessions removed its blockade for a short time today, but put it back in place, after what it described as a person unknown tried to gain entry to the house.
A spokesperson for the group, the self-styled Land League, said the O'Donnells have lodged a response with the courts.
The deadline for Mr O'Donnell and his wife, Mary Patricia, to vacate their home expired at 4pm.
Yesterday, the court rejected an application by the O'Donnell children for an injunction to stop the repossession of the property in Killiney.
Representatives of receivers last night pinned notice of trespass and to vacate on the gates of Gorse Hill in Vico Road.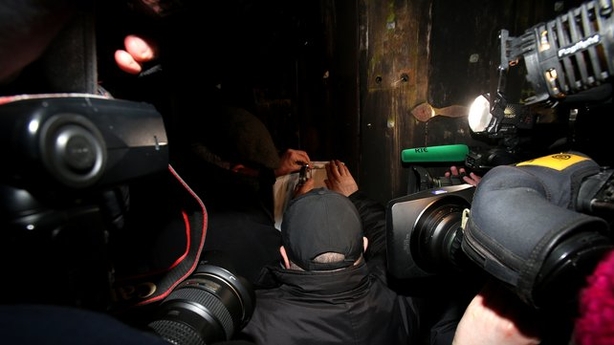 Bank of Ireland moved to serve a trespass injunction after the O'Donnell children failed to secure the injunction to stop the repossession of the house.
Judge Brian McGovern rejected that application, saying the issues raised were similar to those previously argued before the courts.
He said Blake, Blaise, Bruce and Alexandra O'Donnell had no right to grant their parents residency of the property.
Blake O'Donnell, representing his siblings, objected to requests from the bank for him to contact his father and inform him of the court's decision.
Judge McGovern told him "we can do this the easy way or make it more difficult".
The O'Donnell siblings say they are appealing the court's decision.
The self-styled Land League's Jerry Beades said the O'Donnells responded by 4 pm to the proceedings served last night at Gorse Hill.
They have lodged their response with the courts.
He added that as proceedings by the O'Donnell children to get a temporary injunction have not been struck out, the outcome of those proceedings will also be subject of an appeal.
He also explained that the Land League got involved in Gorse Hill because it has brought centre stage what is happening to thousands of people around the country.
Land League co-founder Tom Darcy said that a Supreme Court challenge to the Conveyancing Act is to go ahead and they want people around the country to row in behind it.
A European court challenge may also take place and he said that a London firm has agreed to take a case to the European courts.