Solicitor Brian O'Donnell has effectively barricaded himself into his Killiney home, assisted by members of the "new land league", in an effort to prevent the banks taking possession of it.
Members of the land league anti-repossession movement blocked the entrance earlier today.
The group said it was invited by the O'Donnell family on the understanding a receiver would arrive today to the house at Gorse Hill on Vico Road, in Killiney in Dublin, which was once valued at €30m.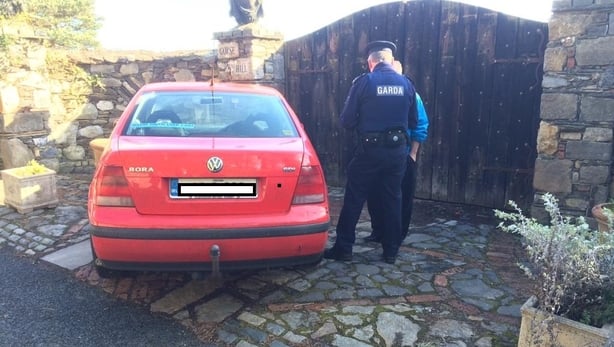 Mr O'Donnell and his wife were pursued for a debt of €71.5m by Bank of Ireland when it began court proceedings to repossess their home.
Speaking through the self-styled "new land league", Mr O'Donnell said his adult children had left the property, complying with the court order.
High Court reserves judgment
The High Court reserved judgment on an application by the O'Donnell family for an injunction against the repossession of their Killiney home.
Judge Brian McGovern said the court would sit again at 2pm tomorrow. He requested affidavit evidence about what is happening at the house.
Last month a bank-appointed receiver was given a court order to take possession of Gorse Hill by 1 February against the wishes of the adult children of Mr O'Donnell.
It followed a failed Supreme Court appeal against repossession of the house.
Today's application was made by the family's eldest son, Blake O'Donnell.
He said his parents were now occupying the property, and he and his siblings had vacated the house.
He said he had no keys as he had not lived in Gorse Hill for two or three years.
He said he was not aware of the presence of members of a group calling themselves the "land league" barricading the property.
He said his father was not pulling the strings as had been suggested in court and it was utter nonsense to suggest that he had orchestrated things in the background.
Counsel for Bank of Ireland Cian Ferriter told the court his injunction application was a repackaging of arguments from previous cases.
He said it was a last ditch attempt by the family to buy themselves some further time.
Mr Ferriter said there was also a very disturbing undertone to the application and said that both the siblings and parents had demonstrated a lack of proper respect for the administration of justice.