Labour leader Joan Burton has defended the party's record in Government and appealed to voters to give her party a second term in government to build "a decade of opportunity".
Speaking at her party's national conference in Killarney, she hit out at the Opposition as a coalition of chaos in her first party address as Labour leader.
With a general election due before April 2016, she highlighted issues central to Labour policy including gay marriage, paternity leave, child benefit and pre-school care.
She said the economy is recovering, and more and more people are finding employment.
However, Ms Burton also said there were "progress deniers".
Some of them, she said, "hijacked peaceful protests" to make their points and she said in a fair society that was "bullying".
She told the conference that the Labour Party wants to deliver full employment, fair taxation and affordable homes.
On the upcoming same-sex marriage referendum, she said the party was fighting "to ensure equality of love before the law".

"We're fighting for more than just two people in a loving relationship. We're fighting for everybody who loves them in turn."

She said the Government would increase child benefit again in the next Budget.
"By the end of this year, we'll set out the steps that will enable us to introduce two weeks' paid paternity leave.

"Mums and dads will also be able to bring their young children to the doctor for free.

"Because this year, we'll deliver another of our core commitments - to provide free GP care for children under six."

She said that childcare is a concern for families and that the Government was increasing access to subsidised childcare and afterschool places.

"I want to ensure that before they start primary school, every child has a right to two years of free pre-school.
"This will be a key plank of our election platform."

Water charge protesters march on conference
Several hundred water charge protesters gathered in Killarney ahead of a march on the conference.
Speeches were delivered in the town centre, and the protesters then marched to the conference venue.
It was a largely peaceful protest, but when it reached the Gleneagle Hotel this afternoon some protesters banged on the hotel's windows.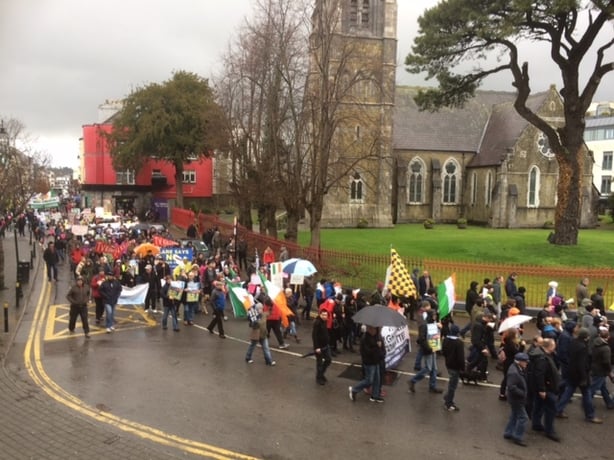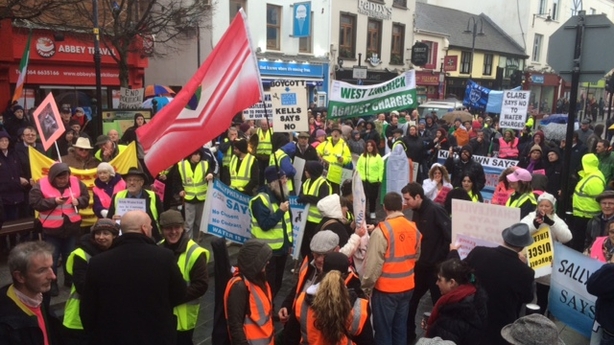 A significant security cordon was in place around the centre.
Kelly promises to tackle rising rents
Minister for the Environment Alan Kelly earlier said that rent is the "single biggest issue" in his portfolio and said he is committed to bringing about certainty in the rent market.
Some rent increases by landlords are "absolutely scandalous" and need to be brought to an end, he said.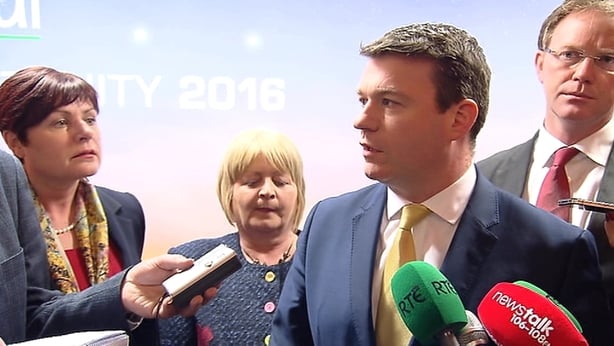 The minister said he will bring forward legislation to deal with rising rents by the end of the year.
The legislation would deal with rising rents over a three-to-four-year period.
He said he was not looking at rent controls but rent certainty.
Mr Kelly said he was looking at a mandatory framework, which would see landlords and tenants come together to look at rents and within that they would negotiate with each other.
He said he was looking at a link with the consumer price index, which would be one component of the scheme.
Mr Kelly said the scheme would allow landlords to offset their costs where they invested in their properties.
He also said that NAMA should not always sell to the highest bidder and that a proportion of its land needs to be set aside for projects to ensure the delivery of affordable housing in the future.
There is an issue with housing and co-operation is needed from NAMA, he added.
Labour Party urged to abolish USC
SIPTU president Jack O'Connor told Labour delegates the party should "commit to a referendum to change the Constitution so as to prohibit the privatisation of the public water supply".
He said the party should campaign for the abolition of the Universal Social Charge.
The charge, he said, should be replaced by a new progressive Social Solidarity Contribution.
The Social Solidarity Contribution, he suggested, should be ring fenced for re-building the health service and providing for elder care and childcare.
He also called for Labour to recommit to free third-level tuition fees.
He said tax relief for third-level courses should be reintroduced, in the context of an agenda which would expand the range of apprenticeships to underpin skills development and facilitate innovation.

A motion proposing a referendum be held to ensure Irish Water is held in public ownership has been referred back to the party's national council.
The motion was referred back at a request from Mr Kelly, who said he needed to take into account the advice of the Attorney General on the issue.
He added that he had introduced a 'triple-lock' on the privatisation of Irish water.
Motion to repeal Eighth Amendment passed
A motion was passed yesterday to call for a referendum on repealing the Eighth Amendment of the Constitution, which acknowledges the right to life of the unborn, with due regard to the equal right to life of the mother.
The motion suggested that the referendum call be included in the Labour Party manifesto for the next general election.
Those who spoke on the motion included Senator Ivana Bacik, TDs Emmett Stagg and Aodhán Ó Ríordáin, and Minister of State Kathleen Lynch, who commended the motion.
There was a round of applause when the vote was carried.
Maíria Cahill received the Jim Larkin Thirst for Justice Award at the conference this evening.
Separately, Westmeath Longford TD Willie Penrose is due to introduce a bill next week to reduce the bankruptcy period from three years to one year.