A group of seven Labour deputies are due to hold a meeting tomorrow afternoon, to discuss tabling an emergency motion on Aer Lingus, at the party's national conference in Kerry this weekend.
Minister for Transport Paschal Donohoe today announced that the Government is not accepting the offer by International Airlines Group, for the State's shareholding in Aer Lingus, however he added that it is open to another offer being made. 
Labour TDs have raised concerns about protecting the existing jobs at the airline and the Heathrow slots.
Minister Donohoe said a guarantee that Aer Lingus would keep its Heathrow slots needs to be for longer than five years.
He said the information and commitments provided to date by IAG did not at present provide a basis on which the Government could accept the offer for Aer Lingus.
He briefed Cabinet on the latest moves regarding the potential sale of the Government stake.
The minister said the Government noted that IAG and Aer Lingus have made positive statements about the overall employment prospects, and the airline itself saw the potential for planned growth in transatlantic traffic to be significantly accelerated.
Mr Donohoe said IAG had furnished important new information outlining its vision for the airline but he is still not in a position to recommend acceptance of its offer.
He also said progress had been made on guaranteeing jobs, but further clarity was needed.
The minister said more information was also needed on IAG's transatlantic plans, but noted that Aer Lingus was satisfied with the level of the cash offer from the company.
Earlier, Fianna Fáil TD Billy Kelleher accused Labour deputies of "scrambling on lifeboats" in relation to the sale. 
Mr Kelleher said Labour is trying to find ground that will save some seats in north Dublin.
Meanwhile, Socialist Party TD Ruth Coppinger said it would be really reckless for an island nation to give up its airline.
Speaking at a press conference to publicise a private members' Dáil motion opposing austerity, she said Aer Lingus is a prosperous company and workers will resist its sale.
Minister for the Environment Alan Kelly said he would not be surprised if an emergency motion opposing the sale of the airline comes before the Labour conference this weekend.
He said there are very strong feelings held by many delegates about the sale of the airline, adding that the Government will take all views on board in making any decision.
The incoming Chief Executive of Aer Lingus urged politicians opposed to a takeover of the airline by IAG to reconsider the benefits of a merger. 
Stephen Kavanagh was speaking as the carrier announced a 17.8% increase in operating profits to €72m. 
He said he did not have sympathy for the political view that a takeover could be unpopular and should be rejected, stressing politicians should consider the opportunity foregone by rejecting a takeover. 
Mr Kavanagh said that between the existing voluntary redundancy programme and a merger with IAG it could result in 150 to 200 job losses. 
However, he said there would be redeployment opportunities in Aer Lingus and in IAG, confirming a takeover could lead to about 500 new jobs. 
Mr Kavanagh confirmed he owns 280,000 shares in Aer Lingus which had accrued from the company's Employee Share Ownership Trust and as part of his work with the airline's management team. 
However, he said he would not receive any bonus payment as part of the takeover. 
Outgoing chief executive Christoph Mueller said parties involved in the talks about the proposed IAG bid for Aer Lingus would be well-advised to see the offer in the context of Ireland Inc.
Mr Mueller, who steps down as chief executive at the end of this week, said it would be good for the economy as a whole.
He said IAG's offer at €1.4bn is probably the largest foreign investment into Ireland since the financial crisis.
Talks with the airline's unions and with IAG about the bid are "very constructive", he said.
He added that there was "a great deal of excitement" that the company would be able to create jobs on a much larger scale than it would be able to do on its own. 
Separately, the Aer Lingus board restated its backing for a takeover bid by the owner of British Airways as it revealed that operating profits at the airline have risen almost 18%.
Announcing its preliminary results for last year, Aer Lingus said "excellent" operating profit performance of €72m was up 17.8% on the previous year.
Total revenue was up 9.2% to €1,557m as passengers surpassed 11 million for the first time in its history.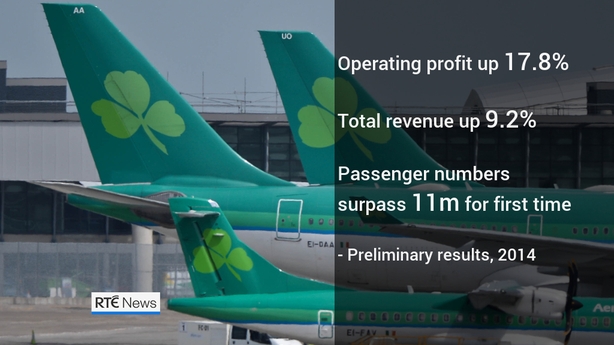 On the back of the latest results, Aer Lingus Chairman Colm Barrington reiterated the board's support for the IAG offer.
"Our performance in 2014 was strong, with significant growth in long-haul and resilient short-haul operations," he said.
"To enhance these excellent results and to accelerate Aer Lingus' growth, it is the board's strong belief that the company should now take the opportunity to combine with IAG.
"In this combination Aer Lingus will operate as a separate business while gaining access to IAG's extensive network and benefiting from its scale.
"These significantly positive benefits will de-risk Aer Lingus' future, strengthen its operations and enhance the future success of the company."
The board is proposing increased share dividends from 4c to 5c as a result of last year's performance.