Taoiseach Enda Kenny used his leader's address at the close of Fine Gael National Conference in Castlebar, Co Mayo to seek a Yes vote in the same-sex marriage referendum in May.
Mr Kenny said a Yes vote would send out a powerful signal internationally that Ireland has evolved into a fair, compassionate and tolerant nation.
He said the Fine Gael party strongly supports a Yes vote.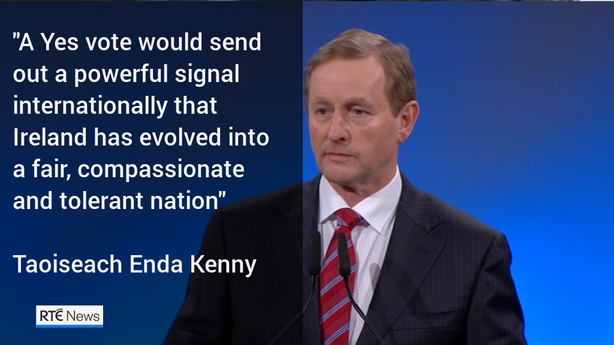 He also gave a commitment that the era of new taxes and charges is over and said there would be further tax cuts in this year's budget.
The Taoiseach said the Government plans to bring the number of workers who are exempt from paying the Universal Social Charge to 500,000. He also predicted that the Government's goal of full employment by 2018 is achievable.
The conference has come to a close and the party focus will now turn to selecting candidates for the general election.
Earlier, Minister for Health Leo Varadkar has used his address at the Fine Gael Conference in Castlebar, Co Mayo to attack opposition party leaders.
He told delegates Fianna Fáil leader Micheál Martin has "a brass neck" if he wants to be Taoiseach after spending millions on public relations and endless reports and strategies. He added "Emperor Martin has no clothes."
Mr Varadkar acknowledged Mr Martin did some "good work" with the smoking ban, however, he added: "But he knows how difficult health is, and so it is hard to take some of the shrill criticism from him in recent times.
"When he was health minister, trolleys and overcrowding were so bad, that they didn't even count the patients. We know from newspaper reports that patients were treated in ambulances and carparks one winter.
On Sinn Féin leader Gerry Adams, Mr Varadkar said he is "a self-serving phoney" who pays property tax and water charges "to Her Majesty's government in the North".
He added: "He doesn't use the health service, either North or South. Rather, he flies first class to America for treatment in a private hospital and yet claims to be paid the same as his driver."
Mr Varadkar said: "In the next election we are being offered a choice between a coalition of extremes, and our own party, which has consistently put Ireland first.
"In Fianna Fáil and Sinn Féin we have two damaged parties: One which undermined this country through sheer incompetence, and another which undermined the country deliberately and by design.
"Neither can be trusted to lead a government, and our job is to make sure they are not."
Earlier, Minister for Finance Michael Noonan said Ireland stood at a fork in the road with one road delivering full employment in less than four years and the other uncertainty.
Mr Noonan was among the speakers at the 'Securing the Recovery' session.
Mr Noonan said that forecasts now show unemployment falling below 10% this year.
Earlier Minister for Justice Frances Fitzgerald said she is considering setting up a Criminal Justice Inspectorate incorporating the Garda Inspectorate and the Inspector of Prisons.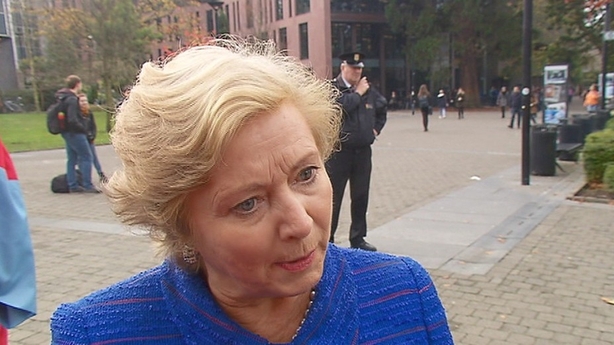 The Inspectorate would also cover other criminal justice agencies such as the Probation Service.
The minister said the Inspectorate would be similar to the Criminal Justice Inspectorate in Northern Ireland.
It would carry out inspections and make recommendations concerning the efficiency and effectiveness of individual agencies.
It would also carry out inspections and make recommendations about the efficiency and effectiveness of the criminal justice system as a whole as well as carry out inspections of places of detention.
The Inspectorate would also make recommendations concerning safeguarding the rights of detained persons and protecting against abuse.
Before making a final decision on the establishment of an Inspectorate, the minister said she wants to hear the views of all those concerned and she is starting a consultative process on the issue.
Ms Fitzgerald also said the Garda College in Templemore will not close again.
In her speech, she praised the current 300 recruits going through training describing them as "the cream of the crop".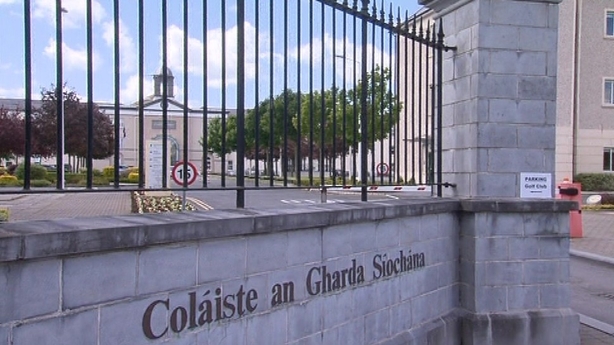 She said the new Garda Commissioner has been empowered to get on with making the service comparable with any other police force in the world.
Ms Fitzgerald said she has sent a clear, simple message to An Garda Síochána - to get gardaí out from behind their desks, get them onto the streets, where the can be seen and "where the criminals can see them."
The minister also said the department is examining the law around repeat offenders and the question of consecutive sentences in such cases.
She said this will free up prison space so that "those who should be imprisoned are imprisoned. So that serious, serial and violent offenders are put behind bars and kept there."
Ms Fitzgerald told the conference that while prison is about serving out a debt to society, it is also about prisoner rehabilitation.
In this regard, she said: "The scourge of drugs in prisons thwarts and undermines those fundamental principles."
She announced that the capacity of the Mountjoy Medical Unit will be increased to create a national treatment centre for prisoners who want to detoxify and address drug addiction.
There will also be a new drive to combat drug smuggling into prisons.
Ms Fitzgerald also told delegates that she is planning to bring proposals to Government within the next month looking to draft a Bill reforming the general law on bail.
The minister also said that she hopes the Sexual Offences Bill will be before the Oireachtas before the summer recess.
This bill will update the law on the grooming of children, the abuse of vulnerable people, the management of sex offenders and other issues such as prostitution, she said.
Ahead of the summer recess, the minister said, she also expects to publish a Criminal Justice (Corruption) Bill that will consolidate and update the laws on corruption.
In a session closed to the media, Ms Fitzgerald will address issues related to the same-sex marriage referendum.
The Fine Gael conference will today also hear presentations on developing agriculture and improving the health service.
Minister for Health Leo Varadkar is expected to tell delegates that the cycle of cuts in the sector is over and recruitment is under way again.
Last night Mr Kenny and Minister for Agriculture Simon Coveney had some good news for delegates when they told them China had lifted its ban on Irish beef.