There has been one winner of the €10.2m National Lottery jackpot.
The winning numbers were 9, 10, 18, 20, 24 and 26. The bonus number was 35.
The winning ticket was sold in the east of the country.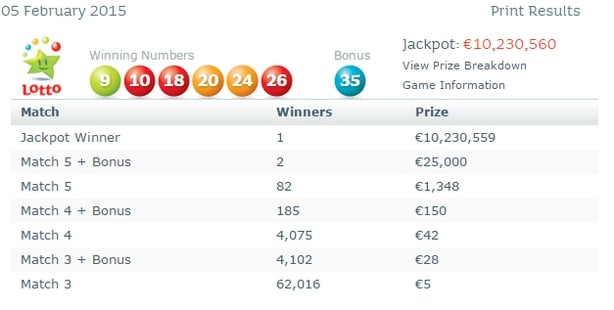 The draw, which was due to take place on Wednesday night, was postponed for 24 hours after a technical problem stopped ticket machines working.
It is the first time in nearly 30 years of Lotto jackpots that a draw has been postponed.
Up to 3,500 Lotto outlets around the country were hit and thousands of people were unable to buy tickets for the bumper prize, which has been rolling over for weeks.
The problem originated with Telefonica's 3G network in Spain.
Eddie Banville, director of marketing with the National Lottery, said the problem was external to their systems so it was outside their control.
A full investigation will take place and any changes deemed necessary to stop it happening again would be carried out, he added.
Earlier the Director General of RGDATA, which represents 4,000 retailers, called on the National Lottery regulator to investigate the technical glitch which postponed last night's Lotto draw.
Speaking on RTÉ's Today with Sean O'Rourke, Tara Buckley said she was not happy with how the crisis was handled.
She said confidence needs to be restored in the lottery system.
Ms Buckley said RGDATA received reports last November that retailers were experiencing problems with new national lottery machines.
She said the National Lottery needs to reassure people, and retailers, that the problem will be resolved.
"It's astonishing what happened yesterday. I mean the first time in 28 years that we haven't had a draw and it's hugely important that this issue is very clearly addressed to give confidence back in the Lotto and to ensure that the players are reassured that the lotto system is going to be working in the future."