Thousands of people have taken part in a protest in Dublin over water charges, while other rallies have been taking place in towns and cities around Ireland.
The Dublin rally was organised by local anti-water charge groups.
Traffic restrictions have been lifted in Dublin city centre following today's protest and traffic is now moving freely.
Earlier, several hundred protesters split off from the main group and marched to Leinster House, where attempts were made by a handful of people to pull open the large iron gates.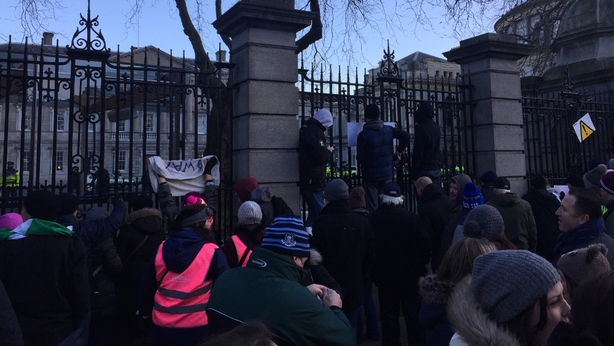 A firecracker was thrown at gardaí on duty inside and one protestor mounted the gate to hang a small banner at the top.
Others present objected and began to chant 'peaceful protest' and left the area.
In separate incidents, two men were later arrested on public order offences in the Kildare St area.
An estimated 3,500 people turned out for a demonstration against water charges in Cork city.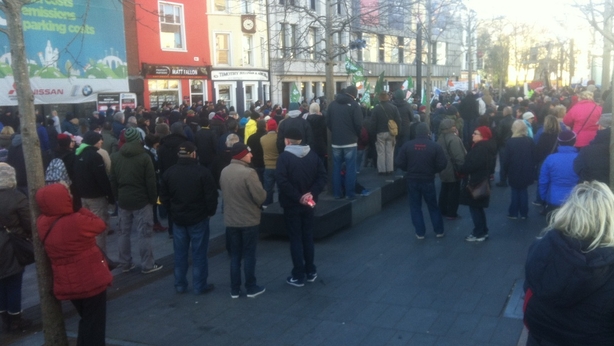 The protest was organised by 'Cork Says No', a coalition of a dozen anti-water charge groups in the city and county.
The organisers called on people to boycott water charge bills and to resist the installation of water metres.
West Cork Right2Water group organised a protest at Clonakilty. Speakers from a number of parties, along with independents, addressed the gathering at Emmet Square.
Waterford Anti Water charges protest pic.twitter.com/0W7eciIKYj

— Damien Tiernan (@damienrte) January 31, 2015
Meanwhile, in Kerry TDs Martin Ferris of Sinn Féin and Independents Tom Fleming and Michael Healy-Rae addressed a protest in Tralee organised by the Tralee Right2Water group.
Organisers estimated the number of participants at around 600.
A march was also held in Listowel, organised by the Listowel Right2Water group.
Elsewhere, up to 500 people took part in a protest against water charges in Galway city organised by the group 'We Won't Pay'.
After listening to several speakers in Eyre Square, the crowd then marched down Shop St towards Dominick St and returned via Quay St and back to Eyre Square.
The speeches contained many references to the new anti-Troika government in Greece.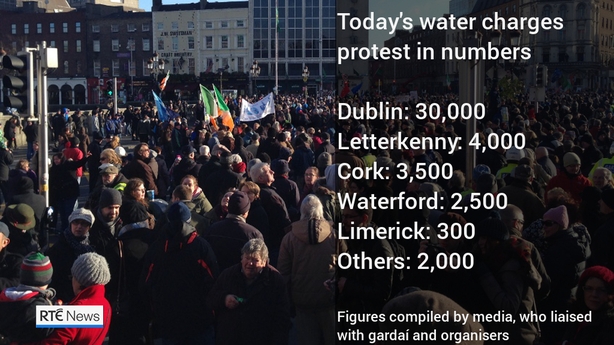 Around 300 people protested in Sligo with some lining up along the Garavogue River to symbolise peoples' ownership of water.
Some protesters also burned Irish Water registration packs outside the office of local Fine Gael TD John Perry.
Richard Boyd-Barrett of the People Before Profit Alliance said people will continue to take to the streets until they are heard.
In Limerick, a 13ft 'We Won't Pay' banner was unfurled from King John's Castle as part of demonstrations against water charges.
King John's Castle was one of twelve locations across the county, where protests and information leaflets were distributed.
Other areas included Corbally, Dooradoyle, Kings Island Community Centre, Watchhouse Cross and Roxboro in the city and Croom and Newcastlewest in the county.
Water protests underway good natured and loud #rtenews pic.twitter.com/KJqZ5ijcxA

— Joe Mag Raollaigh (@joemagraollaigh) January 31, 2015
Approx 300 at sligo anti water charges protest pic.twitter.com/IgigKtet09

— EileenMagnier (@EileenMagnier) January 31, 2015
An estimated crowd of 4,000 marched in Letterkenny against the water charges. The march was organised by the Right2Water group, and with a large Sinn Féin attendance marched from the Port Road to the Market Square on Main St.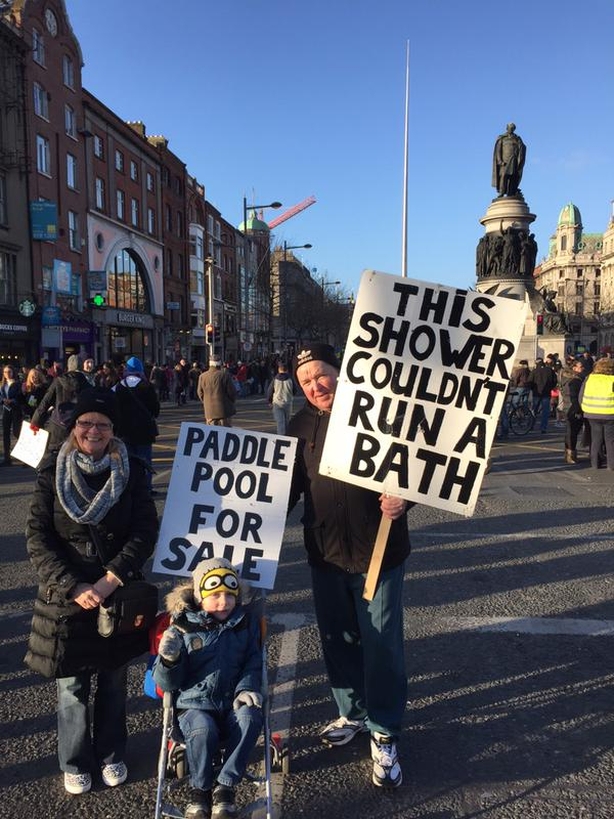 Man climbs gates to hang a sign. Others present object; chanted peaceful protest #rtenews Kildare street empty now pic.twitter.com/ks6b1Fre3y

— Joe Mag Raollaigh (@joemagraollaigh) January 31, 2015