A Lebanese man who is suspected of murdering two Irish soldiers who were serving with the United Nations 34 years ago has been deported from the US back to Lebanon.
Mahmoud Bazzi, 71, was returned to his home country after admitting immigration fraud.
He entered the US just over 20 years ago without proper documentation and admitted lying to obtain lawful immigraion status.
He could ultimately stand trial for the abduction, torture and double killings while serving with a Christian militia.
Mr Bazzi was transported on a commercial flight from Detroit, where he had been living, to Beirut under escort by officers with the Enforcement and Removal Operations agency.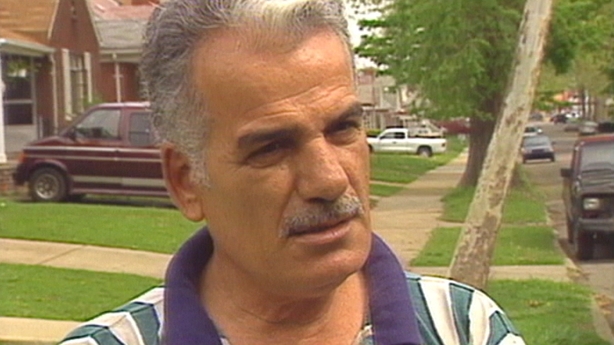 He was handed over to Lebanese authorities today.
Reacting to the news Karen Barrett, daughter of the late Thomas Barrett, told RTÉ News the Barrett family is delighted to hear the Lebanese authorities have now detained Mr Bazzi.
She said it has been a 35-year fight for justice and they hope the Lebanese authorities will give them justice for their father, Derek Smallhorne and John O'Mahony (who was shot an injured in the incident).
She added her father gave his life protecting the Lebanese and the family hope this matter will now be addresssed.
Ms Barrett also thanked those who have assisted them getting to this point including Simon Coveney and the Justice for Barrett and Smallhorne campaign.
Minister for Defence Simon Coveney welcomed the arrest and detention of Mr Bazzi.
"I believe that this is a significant step in the pursuit of justice for Privates Thomas Barrett and Derek Smallhorne who lost their lives while on United Nations peace-keeping duty in Lebanon almost 35 years ago.
"It is an important day for the families and I wish to commend them for their continued commitment to securing justice for their loved ones."
Mr Coveney added be believes today's development to be very positive.
Privates Smallhorne and Barrett were on duty with the UN Interim Force in Lebanon near the Israeli border on 18 April 1980 when they were captured.
They had been in a three-vehicle convoy that was stopped by the South Lebanese Army, which was controlling the war-torn region at the time and in conflict with the Palestinian Liberation Organisation.
Tension was high in the area on the day of the attack as the peacekeepers moved supplies to a border post.
Twelve days earlier clashes between the SLA and Dutch and Irish soldiers serving with the UN left an Irish man and a militia man dead.
The SLA had vowed to avenge the killing.
Today the field officer director for the Enforcement and Removal Operations agency Rebecca Adducci said: "ERO will continue to focus enforcement resources on individuals who lie and commit fraud to gain status in the United States. "
"This removal should provide a stark warning to those who seek to game the system to obtain immigration benefits."
"This removal is the culmination of a sophisticated and meticulous investigation by several ICE components," said Marlon Miller, special agent in charge of Homeland Security Investigations Detroit.
"ICE is committed to ensuring the United States does not serve as a safe haven for individuals seeking to distance themselves from their pasts."