Ukrainian President Petro Poroshenko has said there are more than 9,000 Russian soldiers backing pro-Russian separatists in the east of the country.
Speaking at the World Economic Forum in Davos, Mr Poroshenko said the troops are accompanied by "more than 500 tanks, heavy artillery and armed personnel carriers".
Earlier, Russia denied accusations that it sent soldiers and weapons to eastern Ukraine.
Russian Foreign Minister Sergei Lavrov also held out hope of progress at talks on the conflict in Berlin today, despite renewed fighting.
The Ukrainian government accused Russian regular forces of attacking its troops in eastern Ukraine yesterday, one of its boldest assertions yet of direct Russian military involvement in the conflict between pro-Russian separatists and Ukrainian government forces.             
Mr Lavrov said Russia had seen no evidence to back up such accusations and others made in the past few months.
"I say every time: if you allege this so confidently, present the facts. But nobody can present the facts, or doesn't want to - which it is, I don't know," he told a news conference.             
"So before demanding from us that we stop doing something, please present proof that we have done it."
Mr Lavrov did, however, acknowledge separatists hold more territory in eastern Ukraine than assigned to them under a ceasefire agreement reached last September.
He said Russia had received assurances from the separatists that they would retreat to the separation lines agreed last September at talks in the Belarussian capital, Minsk.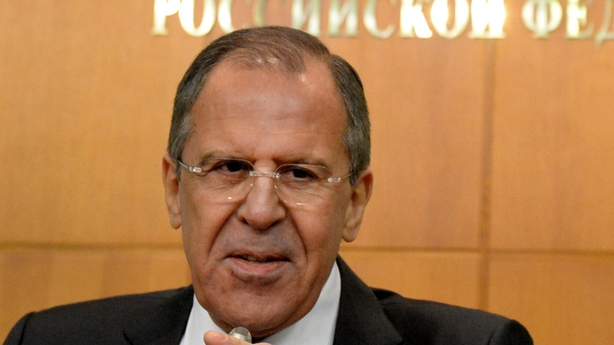 Yesterday, Ukraine accused the separatists of seizing more than 500 square km of territory beyond the agreed separation lines.
Mr Lavrov said the conflict in east Ukraine had to be solved with respect for the country's integrity, underlining Russia's support for the two separatist-controlled regions in the east to remain in Ukraine but with more autonomy.             
He expressed hope that talks in Berlin involving Mr Lavrov and the Ukrainian, French and German foreign ministers would make progress towards holding a summit of their countries' leaders on the crisis.
"We hope the contacts to be held in a foreseeable future at various levels and in various formats will help move ahead in this direction," he said.
Meanwhile, Ukrainian Prime Minister Arseny Yatsenyuk has said a law is being prepared to increase the size of the Ukrainian armed forces by 68,000 personnel to a total of 250,000.
The World Health Organisation says more than 4,800 people have been killed in the conflict since last April.
Progress made at Ukraine talks - Steinmeier
Progress was made during four-way talks on the Ukraine crisis and an agreement was reached on establishing security zones between pro-Russian fighters and Kiev's forces, German Foreign Minister Frank-Walter Steinmeier said.
The foreign ministers of France, Germany, Russia and Ukraine made "perceivable progress" during their meeting in Berlin, Mr Steinmeier said, adding that an agreement was reached on a demarcation line from which heavy weaponry had to be withdrawn.
The ministers ended the meeting with a joint call to end hostilities in Ukraine but no ground-breaking agreement.
The four top diplomats in their statement said they "call on all sides involved to cease hostilities and to withdraw heavy weapons" from a demarcation line agreed in a September truce pact signed in Minsk.