Ian O'Sullivan and Eimear Murphy from Kanturk, Co Cork have won the 51st BT Young Scientist & Technology Exhibition for their project on teenagers alcohol consumption.
The students are in transition year at Coláiste Treasa, Kanturk, Co Cork.
Their entry was from the Social & Behavioural category and their topic was 'Alcohol consumption: Does the apple fall far from the tree?'.
This is the second time a boy/group has won the overall title and the second ever winner from the Social & Behavioural Category.
The Minister for Education Jan O'Sullivan was in attendance and the pair were presented with a cheque for €5,000.
They will represent Ireland at the 27th European Union Young Scientist competition taking place in September in Milan and the BTYSTE perpetual trophy.
In addition they will receive an all-expenses paid trip to London to go behind the scenes at the state of the art BT Sport studios.
They will also go to a Premier League football game and also do a tour of the BT Information Age exhibit at the London Science Museum.
CEO, BT Ireland Colm O'Neill said: "Every year the BT Young Scientist & Technology Exhibition captures the public's imagination by demonstrating the creativity, ingenuity and potential of our young people. "
He said: "This exhibition continues to be the showcase for our next generation of entrepreneurs, academics, scientists and technologists; minds that will tackle and solve some of the most challenging issues facing our planet."
Mr O'Neill congratulated every student who took part.
Minister O'Sullivan said: "The talent we have seen in the RDS this week offers a positive insight into the future of this country and I am greatly impressed by the standard of the entries to this important event."
We just won @BTYSTE OH MY GOD! Fantastic Ian and Eimear

— Coláiste Treasa (@colaistetreasa) January 9, 2015
The winning project
One of the judges, Professor Ian Robertson, said "This study aimed to identify one potential cause of hazardous drinking in teenagers - parental drinking habits and attitudes to their children's drinking."
Fifth and sixth year students from the Kanturk-Mallow area were surveyed, with over 902 students reporting on their drinking.
Uniquely for this type of survey, the parents of 360 of these students also agreed to report on their own drinking and attitudes.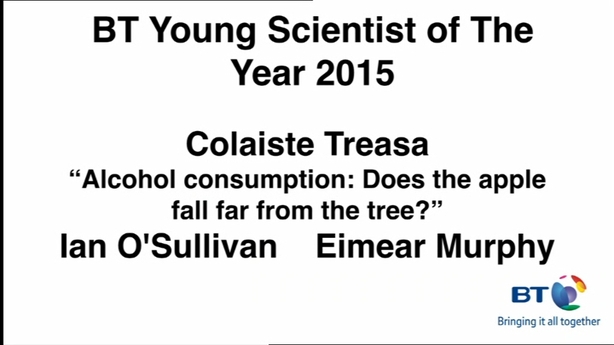 The students discovered that teenagers whose parents believe that it is acceptable for their children to drink alcohol on special occasions are up to four times more likely to engage in hazardous drinking than other adolescents.
They also discovered that fathers' drinking levels were a major factor in teenagers' excessive drinking.
Fathers' attitudes to alcohol are crucial in shaping drinking of both boys and girls, but if mothers disapprove of their teenagers drinking, this can halve their risk of hazardous drinking.
The message from this research can help shape family alcohol behaviour in a very positive way into the future."
Other winners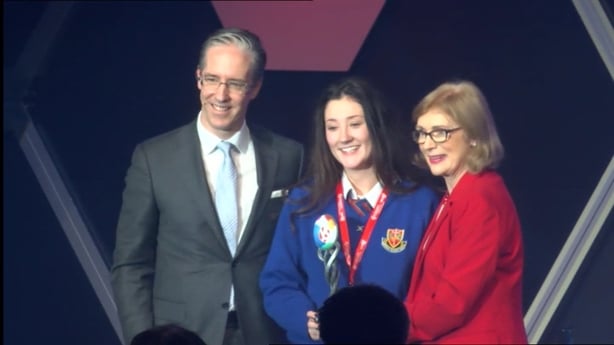 Further awards presented tonight included Best Individual which went to Rachael Ní Dhonnachadha, 16, and a fifth year student from St Vincent's Secondary School, Dundalk, Co Louth, for her project "Brap: Boxers handwrap, preventing wrist injury in boxing." She was entered in the Biological & Ecological Sciences category at senior level.
Patrick Sweeney, Chloe Daniels and Annette Moran take away the best runner up group award #BTYSTE pic.twitter.com/5hrzDto9gj

— BT Young Scientist (@BTYSTE) January 9, 2015
The award for runner-up group went to transition year students Patrick Sweeney,16, Chloe Daniels,16, and Annette Moran, 15, from Carrick-on-Shannon Community School, Co. Leitrim for their project 'Birdsong and music: Connections between African and Irish music and developments of a new music genre based on the Galapagos Island's birdsong'.
The group was entered in the Biological & Ecological Sciences category at intermediate level.
Jack O'Sullivan with SmartphonePc takes away the runner up individual award! #BTYSTE pic.twitter.com/PFiQoiPYie

— BT Young Scientist (@BTYSTE) January 9, 2015
The award for individual runner-up went to transition year student Jack O'Sullivan,16, from Kilkenny College for his project 'SmartphonePC'.
Jack entered in the Technology category at intermediate level.
The BT Young Scientist & Technology Exhibition continues tomorrow and is open to the public from 9.30 until 5.30pm.