One of the leading figures in the Irish Muslim community has said that violence can never be justified by any religion, describing yesterday's attack in Paris which left 12 people dead as an atrocity.
Speaking to RTÉ's Six One News, Dr Ali Selim of the Islamic Cultural Centre of Ireland said it is important that people do not believe yesterday's incident in Paris was carried out in the name of Islam.
He also said that if Muslims do not accept a certain type of mockery, then that should not be replicated.
Earlier today Dr Selim warned Irish publications against reproducing depictions of the Prophet Muhammad, saying it would be against the common interest.
Speaking to RTÉ's News at One Dr Selim said "In a time when we talk about globalisation and peaceful co-existence, we should avoid things that might cause problems like that.
"I think a very important question that should be raised now is what common good would this achieve?"
Dr Selim said that if an Irish media organisation or social media carried a depiction of Muhammad, an act which Muslims find offensive, he would be prepared to pursue a legal action under blasphemy legislation.
He said the French satirical magazine Charlie Hebdo, which came under attack in Paris yesterday, did not have the right to publish material lampooning the prophet.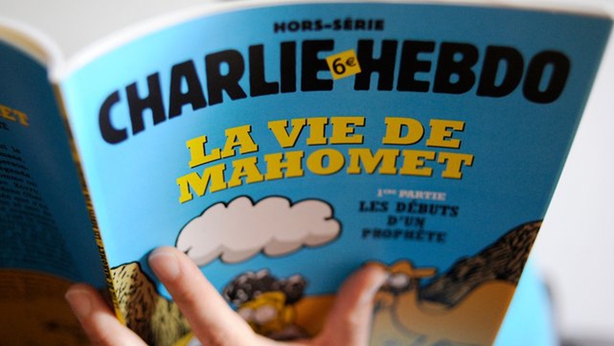 "If we are pro-peaceful co-existence, we should take our understanding and others' understanding into consideration."
Asked about the impact on freedom of speech, he said: "We are great advocates of freedom of speech, but the freedom of speech we support is that freedom of speech that is practised responsibly.
"Everything has limits. Let me ask you one question: Can this paper publish mockery images of the Holocaust? Can they do that?"
Yesterday's attack at the offices of French satirical weekly magazine left 12 people dead, including two policemen.
Charlie Hebdo has published numerous cartoons ridiculing the Prophet Muhammad.
Jihadists online repeatedly warned that the magazine would pay for its mockery.
Charlie Hebdo's lawyer Richard Malka said the newspaper would be published next Wednesday with one million copies compared to its usual print run of 60,000.
Satire has deep historical roots in Europe where ridicule and irreverence are seen as a means of chipping away at the authority of sometimes self-aggrandising political and religious leaders and institutions.
Governments have frequently jailed satirists and their targets have often sued, but the art is widely seen as one of the mainstays of a liberal democracy.
French writer Voltaire enraged many in 18th century France with caustic depictions of royalty and the Catholic Church.
The German magazine Simplicissimus in its 70-year existence saw cartoonists jailed and fined for ridiculing figures from Kaiser Wilhelm to church leaders, Nazi grandees and communists.
"Freedom assassinated" wrote Le Figaro daily on its front page, while Le Parisien said: "They won't kill freedom".
Ambassador thanks Irish people for support
French Ambassador to Ireland Jean-Pierre Thébault thanked the Irish people for the many messages of condolences and support received by his office.
He said the French people would not be intimidated by the attack on the magazine, and would unite with the rest of the world to stand up for the values of freedom.
Speaking on RTÉ's Morning Ireland, Mr Thébault said the country and its people must not let fear rule their lives in the wake of the massacre.
"This is probably the calculation of the terrorists, of the barbarians."
During his morning Mass in the Vatican, Pope Francis prayed for victims of yesterday's attack.
Branding it a "terror attack", he said it brought to mind "so much ... human cruelty, so much terrorism, both isolated terrorism and ... state terrorism".
The Pontiff also sent a telegram expressing his condolences to the families of the victims.
He told the Archbishop of Paris, Cardinal Andre Vingt-Trois, he was "united in prayer (with) ... the sadness of all French people".
Tánaiste Joan Burton paid a personal visit to the French Embassy in Dublin this morning to convey her condolences for those killed.