Minister for Health Leo Varadkar has said he believes the numbers of people on hospital trolleys will increase next week.
Speaking on RTÉ's Drivetime, he said he did see the current overcrowding crisis coming, but had put a number of measures in place to help prevent it.
The minister said a task force met to discuss the issue in late December and a number of measures were recommended before Christmas.
Hospitals were asked to curtail elective surgery, an extra €3m in funding was secured to get more people into nursing homes, and the number of delayed discharges was decreased.
However, he said a lot of the measures they tried to put in place did not work.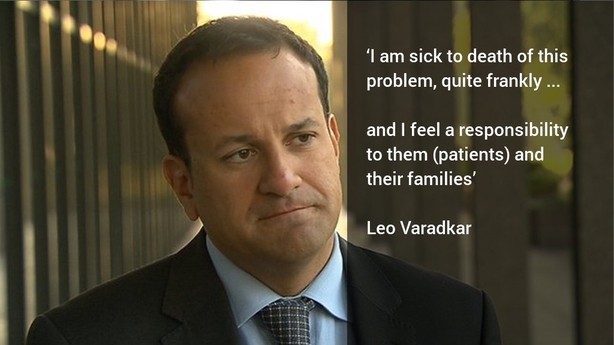 He said Ireland has this persistent problem because it does not manage the flow of patients through hospitals and because of issues of delayed discharges.
It needs to be approached differently, he said.
"I am sick to death of this problem, quite frankly", he said, before adding that he feels responsible to patients and their families.
The emergency task force will meet this week and measures are being put in place in the meantime, he said, including cancelling non-urgent elective surgery and opening up acute beds.
He appealed to hospital staff for an all hands on deck approach.
Mr Varadkar also asked members of the public to only attend emergency departments if it is an urgency.
He said he expects the overcrowding situation to get worse next week, as the second week of January is traditionally a busier time.
Delayed discharge cause of overcrowding - HSE
The Director General of the Health Service Executive earlier said the root cause of the current overcrowding situation is the number of people whose phase of acute care has ended but for whom it has not been possible to place them elsewhere.
Tony O'Brien said since December the HSE has been putting a particular focus on ensuring as many as possible of these patients can receive the care appropriate to them.
Speaking on RTÉ's Morning Ireland, he said the issue was complex, but the executive was focused on clearing away much of the red tape it is normally subject to and has been working closely with Nursing Homes Ireland.
On the issue of patient safety, Mr O'Brien said he is very clear that "reducing the level of overcrowding will increase safety and that's why that's our number one priority right now".
When asked if hospitals are safe at the moment, Mr O'Brien said there are 28 different emergency departments with different stresses and refused to give a "general glib answer".
The number of patients awaiting admission to a hospital bed passed the 600 figure for the first time yesterday, according to the Irish Nurses and Midwives' Organisation.
RTÉ News went inside some of the worst-affected hospital emergency departments in the country.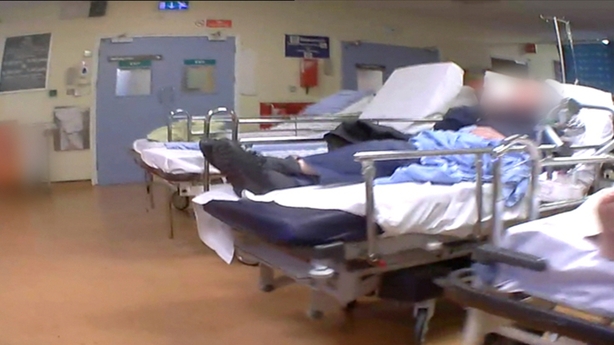 The number of patients waiting for beds today has eased slightly to 584, according to the latest INMO figures.
The worst-affected hospitals were Our Lady of Lourdes Hospital, Drogheda where 42 patients were waiting, University Hospital Limerick with 40 patients and Connolly Hospital in Dublin which had 37 patients waiting.
INMO Director of Industrial Relations Phil Ní Sheaghda said overcrowding is a capacity issue and that all 2,000 closed beds in hospitals around the country need to be opened immediately.
She also claimed the INMO looked for elective admission to cease for the whole month of January on 23 December at the HSE forum.
Meanwhile, a survey by Nursing Homes Ireland found that as of yesterday there were over 1,200 private and voluntary nursing home beds unoccupied across the country.
A figure of 277 of 442 nursing homes responded to the survey, reporting 1,261 beds as unoccupied.
Tadgh Daly, CEO of NHI, said the organisation is "presently engaged with the HSE and ... committed to working with it to address the present significant challenges".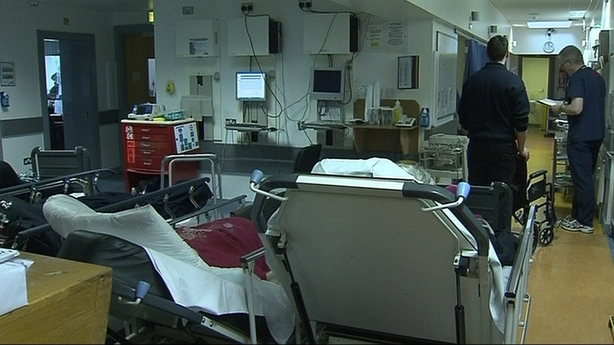 There are nearly 1,500 fewer acute hospital in-patient beds in the health service now when compared to 2004, according to the latest Health in Ireland Key Trends Report for 2014, published by the Department of Health.
It represents a 12% reduction in inpatient beds over the period.
The report shows there were 10,411 acute hospital in-patient beds open in 2013, compared with 11,887 in 2004.
It notes that population growth since 2005 has been over 11%, to 4.6m people.
In the key health demographic of people aged 65 years and older, the numbers have increased by 27% to over 586,000 older people.
Day-case beds in the health service have increased by nearly 890 over the same period.
There are now 2,021 day-case beds, compared with 1,132 beds in 2004.
This is an increase of over 78%.
It reflects a move towards more day procedures, given advances in medical technology and efforts to reduce overnight stays and overall length of hospital stays.
SIPTU has called for the Health and Information Quality Authority to inspect hospitals where patient and staff safety is threatened by overcrowding.
The call came as the HSE warned that the pressure on emergency departments is likely to continue in the coming weeks because of the seasonal surge.
Meanwhile, the Chief Executive of ALONE, a charity that works to support people in need, has appealed for organisations to come together to address the hospital trolley crisis immediately.
Sean Moynihan appealed to the Government to provide more housing with supports, nursing home beds and care in the community in order to free up the acute hospital beds.
Mr Moynihan said the sooner we start solving the problem, the sooner the job will be done.
He said: "The reality of it is that a lot of short term measures have probably been taken in the past and they haven't worked. We have 20,000 extra over-65s for the next 30 years.
"The situation isn't going to go away, so we may as well look at the short-term, the medium-term and the long-term solutions because other than that we won't resolve the issue."