United Nations Special Envoy for Climate Change Mary Robinson has said governments have made just enough progress at the talks in Lima " to keep the multilateral process alive.
However, she said there was not enough progress to give confidence that the world is ready to adopt an equitable and ambitious, legally binding climate agreement in Paris next year."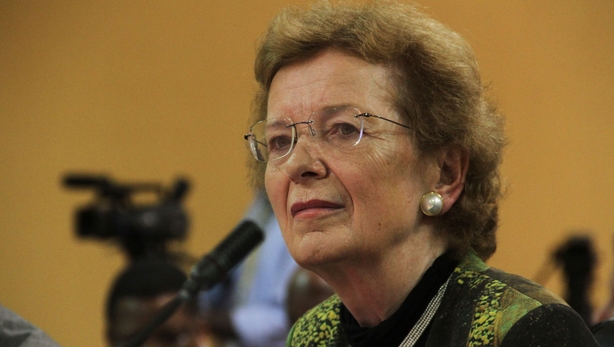 Her comments come as 190 nations agreed the building blocks of a deal to combat climate change in 2015.
This comes amid warnings that far tougher action would be needed to cut rising world greenhouse gas emissions. 
After marathon talks lasting two days into overtime, the four-page document asks countries to submit national plans to tackle global warming early next year.
The national plans are to form the basis of a new global agreement due at a summit in Paris in a year's time.

The text appeased developing countries, including China and India.
They had been concerned that previous drafts would impose too heavy a burden on emerging economies compared to the rich in a global effort to address climate change.
"We've got what we wanted," said Indian Environment Minister Prakash Javedekar, who said the text preserves the notion that the rich have to lead the way in making cuts in emissions, breaking deadlock at the negotiations.
He said the deal at the end of the two-week talks also makes it clear that rich countries would have to provide financial support to developing countries.
Even so, the UN Climate Change Secretariat has said that the combined pledges by all nations in Paris will be too weak to achieve a goal of limiting warming to an agreed goal of two degrees Celsius above pre-industrial times.
"This is a good document to pave the way to Paris," EU Climate Action and Energy Commissioner Miguel Arias Caete told Reuters.
The pledges:
- Should be submitted by the first quarter of 2015 by "those parties ready to do so", and as soon as possible thereafter by the rest.
- Will be self-determined.
- Must improve on a nation's current carbon-cutting undertakings.
- May include information on the base year used as a reference for emissions cuts, time frame for implementation, and the methodology for calculating the numbers.
- Will be published on the website of the UN Framework Convention on Climate Change (UNFCCC).
- Will be assessed by the UNFCCC secretariat, which will prepare a report by November 1, 2015, on their aggregate effect on the UN goal to curb global warming to two degrees Celsius (3.6 degrees Fahrenheit) over pre-industrial levels.
They need not:
- Include information on rich countries' planned financial assistance for developing nations, as requested by many, though the text "urges" such support.
- Detail assistance for developing nations' climate adaptation plans. Parties are merely invited to "consider including an adaptation component".
Despite demands by nations at the highest risk from global warming, the text does not call for a process to ramp up pledges if their aggregate effect is found lacking.
Least developed countries and small island developing states are exempt from pledging, but may communicate information on low-emissions strategies if they wish.
The European Union has welcomed the outcome of the talks as a "step forward" toward a global deal in Paris next year.
The EU added the Lima call requires all countries to describe their proposed target for cutting Earth-warming greenhouse gases "in a clear, transparent and understandable way."
Minister for the Environment, Community and Local Government Alan Kelly saying the "decision marks a significant step on the road to Paris at the end of 2015".