The judge hearing Ian Bailey's action for damages against the State has told a key witness that if she walks out of court again, it will be her last walkout.
Marie Farrell apologised to Mr Justice John Hedigan.
He also warned Ms Farrell that there were very severe penal sanctions for people who committed perjury.
Mr Justice Hedigan told Ms Farrell to give careful consideration to the manner in which she was giving evidence. 
She said she was telling the truth. However, the judge told her not to say anything but to think about it overnight.
The judge's warning came after lawyers for the State accused Ms Farrell of telling an outright, barefaced lie to the jury.
Ms Farrell gave a statement to gardaí in July 1997 in which she accused Ian Bailey of threatening her in her shop.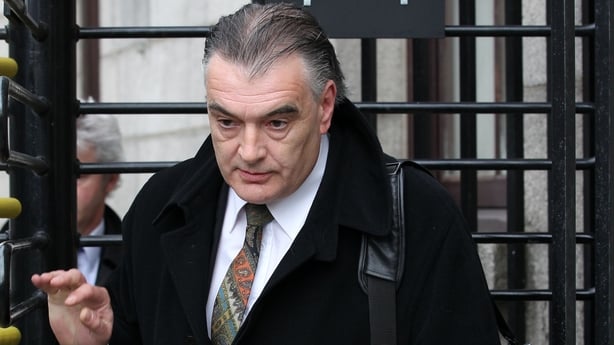 In the statement, she said Mr Bailey knew the address she had lived at in London and knew she had had to leave London because she had been in trouble with the Department of Social Services (DSS) there.
She has told the High Court this was not true and that Mr Bailey did not threaten her in this way. She said she had made up these allegations at the behest of Detective Garda Jim Fitzgerald.
This afternoon she told the court she did not get into trouble with the DSS. She said a complaint had been made against her but it was found to be false.
Counsel for the State Paul O'Higgins told Ms Farrell she was telling an outright, barefaced lie to the jury.  He then played a video recording of a statement she made to the Garda Ombudsman.
In the video, she says she was claiming income support and rent supplement when she shouldn't have been and had to leave London because she owed £27,000 to the DSS.
Ms Farrell said she was getting confused about fact and fiction in the tape and what she was saying in court was the truth.
She said she couldn't understand how she got so confused and she told the lawyers they could check with the DSS in Britain if they wanted to.
Lawyers for the State said she was prepared to say virtually anything if it suited her purpose.
Ms Farrell claimed what she had said in court was the truth. She said she had not come to court lightly and it was causing her personal problems to be there.
Earlier, Ms Farrell had walked out of the witness box when she was asked to name the man she was with on 23 December 1996 when she saw another man on Cealfada Bridge in Schull, west Cork before the murder of Sophie Toscan du Plantier.
On her return, the judge was told she was willing to write the man's name down on a piece of paper.
After objections from the defence, the judge said he would not allow it as it was a public trial and she would not be allowed to adopt a special position.
He said there could be no secret evidence, adding the jury represented the people of Ireland and had to be told everything.
He said Ms Farrell had been quite happy to make other statements about other people and cause great embarrassment to them and their families.
Ms Farrell then named the man as John Reilly, a factory worker from Longford. She said the man had since died.
It was put to her that she had previously given gardaí the name of another man.
She denied this and said the garda came up with the name himself.
It was also put to her that she had previously given gardaí enough information to cause them to identify another man and they found it could not have been him. 
She said she knew John Reilly growing up but could not remember exactly where he lived.
When asked why all the secrecy over the years and what was so special about him, she said: "I didn't want to make things difficult at home."
She said she had never told anyone of his identity.
"So you stormed out of court because you might have to name the 14 years or more deceased man who was not very important to you?" Mr O'Higgins asked.
"No, I stormed out of court because I am here voluntarily but it feels to me like its turning into a personal assault on my private life and I'm finding it very, very difficult," she replied.
"I am suggesting you are not telling the truth" Mr O'Higgins said.
"I am telling the truth. I am gaining nothing by being here, only more personal aggravation, so I am not telling lies," Ms Farrell replied.
Earlier, Ms Farrell told the court that the man in whose car she was travelling was not her husband and she did not want anyone to find out who she was with.
She repeatedly refused and when told by the judge to answer the question she said she wanted nothing more to do with this and walked out of the witness box.
Mr O'Higgins asked her to tell the jury who the man was as he could shed light on the case.
"I'm not going to tell you that," she replied.
Mr Justice Hedigan had told Ms Farrell that this was one of the most serious cases to be heard in many years and that she was obliged to tell the truth.
"Now answer the question," he said.
Ms Farrell said: "I'm going, I'm having nothing more to do with this."
She stood up from the witness box and walked out of court.
'Life was good', court told
The case then proceeded with the next witness, Saffron Thomas, who is the daughter of Jules Thomas, Mr Bailey's partner.
Saffron Thomas told the court she was aged 17 when her mother met Mr Bailey and life was good up to late 1996.
She said Mr Bailey had killed turkeys on 22 December 1996, and must have had scratches when she and he were cutting down a Christmas tree.
She became upset when asked about the effect of the arrest of Mr Bailey and Ms Thomas on 10 February 1997 in connection with the murder of Ms Toscan du Plantier.
She said she knew Mr Bailey had assaulted her mother a number of times and she and her mother had discussed it.  
She said she considered her mother and Mr Bailey had a good relationship otherwise.
She said her mother had not had a good night's sleep since the arrest and the ostracisation in the community was unbelievable.
Ms Thomas said Mr Bailey had also changed.
She said she and her sister had been questioned a number of times about matters concerning Mr Bailey.
She said two gardaí told her they knew Mr Bailey had killed Ms Toscan du Plantier and said her mother was in danger.
She said two gardaí called into the house between Christmas 1996 and 10 January 1997.  
She said Garda Leahy and Garda Fitzgerald gave her the creeps even then.  
She said they were fawning all over her sister, Virginia, adding that they were "slimy and disgusting." She said they were both older gentlemen and her sister was barely out of her teens.
Asked why her mother had never mentioned this in any of her statements, Saffron Thomas said she thought her mother was overwhelmed by the situation and was "devastated".
Lawyers for the State put it to her that the two gardaí would say they had never been in the house in Schull.
Ms Thomas said she did not know how they could say that and added that she and her sister were not taken seriously by gardaí.
She said they treated them like they were stupid the first time they met them and intimidated them the next time.
She said she was not sure when she first became aware the finger of suspicion for the murder was pointing at Mr Bailey.
She also said the libel action taken by Mr Bailey was run like a murder trial and it was outrageous.
She said she made a number of statements to gardaí, some of which had gone missing, including a statement she made at Dún Laoghaire station.
The case continues.